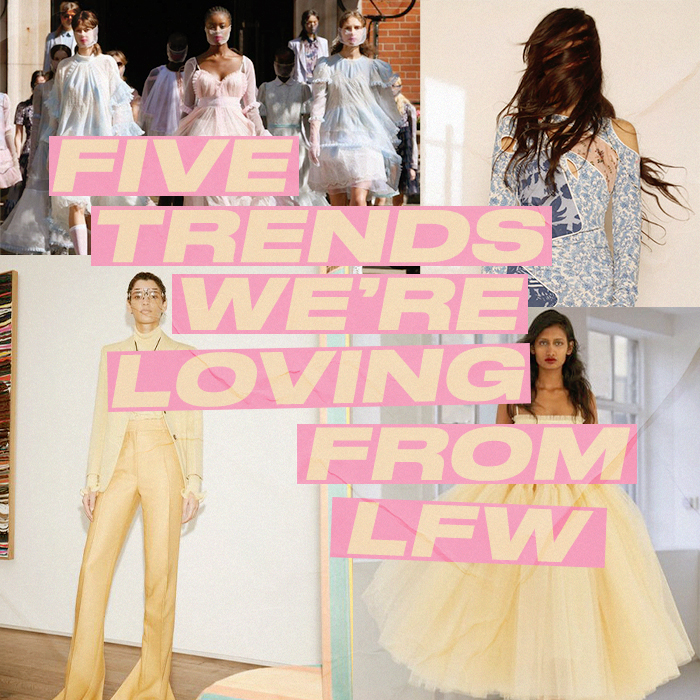 Whilst London Fashion Week was slightly different this year, that didn't stop designers putting on a show for their SS21 collections.
With designers such as Victoria Beckham opting for one on one meetings to brands such as Burberry live streaming their SS21 show on Instagram, Twitch and their website, this was a London Fashion Week 2020 was one to remember.
Despite the smaller shows and limited audiences due to social distancing, there are so many dreamy trends that we can't wait to wear next spring/summer.
5 Trends We're Loving From Digital Fashion Week
#1 Pretty Frills
Who doesn't love all things frills when it comes to spring?
Fashion brands such as Preen and Bora Aksu incorporated frills into lot's of their pieces.
From statement styles to more subtle designs, this is a trend we can definitely get on board with.
#2 Exaggerated Silhouettes
From puffed sleeves to dresses that highlight the hips, get ready to make some serious statements next season.
Designer Simone Rocha's intimate exhibition was all about exaggerating the silhouette and highlighting the figure.
We can't wait to work this trend into our summer wardrobe next year.
#3 Mixed Prints
Get ready to clash prints in SS21.
Using pieces of fabric from existing collections, Preen's SS21 collection is all about mixing different prints and fabrics to create their iconic dresses.
Featuring lot's of floral prints, both statement and ditsy styles, we're loving this look for next season.
#4 Statement 'Puddle' Trousers
We love to make a statement here at PLT and Victoria Beckham's latest design of 'puddle trousers' definitely makes it easy to do just that.
Leveling up the beloved split hem trousers, VB's newest statement pants feature a generous amount of fabric around the ankles and oozes seriously chic vibes.
This is definitely one to watch for SS21.
#5 Next Level Ruffles
Get ready to see lot's of ruffles next spring.
We are obsessed with Molly Goddard's latest collection shown at London Fashion Week.
Featuring her iconic tulle designs, each piece was volumised with lot's of fabric and ruffles which we love to see.
From a-line dresses to flowy tops, we're expecting to see lot's of ruffles next spring/summer.