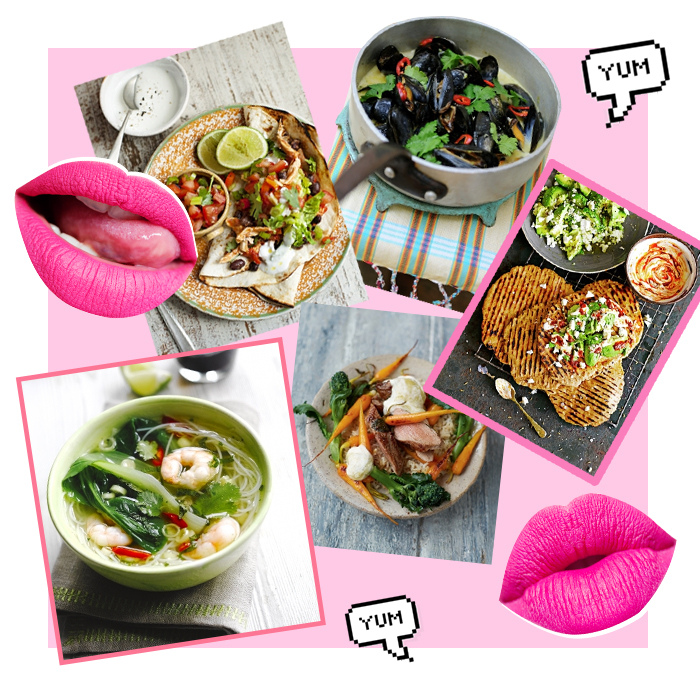 Struggling to eat clean and healthy? Wanting that killer summer bod but struggling to stay away from the choc and endless beer gardens? These killer recipes can get you one step closer to your dream bod, without feeling like your on a even on a diet. Trick yourself into a healthier lifestyle with these fresh, vibrant and totally instagrammable dishes.
6 Healthy Recipes We're Feeling
Whether your an absolute babe in the kitchen, or don't know how to turn on your oven, the king of cooking Jamie Oliver has created a new concept of cooking where you can knock up an easy yet still lush meal. We've got all preferences covered: meat, seafood, vegetarian or vegan so there is no excuse. Invite your favourite dolls around, and whip them up one of these on-point recipes that will leave them speechless.
If You Like Meat…
Mexican Chicken Chilli
BarBurrito step aside – this chilli is the perfect cure to crack those naughty habits. Indulge in this amazing guilt-free dish that is so easy to prepare.
What you'll need: 
2 onions
4 cloves of garlic
a bunch of fresh coriander
2 free-range chicken breasts
1 tablespoon olive oil
1 teaspoon ground cumin
teaspoon ground coriander
1 whole dried chipotle chilli
1 pinch of dried chilli flakes
2 x 400 g tins of chopped tomatoes
1 x 410 g tin of black beans
4-6 flour tortillas
2 gem lettuces
0% fat Greek-style yoghurt
1 lime
Pork & Apple Sauce
This hearty meal is the perfect meal with a little feel of luxury. Step up your Sunday dinner game with this dish that is perfect for those lazy hangover days.
What you'll need:
2 green eating apples
1cm piece of ginger
150 g brown rice
200 g small carrots
200 g broccoli
220 g piece of lean higher-welfare pork fillet
1 whole nutmeg for grating
8 leaves of fresh sage
olive oil
2 oranges
2 tablespoons natural yogurt
If You Like Seafood…
Prawn Noodle Soup
Bring those Asian feels to your kitchen with this ultimate Noodle Soup. This fragrant dish is guaranteed to spark your taste buds and is the perfect midweek comfort food.
What you'll need:
4 spring onions
2 cloves of garlic
2 fresh red chillies
a few sprigs of fresh coriander
1 litre organic chicken stock
1 bok choy
225 g raw frozen prawns (defrosted), from sustainable sources
300 g ready-prepared rice vermicelli
1 splash of soy sauce
½ a lime
Thai-style Mussels
These Thai-style mussels are guaranteed to give you that holiday feel. Impress all your guys and gals with your insane mussels, an ingredient people are usually scared of cooking with but are actually so easy and frickin' YUM.
What you'll need:
1 kg mussels
4 spring onions
2 cloves of garlic
½ a bunch of fresh coriander
1 stick of lemongrass
1 fresh red chilli
groundnut oil
1 x 400 ml tin of reduced fat coconut milk
1 tablespoon fish sauce
1 lime
If You Like Veggie or Vegan…
Avocado & Feta Flatbreads
The combination of these flavours is to die for (emoji). We love the Mediterranian feels this recipe has, and the sneaky little kick the Harrisa yogurt has – wow.
What you'll need:
1 teaspoon cumin seeds
250 g wholemeal self-raising flour
¾ teaspoon baking powder
350 g plain yoghurt
olive oil
2 ripe avocados
75 g feta cheese
1 teaspoon rose harissa
The Best Vegan Burger
This vegan burger is the answer to all our prayers – and is actually healthy for us? Yass we're so gassed for this meal, it is the perfect replacement for those weekend takeaways, you can thank us later.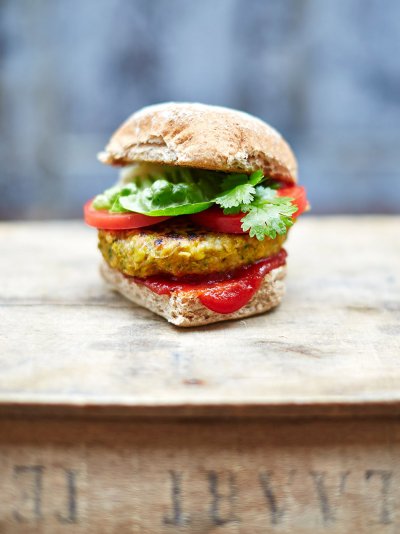 What you'll need:
1 x 400 g tin of chickpeas
1 x 340 g tin of sweetcorn
½ a bunch of fresh coriander
½ teaspoon paprika
½ teaspoon ground coriander
½ teaspoon ground cumin
1 lemon
3 heaped tablespoons plain flour
rapeseed oil
1 small round lettuce
2 large ripe tomatoes
tomato ketchup
4 wholemeal burger buns
Recipes sourced from jamieoliver.com