For those who don't know (where ya been girl!?) Chrissy Teigen is a model, talk show host, wife to John Legend and basically the dream BFF. As evidenced by her Twitter account, she's basically the funniest person on the internet and she's not afraid to get real. Here's just a few of the tweets that gave us life..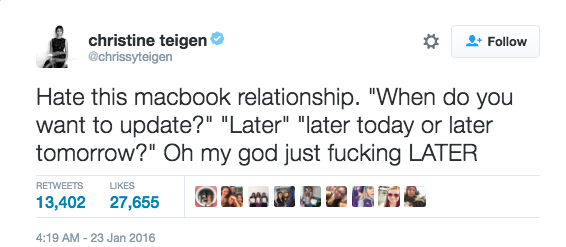 Like for real, how many times can we just click 'Later' before our laptop probably explodes?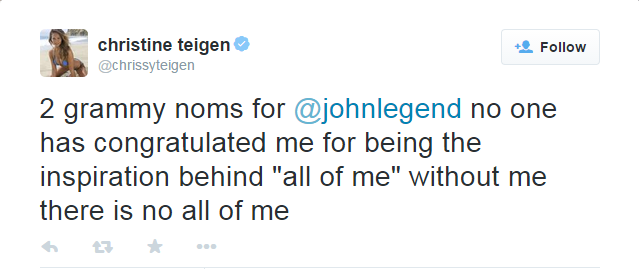 That time she quite rightly pointed out that she was due some credit. You'd win every award if it was up to us, bae.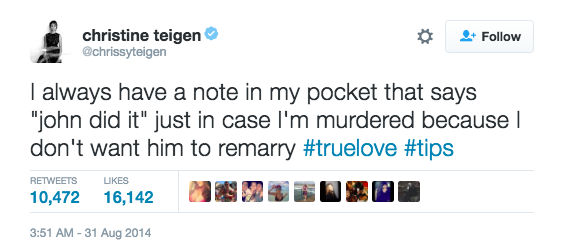 She has an ingenious plan and she's not afraid to share tips. Now, where can we find ourselves a lil' piece of paper?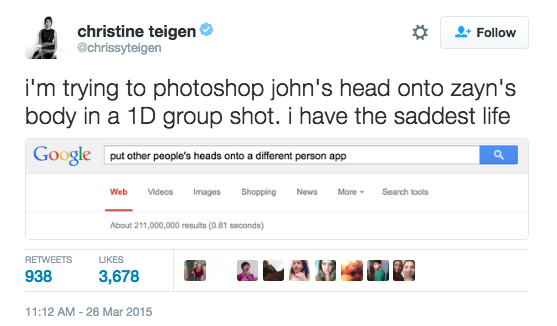 When the Zayn Malik crush was just too real. We feel ya, girl. If it's good enough for Gigi…

Like us, Chrissy is social media OBSESSED. So basically we should just be BFFs.


She might be an A-list celeb and supermodel, but that doesn't stop her being subjected to watching sports. At least she is hilar about it, though.
Chrissy, keep doin' you boo. We love ya.
Images sourced from Twitter & Giphy