If you hate going to the gym because it makes you feel like a fish out of water or you straight up CBA and would rather eat pizza and watch Netflix (girl we feel you), not to worry, we got you covered.
Alternative Workouts For The Girl Who Hates Exercise
There are so many alternative ways to get into shape. So girl, don't be allergic to exercise, introduce a workout into your life to suit you and your needs. Here are our four alternative workouts to try now.
#1 Yoga
If you ain't a fan of high-intensity workouts then yoga is the one for you. It's a slow motivating workout that improves flexibility and even better; it's good for your mind as well as your body. There are so many different variates of yoga too … hot yoga, aerial yoga and this all adds to the fun of it. There is even dog yoga (OMG) so you can even get your pooch involved. Get your mat at the ready because you're gonna become zen girl.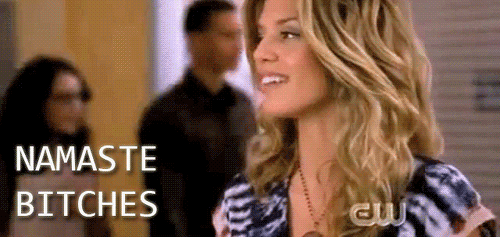 #2 Aqua Spin
We all know that spin classes are the devil. Why not try it in water? You work just as hard but you don't feel as much of the burn with lower impact on joints and muscles. Erm yes please. Where do we sign up? Plus you get to get way more use out of that cute swimsuit you bought that only makes a rare appearance on your few holidays a year. Added small joy
#3 Cleaning
Seriously, everybody loves a spring clean. Pop your fave playlist on and get cracking. But what has this got to do with working out? Well, everything! Cleaning is said to burn just as many calories as yoga believe it or not. You're hittin' two birds with one stone with this one for sure.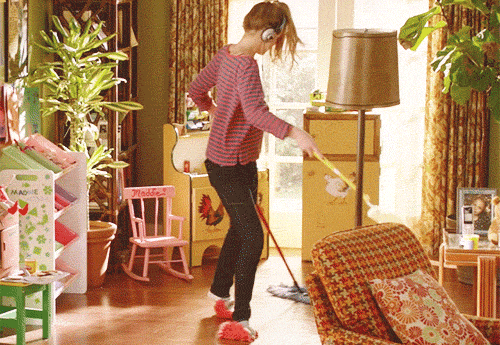 #4 Power Plate
I promise you, it ain't cheatin'. The power plate is literally life, it requires minimum effort but gives quick results. Power plates are said to give the body's muscles a high-speed workout by using vibrations to stimulate them to contract and relax. We dare you to hold a squat on one.
#5 Get Fit Through Food
there are certain foods to eat that will make you look more toned and help you to build muscle or lose fat. Stubborn belly bloat hides ab muscles. Get a flat stomach by incorporating foods that aid with digestion and reduce bloat like peppermint tea, bananas, cilantro, kefir, ginger, and kiwi. Certain foods like kale, millet, quinoa, cottage cheese, and avocado boost blood flow to your muscles, making them work more efficiently, and therefore, look more fit overtime. so even if you're doing less in the realm of working out, you're still doing good.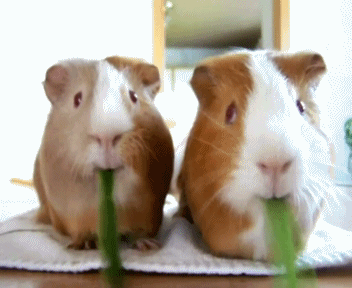 All GIFs sourced Giphy.com