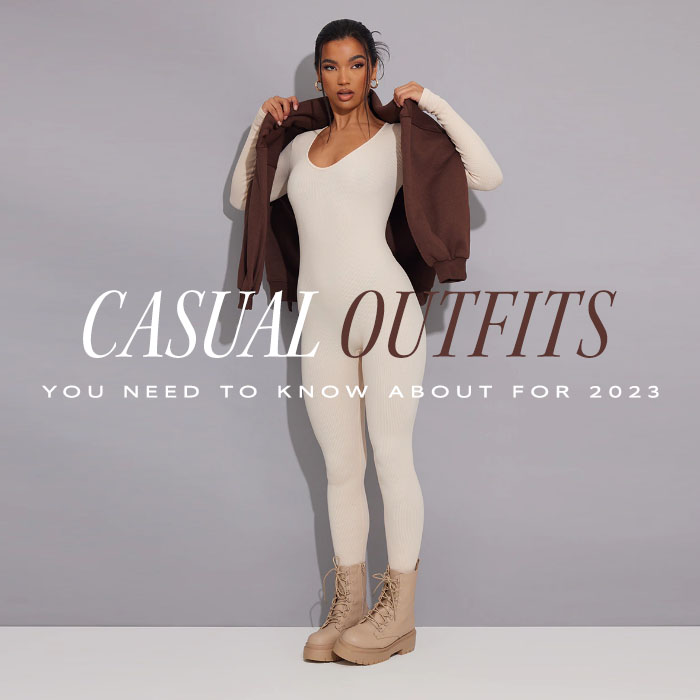 From cargo pants to sweatshirts, casual outfits are a must in January!
Today we're sharing all there is to know when it comes to styling off-duty looks for 2023.
Whether you're all about a effortless 'fit, need a look to just throw on and go or simply want to restock your wardrobe staples for the new year – these casual outfits are the one.
First up, the gamechangers… Cargo pants!
Jeans and a nice top saw a switch up when cargo pants started trending last year. So much so, that cargos and a cute top became the go-to look.
What are cargo style trousers?
Key standouts of the must-have cargos include a oversized fit, straight leg shape and plenty of pockets.
They are not only effortless to style but can be dressed up or down making them a must-have in your weekly wardrobe.
Here are six pairs of cargos we're loving at PrettyLittleThing ATM!
Keep it casual with a fitted bodysuit or graphic tee. Perfect for a shopping day with your bestie!
Stone Lightweight Parachute Toggle Cargo's
Khaki Buckle Detail Cargo Trousers
Heading to the office?
Style classic khaki cargos with a oversized white shirt and neutral accessories.
Khaki Twill Strap Detail Cargo's
Khaki Elasticated Waist Straight Leg Cargo Pants
If heading out out opt for a pair of 90's low rise cargos. Team them with a corset top for easy outfit goals.
Grey Baggy Low Rise 90s Cargo Trousers
Stone Elasticated Waist Straight Leg Cargo Pants
Are cargo pants in style 2023?
The hype was real when it came to cargos during in 2022 and good news if you're a fan as they are still top of the trends for 2023.
In fact, cargo jeans and parachute cargos are a must-have in your winter wardrobe for 2023 alongside cargo skirts for the warmer months.
Khaki Cargo Pocket Detail Baggy Boyfriend Jeans
Charcoal Grey Woven Wrap Detail Micro Mini Cargo Skirt
If you have been loving the clean girl aesthetic then you probably already have a oversized tote in your bag collection. If not, then you are majorly missing out!
What are tote bags used for?
Literally anything. You name it, it will probably fit in a tote.
Not only are tote bags practical but so on point when it comes to completing your off-duty look.
From slogan totes to chic and simple styles, the options are endless!
Green New York Slogan Thick Canvas Tote
Blue Chicago Slogan Thick Canvas Tote Bag
Continuing with the clean girl aesthetic, next level loungewear is an essential for the cooler months.
From Insta-worthy coffee runs to the days when you literally are just chilling. Tracksuits, hoodies, sweatshirts and joggers can do no wrong!
Which brands have the best hoodies?
The PLT oversized black hoodie has been a customer fave since launch. Not only cosy but work from home never looked so chic!
If you're all about PLT branded loungewear then be sure to check out new in! Slogan sweats just got a revamp.
Plus Black Worldwide Slogan Zip Up Hoodie
Plus Black Worldwide Slogan Joggers
Is sweatshirt same as hoodie?
A sweatshirt will usually have a round neckline compared to a hoodie which has a hood attached. Both are a staple so just depends on your personal style!
Sweatshirts are dreamy when layered with necklaces compared to hoodies which have the extra hood detailing – unreal when styled with a oversized trench coat.
Plus Beige Slogan Oversized Sweater
Plus Beige Sweat Flared Jogger
Stone Club Yoga Slogan Oversized Hoodie
Stone Club Yoga Slogan Straight Leg Joggers
What are the best oversized hoodies?
Here are three oversized PLT hoodies we're loving right now!
PRETTYLITTLETHING Chocolate Washed Oversized Hoodie
Obsessed with this loungewear vibe? Be sure to check out more clean girl inspired loungewear here.
TikTok trends are quickly ruling our wardrobe and honestly, we're not mad about it!
Balletcore is another fashion trend that we are completely obsessed with. If it's good enough for HB – it's good enough for us!
Think post-pilates outfit vibes – ballet pumps, unitards and a cropped jacket plus the essential sleek bun.
Seriously, there's not one part of this trend that we don't completely love.
Black Sculpt Short Sleeve Unitard
Why is it called a unitard?
Essentially the unitard gained it's name as it's just a one piece compared to wearing a leotard and tights.
Black Sculpt Halterneck Mini Unitard
Black Ribbed Contrast Panel Scoop Neck Unitard
Petite Black Plt Sport Sleeveless Jumpsuit
Black Textured Seamless Strappy Jumpsuit
Complete the balletcore inspired outfit with oversized sweater and trending tote bag.
Read more about balletcore here.
Not feeling the full unitard 'fit?
Why not switch up the look by styling a oversized sweat with cycling shorts, sports socks and chunky trainers?
Perfect for those 'what to wear' dilemmas.
What are the best cycling shorts?
This all depends on your style and also the OOTD you're imaging.
It could be that you opt for staple coloured cycle shorts that you can mix and match easily or maybe you want to add a statement pop of colour to your look.
Here are three pairs of PLT cycling shorts that'll have your basics covered.
Basic Grey Cotton Blend Cycle Shorts
Petite Charcoal Cycling Shorts
Basic Black Cotton Blend Cycle Shorts
Need a shoe you can just throw on and go? Maybe you actually are heading to pilates…
Sliders have soared in recent years with them quickly becoming a go-to for footwear.
From quick trips to the huge sock and slider trend that's still hot today.
Forget the question of, what are sliders meant for?
There's literally no rules to as and when when you can or can't wear sliders in 2023!
Not bagged this staple shoe yet? What you waiting for?
Mocha Rubber Ribbed Sole Sliders
Cream Rubber Ribbed Sole Sliders
Black Cut Out Rubber Ribbed Sole Sliders
PRETTYLITTLETHING Sage Embossed Rubber Sliders
Scroll even more loungewear on PrettyLittleThing here.
Can't get enough of these laidback looks? Here's five casual outfits you'll love for January.