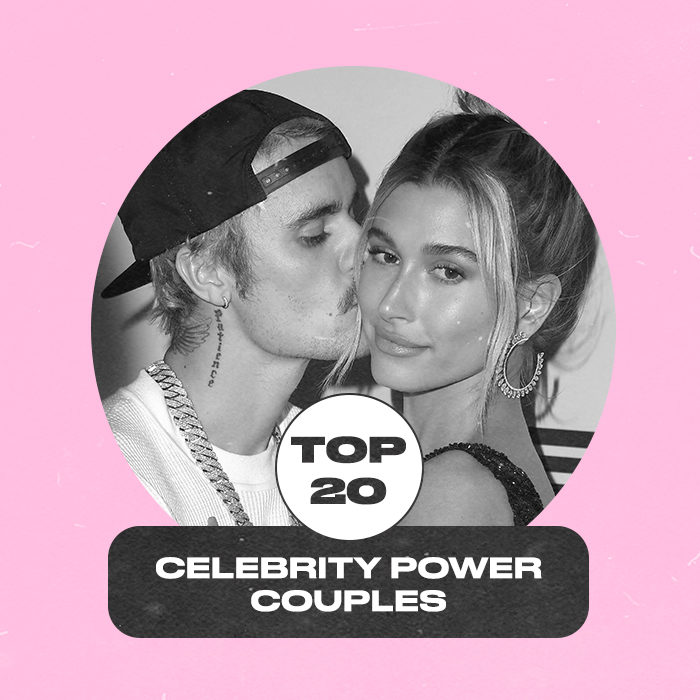 Talk about the perfect pair!
Celebrity Power Couples
Valentine's Day always brings the world's hottest celeb couples out into the open (unless you're Taylor Swift and Joe Alwyn – c'mon girl, give us some content) and we're sure this year's no different. 
But which couples really have our hearts in 2022?
We've put together a list of the most iconic, most high-flying, most sickeningly in love power couples of the year to create the PLT Celeb Power Couple Report 2022.  
So, whether you're going into the big day in a loving couple (maybe keep it off Instagram, it's hard on the rest of us) or riding it out as an independent woman, these are the celebs loving it up this Valentine's Day. (Psst. We have a cute V-Day outfit for every occasion, from next level lingerie to cosy PJs. Take your pick, hun).
We had to put in the work to find this year's top celeb power couples – almost as much as their PR team did to bring them together in the first place. We've looked at the couples' combined social following, social engagement, Google search numbers, media coverage and combined net worth to determine which couples officially reign over the others. And these are the results.
2022's Celebrity Power Couples Revealed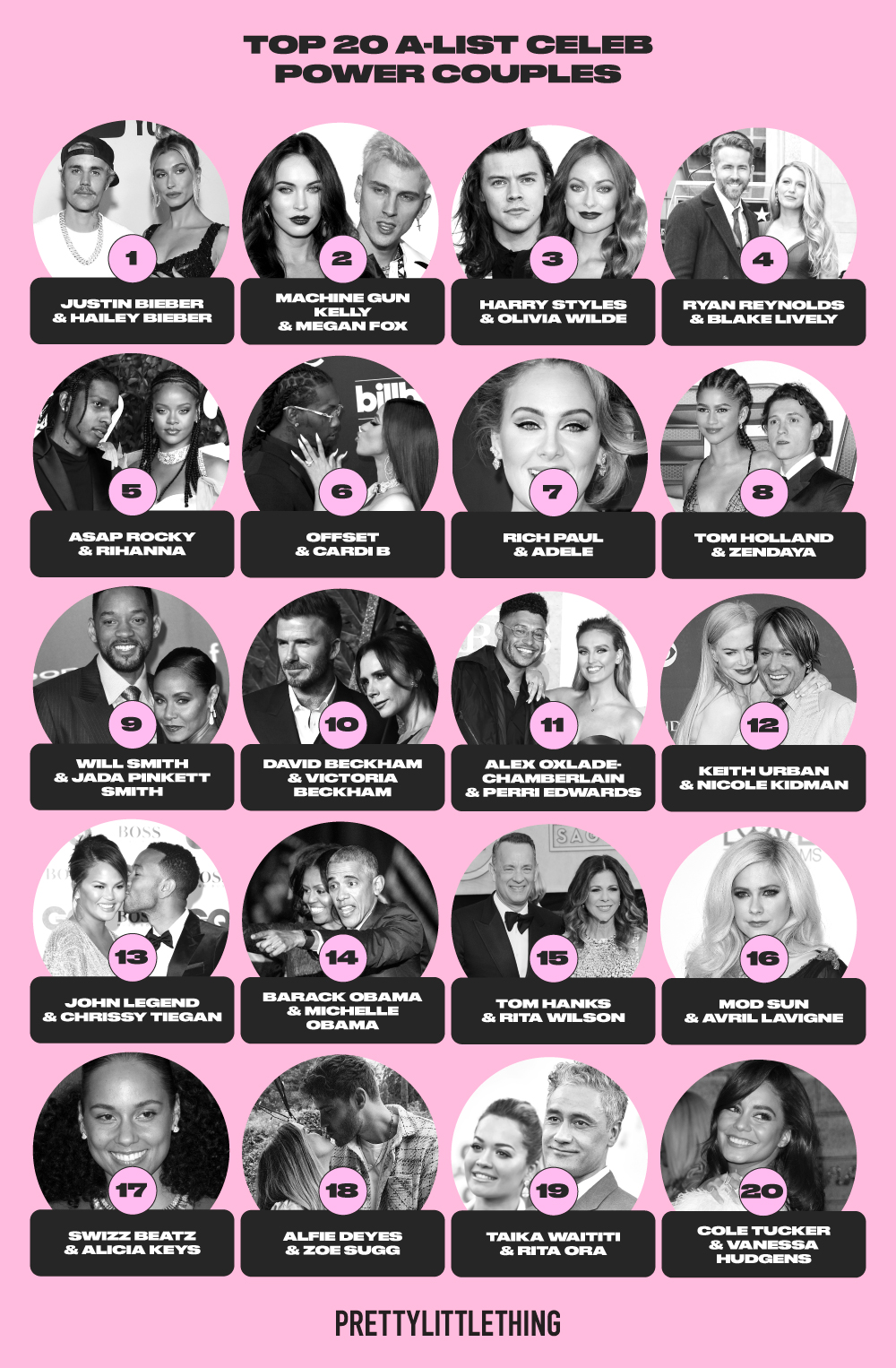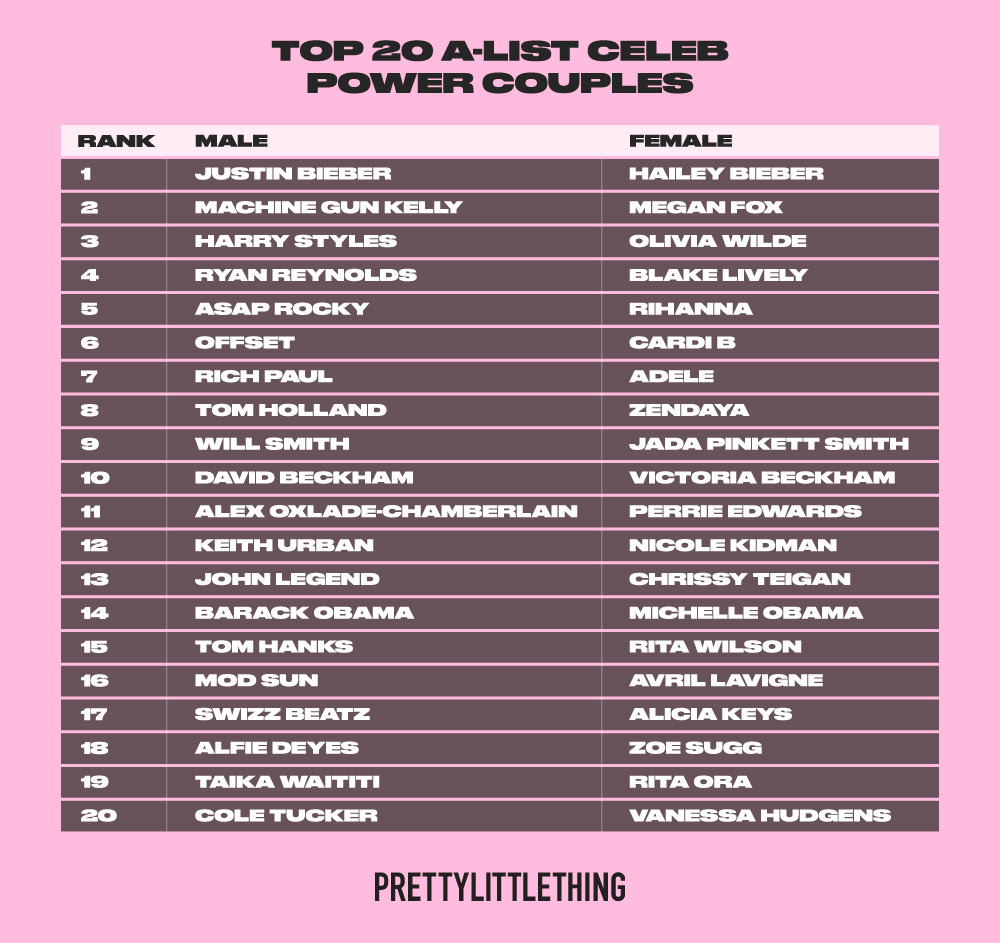 The Biebers bring home the gold!
Justin and Hailey Bieber started dating in 2016 and got married two years later in September 2019. There have been 9,520 articles written about the couple in the last 12 months, making them the most talked about duo on our list. We guess all that's left to say is: we're so sorry, Jelena stans.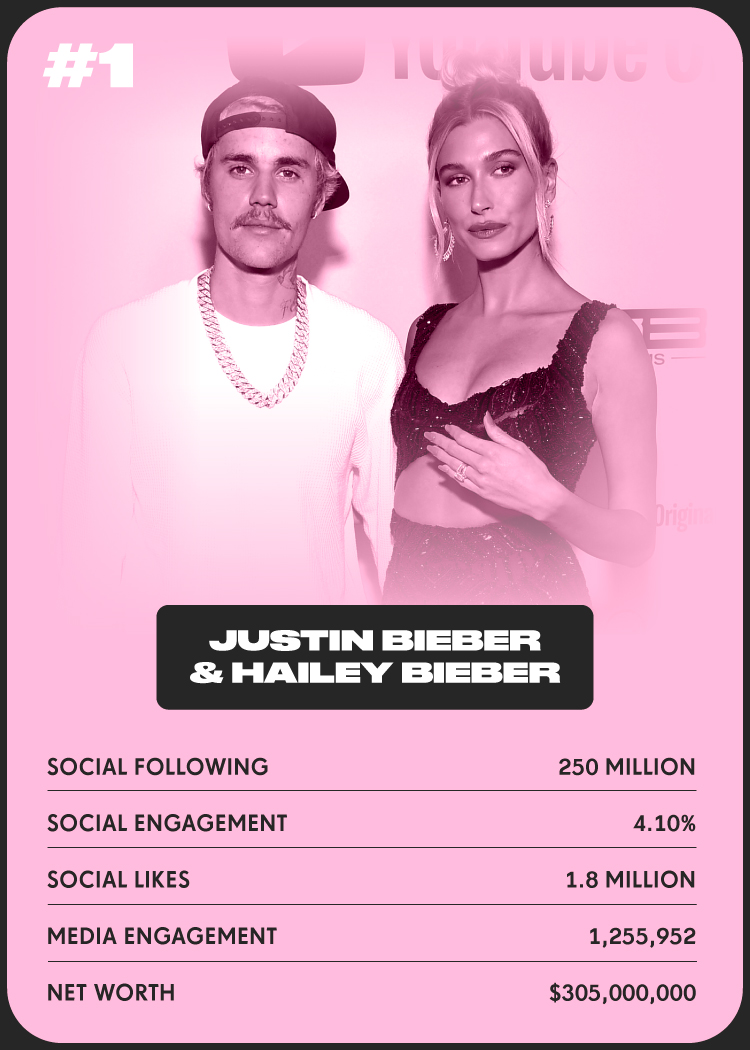 MGK and Megan Fox are the number two #powercouple
From giving way too much information in interviews to bringing some iconic looks to the red carpet, it's no shock that Machine Gun Kelly and Megan Fox land here. They rank second overall for combined social media engagement rate (26.6%, if you're wondering), and have had 4,428 articles written about them in the last year.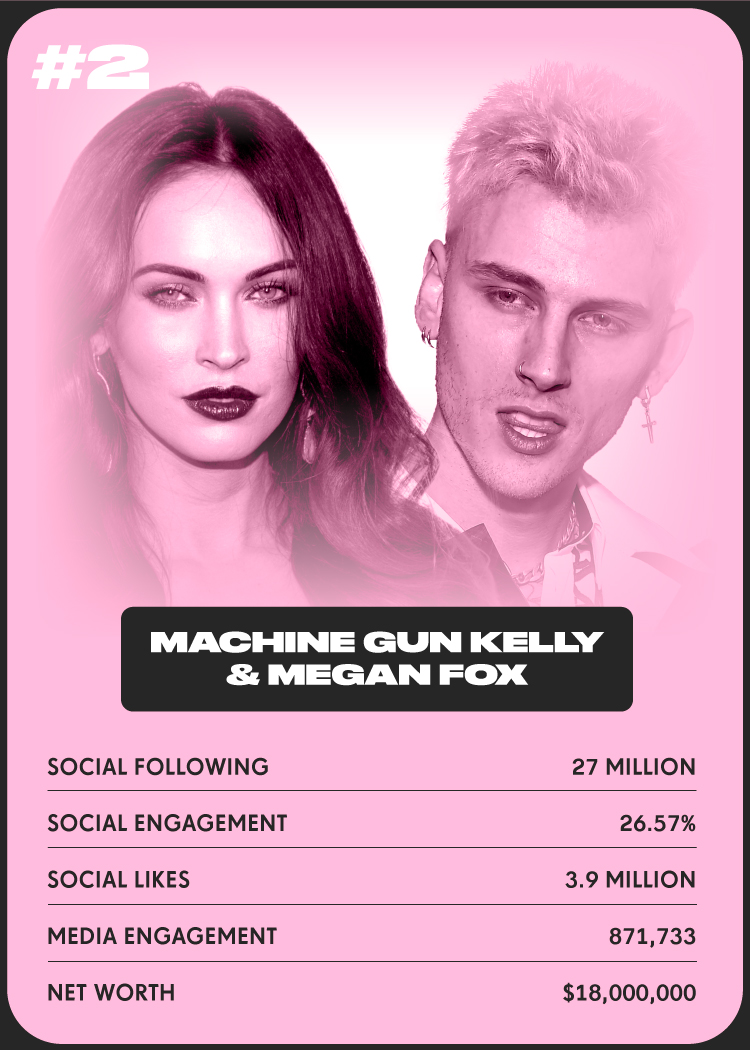 Blake Lively and Ryan Reynolds are in competition with Harry Styles and Olivia Wilde for third place
Harry and Olivia met on the set of a film she was directing in 2020, and the rest was history. Their whirlwind romance has been well documented so far – we're talking pictures of the two truly living their best lives on yachts, and walking hand in hand in sunny LA (not jealous). These two have been the talk of the town ever since the first hand-hold sighting, with 4,283 articles written about them in the last 12 months. It looks like Harry Styles is happily taken for the time being. We know, we're devastated about it too.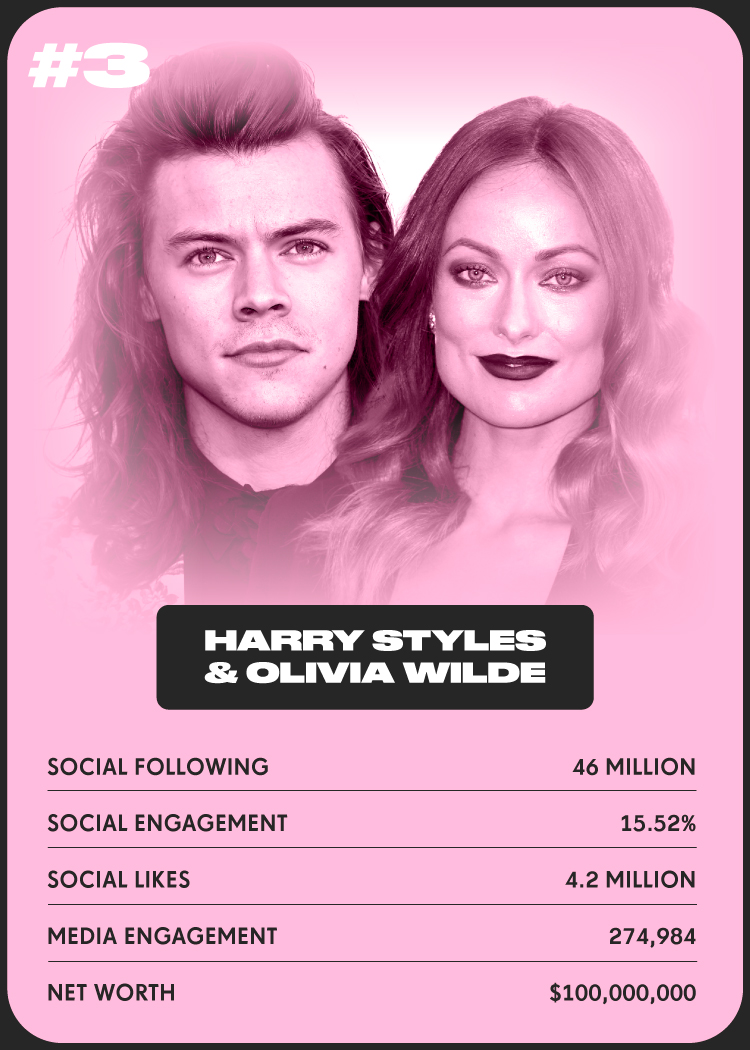 Blake and Ryan are consistently a power couple fav. We laugh at their captions, say "awww" at their kids and try to hide our jealousy when we see their photos together. Obvz they had to be in the top three, it wouldn't have felt right without them. The couple has had 2,514 articles written about them in the last 12 months, less than the other top contenders, but with their combined social media following of 71,435,859 they pull their way back into our top three – and our hearts.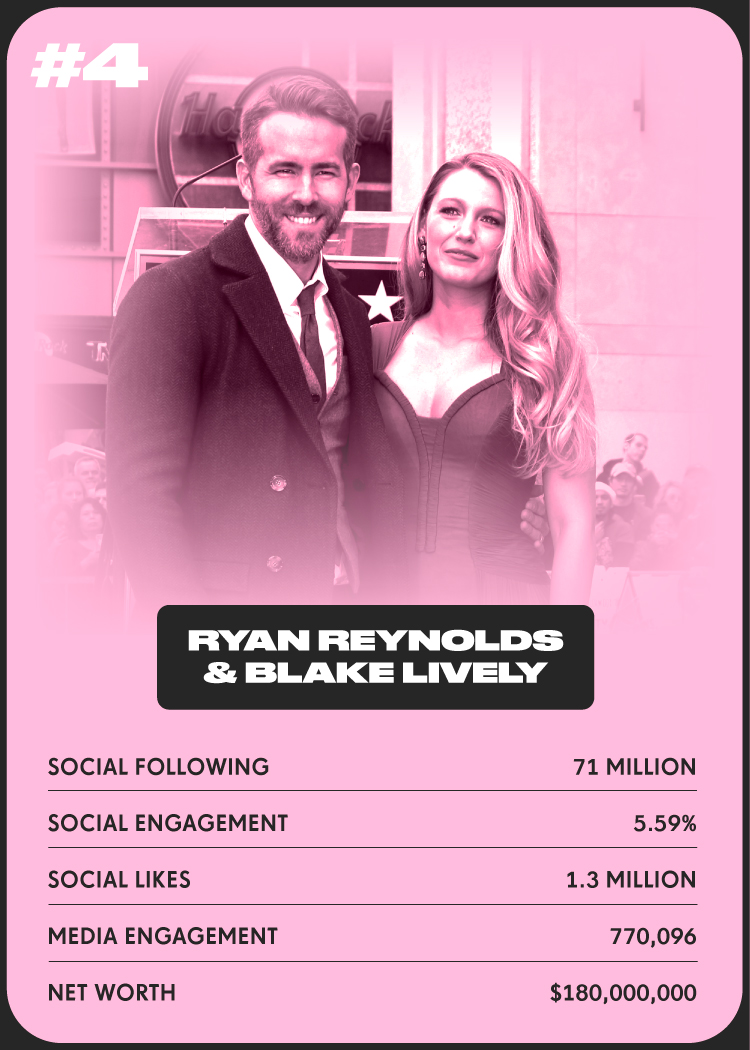 The Top Earning Celeb Couples Of The Year
Some of these celeb couples combine two of the most powerful stars in existence – and their earnings as a couple can be through the roof as a result. So, which power couples could comfortably pay off all our student loans at once, and then some? These are the top earning celeb couples of 2022.
Oprah and her partner Stednam are the top earners
Of course, the legendary Oprah Winfrey tops the list with her partner Stednam Graham. If you haven't heard of him, he's an author and businessman, and has been the long-term partner of Oprah for almost 35 years. The couple never got married, but it seems to be working out just fine for them, with their combined net worth of, wait for it, $3,510,000,000. That's a loooot of zeros.
Rihanna and ASAP Rocky make second place look great
One of our fav celeb couples of the moment, Rihanna and ASAP Rocky aren't just one of the best looking duos out there, they're also pretty high earners. They also came out 5th in the overall power couple score. Their combined net worth is $1,710,000,000. Rihanna herself is responsible for most of this wealth – even with her music career on the back-burner (a Riri album would be really great right about now), her makeup and lingerie businesses are absolutely thriving. We approve.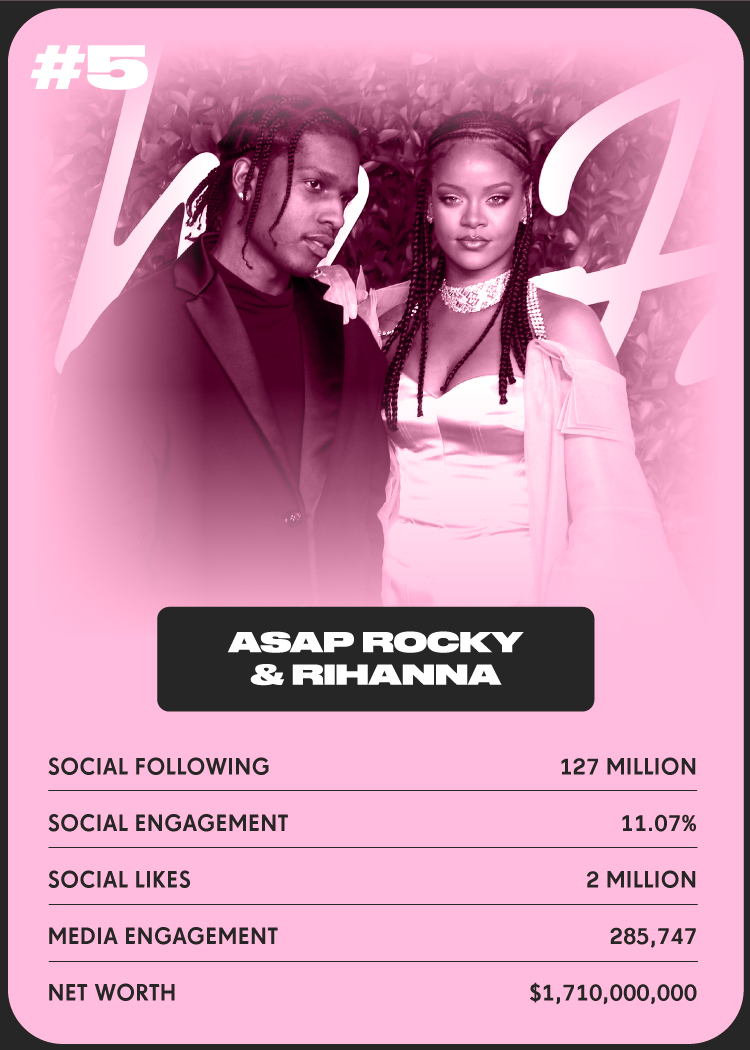 The Beckham's have been power coupling since the 90s
One of the UK's biggest and best exports, the Beckhams remain one of the biggest power couples ever. They've been married for 22 years now, and they've never looked happier – maybe because their combined net worth is $900,000,000. That just makes us really, really, really wanna zig-a-zig-ahh.* 
*Did we use that right? We still don't know what it means.
The Biggest Social Influencer Couples
When it comes to A-lister couples, social media is a huge part of their power couple status. We've found out exactly which ones have the biggest combined follower numbers, and which have the highest engagement rates from their followers. Let's dive in.
Justin and Hailey Bieber have nearly 250 million followers together
The Biebers top the charts once again. Together, they have 248,448,346 social media followers, making them the biggest couple on social media.
The second most followed power couple is Spiderman's own Tom Holland and Zendaya, with a combined follower count of 165,333,632.
Taking the third spot is Cardi B and Offset, with a combined follower count of 137,324,485. That's a whole lot of influence in one couple.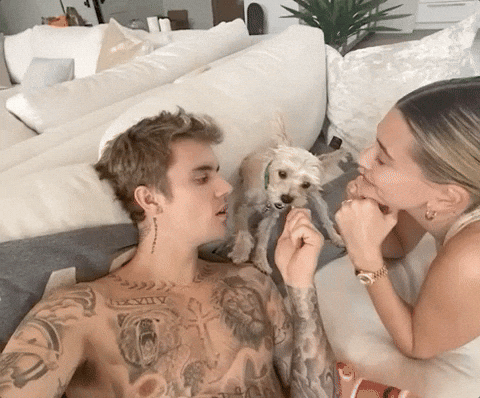 Reese Witherspoon's son, Deacon, has the highest engagement rate
Arguably, the most influential individuals are the ones whose followers actually engage with their content – and the highest engagement rate belongs to Reese Witherspoon's son, Deacon Phillippe, and his girlfriend. Deacon and Marine DeGryse have an engagement rate of 29.64%, meaning this percentage of their 414,410 followers actually like and comment on their posts.
Next up is MGK and Megan Fox, with an engagement rate of 26.57% and Harry Styles and Olivia Wilde with 15.52%.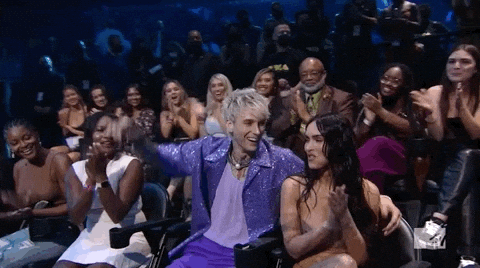 The Most Successful UK Reality Couples
The UK's reality offering is extensive – and so is the number of famous couples coming from it. From reality TV ones to Insta famous ones, there are more reality couples here than cups of tea your mum drinks in a day.
But which ones have found the most success in the public eye?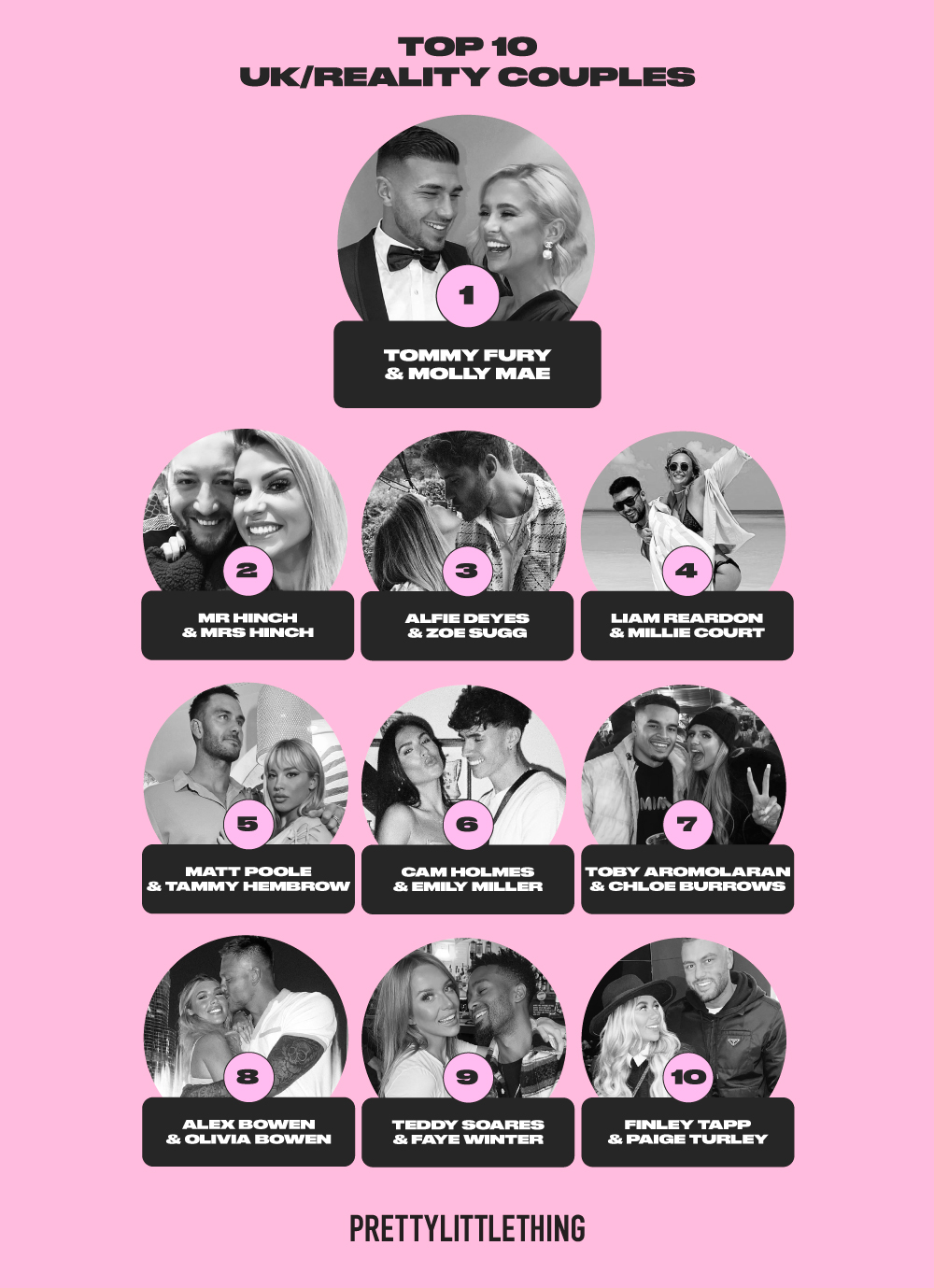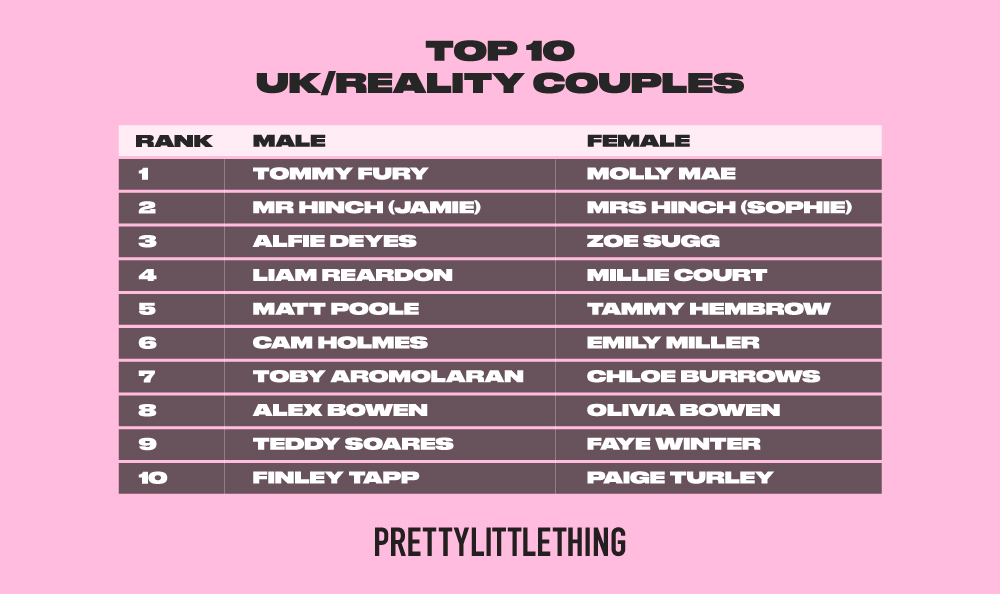 The most successful UK power couple that came from a reality TV show is Love Island's Molly Mae Hague and Tommy Fury, who are pretty much as #couplegoals as you can get. They stole our hearts during the show, and have gone strong ever since.
Mr and Mrs Hinch, the cleaning sensations, are in second place, wiping away the competition with ease.
In third are the Youtube sweethearts Alfie Deyes and Zoe Sugg, who recently melted our hearts with the announcement of their new baby girl. So cute!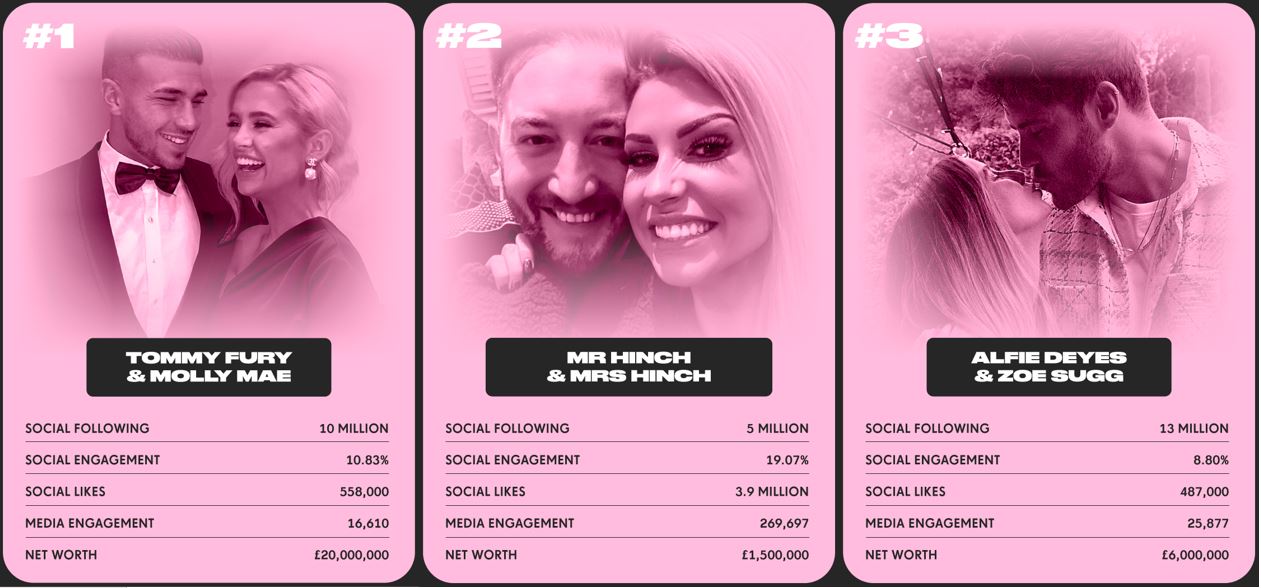 Two Of The Three Most Iconic Fictional Couples Include Leo Di Caprio Characters
These IRL couples are all well and good, but we also hold lots of fictional couples very close to our hearts. Using search volume, we have discovered the most popular fictional power couples in the world.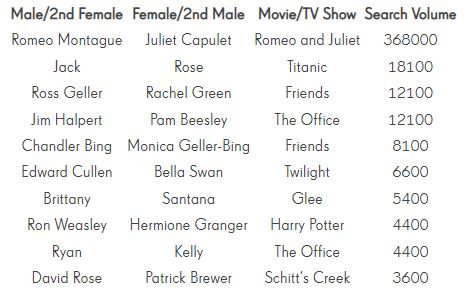 The top searched fictional couple is the iconic Romeo and Juliet. Maybe not the best love story to try and replicate yourself, but their tale has truly stood the test of time – only partly down to Leonardo DiCaprio playing Romeo one time. Titanic's Jack and Rose are in second place, again with a fairly tragic story but a love to last a lifetime. Also, the main actor was Leo again. Coincidence, we're sure. Finally moving away from characters played by the one-time oscar winner, Ross and Rachel from friends are in third place. Their iconic relationship is referred to even now, 10+ years after Friends stopped airing. They were on a break!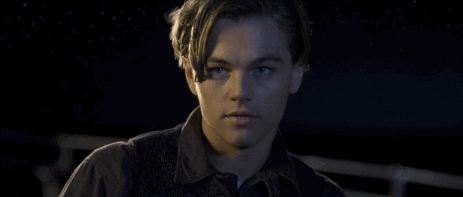 Harry & Meghan Are The Most Popular Royal Couple
We haven't been able to escape the royals this past year. There have been many scandalous tales of couples in the palace, but only one can come out on top as the most popular (or searched-for) couples in the Firm.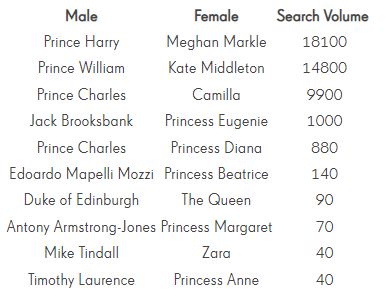 The most searched-for royal couple (or should we say, ex-royal) of the year is, unsurprisingly, Harry and Meghan.
They've been talked about constantly this past year. Will and Kate are in second, so the younger royal generation is clearly a popular one with the public. In third place are Charles and Camilla. Searches for this royal couple could easily have been boosted by the many, many appearances Charles makes in TV and film at the moment – we're looking at you, The Crown.
The Most Popular LBGTQ+ Couple Is Sarah Paulson & Holland Taylor
Thankfully, the media now shows all our fav LGBTQ+ couples almost as much as they show the Biebers of the world. While there's still a way to go before we have proper representation for these couples, we already have a few favourites that are searched for loads each month…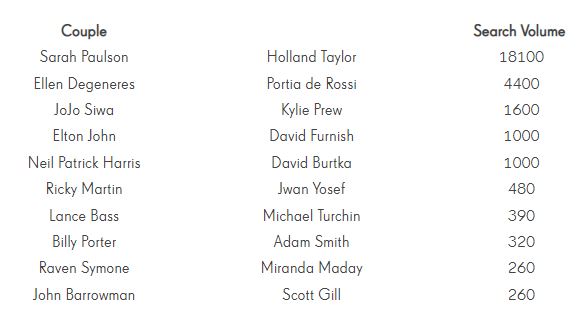 Together since 2015, Sarah Paulson and Holland Taylor come out on top. Their big age gap may polarise opinions (perhaps why they're searched for so much), but when two people are that happy, we can see exactly why they're taking home the gold.
In second is LGBTQ+ pioneer Ellen Degeneres and her wife Portia de Rossi. These two have been #relationshipgoals for 15 years and counting, so it's no surprise they've made it into the top three. 
Representing Gen Z in third place are Jojo Siwa and Kylie Prew. When Jojo came out last year via Instagram, the internet (and us) couldn't have been happier for her. Her and Kylie may have now broken up, but their short relationship clearly made an impression on the world – enough to get them the bronze medal.
Methodology
We've looked at the power couples in terms of A Listers, reality, royals, fictional and LQBTQ+. For the A-lister and reality stars, data has been collected through metrics including: net worth, Instagram following, Instagram engagement, Instagram average number of likes, search volume by couple and media engagement. For the other tables, these have been based around search volume. Each metric has been ranked to create an overall ranking.