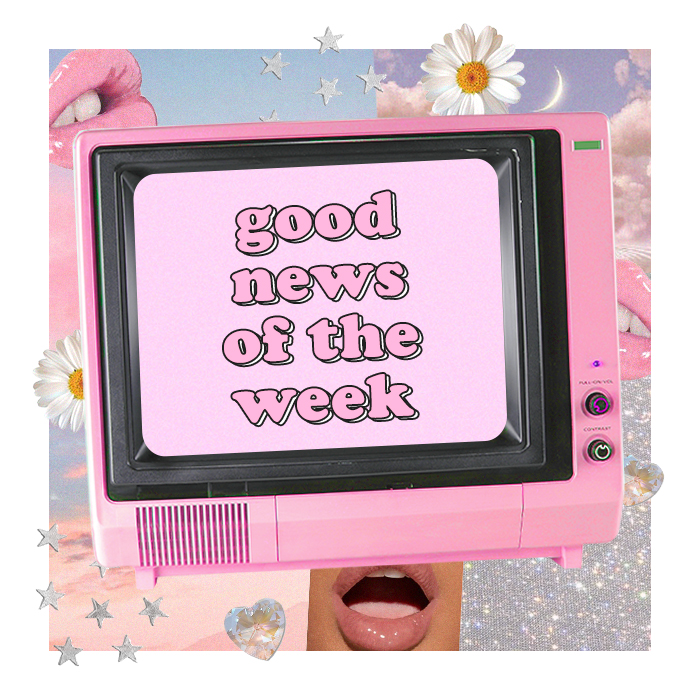 The first week of 2021 has been a bit of a mad one…
From a third national lockdown to a potential Kimye divorce, who doesn't need a bit of good news?!
Good News of the Week
From drag queens to dance routines, peep below some good news from the past week.
'Sweet Melody' Dominates UK Charts
Unless you've been living under a rock, you'll know that British girl group Little Mix released their sixth studio album titled 'Confetti' back in November.
The album consists of singles 'Break Up Song', 'Holiday' and anthem 'Sweet Melody' – with the music video currently hosting 52 million views!
After multiple TV performances, countless people recreating the mega dance routine as well as choreographing their own – the world has well and truly become OBSESSED with the tune.
The hit has been loved so much that it currently has the #1 spot on the UK iTunes charts, as well as holding an additional 7 places in the UK top 20 – unreal.
After the heartbreaking news of Jesy Nelson leaving the group to focus on herself and her health, we're so excited for Perrie, Jade and Leigh-Anne to enter 2021 with such amazing success!
Laura Whitmore & Iain Sterling Marriage
If the news of their pregnancy wasn't enough, Laura Whitmore and Iain Sterling have gone and melted our hearts announcing their marriage!
Laura posted the below pic on her Insta, stating how her new hubby proposed over a year ago but the pair wanted to keep the engagement private.
Upholding her impeccable taste in fashion, the TV presenter sported a stunning white suit as opposed to the stereotypical dress, styled with an adorable headband and colourful bouquet.
If the newly weds couldn't get any better, they've asked anyone using their wedding picture to donate to the @chooselove organisation that works with 'people fleeing war, persecution and climate change'.
We wish them both a lifetime of happiness and can't wait for the arrival of baby Whitmore-Stirling!
RPDR Season 13
The new year was brought in with the 13th season of iconic reality TV show 'RuPaul's Drag Race' and we are already obsessed.
Thirteen new queens took to our screens for the first ep of the new season, but the show started with a twist…
For the first time in Drag Race herstory contestants were asked to head straight to the main stage to kick off the season with six 'lip sync for your life' performances, including hits such as Carly Rae Jepson's 'Call Me Maybe' and the 2004 bop 'Rumors' by Lindsay Lohan  – shook.
After an iconic first episode and countless A-list guests rumoured to join the panel (including Scarlett Johansson and Anne Hathaway!) we cannot wait to dedicate our Saturday's to another infamous season of wigs, sparkle and a whole lot of tea x
Elle Darby Pregnancy
Youtuber and dog mum Elle Darby stole the hearts of the 'gram when she announced her engagement back in August last year.
The fashion influencer then went on to launch her stunning luxury loungewear brand 'for real women, by real women' @angellecollection, but that's not where her amazing success ends…
Elle took to insta to announce that her and fiancae Connor's family was only just beginning, as they're expecting their first child in summer 2021!
We can't wait for this beautiful pair to start their amazing new adventure and post more pics we're going to be OBSESSED with.