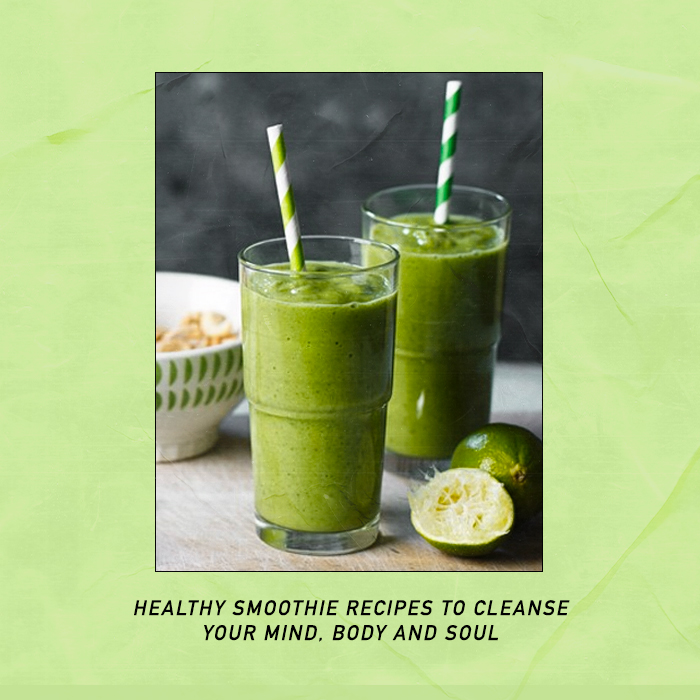 Wellness begins from within and now is the perfect time to invest in some smoothie self-care.
Healthy Smoothie Recipes to Cleanse Your Mind, Body and Soul
Many of us will be looking to shake off the lockdown slump and re-energise for the return to normality.
What better way to kickstart a health boost with a powerful smoothie full of goodness?
Peep our faves recipes below for some inspo.
Green Goddess
Get that goddess glow with this green smoothie full of anti-oxidant goodness.
You'll need:
160g ripe strawberries, hulled
160g baby spinach
1 small avocado, halved and the flesh scooped out
150ml pot bio yoghurt
2 small oranges, juiced plus ½ tsp finely grated zest
Blitz together and enjoy!
Sunshine Smoothie
Get your daily dose of sun whatever the weather with this delicious smoothie.
500ml carrot juice, chilled
200g pineapple (fresh or canned)
2 bananas, broken into chunks
Small piece of ginger, peeled
20g cashew nuts
Juice 1 lime
Whizz and enjoy!
Super Simple Berries
Super simple but super delicious!
450g bag frozen berry
450g pot fat-free strawberry yoghurt
100ml milk
25g porridge oat
2 tsp honey (optional)
Blend everything except oats. Stir in oats once blended and enjoy.
Vegan Mango and Coconut Smoothie
A great vegan option packed full of energy-boosting ingredients.
200ml (½ tall glass) coconut milk (we used Kara Dairy Free)
4 tbsp coconut milk yoghurt (we used Coyo)
1 banana
1 tbsp ground flaxseed, sunflower and pumpkin seed (we used Linwoods)
120g (¼ bag) frozen mango chunks
1 passion fruit, to finish (optional)
Blitz until smooth. Garnish with half a passion fruit if using.
Kale Smoothie
Super healthy and refreshing – the perfect morning pick me up.
2 handfuls kale
½ avocado
½ lime, juice only
Large handful frozen pineapple chunks
Medium-sized chunk ginger
1 tbsp cashew nuts
1 banana, optional
Add a splash of water and blitz until you have the desired consistency.
Check out these recipes and more on BBC Good Food.