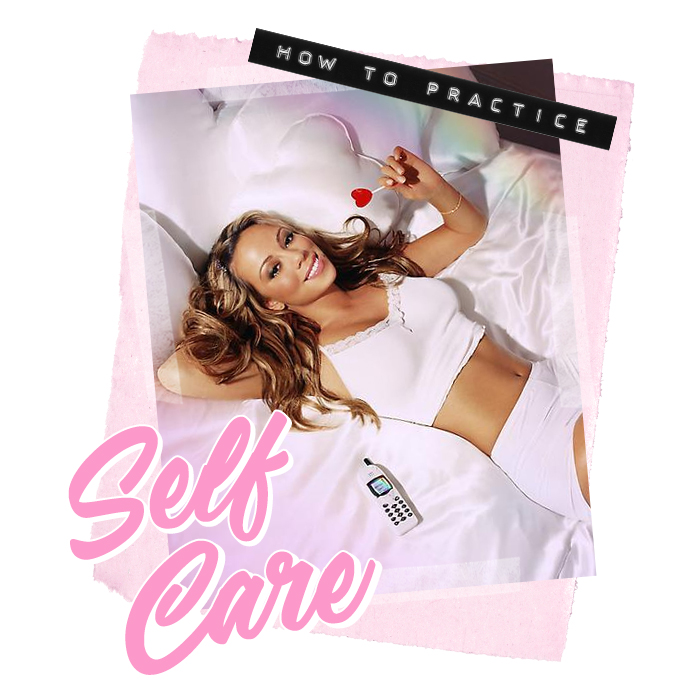 What is Self Care?
You might have heard the term thrown around in recent months but what does it really mean? Put simply, it's the actions we take to ensure we develop, protect, maintain and improve our mental health, wellness or wellbeing.
Essentially it's about living your best life, so here are some top tips to zen the F out.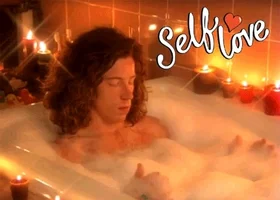 #1 Say No
We all experience FOMO (fear of missing out) but If it's been a stressful week or you have a deadline looming, whether from work or your studies, it's best to take a timeout. Get those pyjamas on, light an overpriced smelly candle, face mask on and chiiiiilllll. It's essential to recharge and give yourself some TLC so you're back to slay for another day.
Parties and meeting new people can be a great way of making friends. However, at times you may not be in the frame of mind and that's totally ok too.
#2 Netflix &
Chill

Eat Food in Bed Alone

Is there a better way to relax than put on your favourite Netflix binge-watch about the sassy female detective that looks like a supermodel and solves murder mysteries? No.

Or perhaps botched plastic surgery shows are more your thing. Excellent choice.

It's a great way to distract yourself and zone out from the world for a couple of hours. Grab some healthy snacks and you're onto a winner. We strongly recommend something covered in peanut butter.

Dressing gown or pyjamas absolutely necessary. Boy company absolutely not.

Cosy or sexy – get your nightwear fix here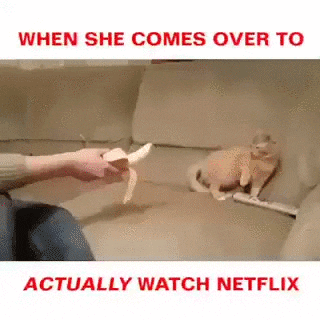 #3 Make A Plan
Self-care isn't all about being solo.
Sometimes a quick fix is grabbing your trustworthy friends and heading to your favourite spot. Perhaps the pub that does the amazing lunch you love or a shopping day. They don't call it retail therapy for nothing. Catching up, laughing and spending time with the people that know you best is a sure fire way to relax and remind you how great your world can be.
#4 Digital Detox
Ok, its the one we've been dreading. Yes, we're going to say it.
Sometimes you need a BREAK. FROM. YOUR. PHONE.
Stop refreshing Instagram. Stop making plans in the Whatsapp group chat for Ibiza 2021.
Stop. Put it away and give yourself a break. Your brain will thank you for it.
#5 Exercise
We're not going to go on about this. There are literally a billion studies to confirm exercise is great for you in so many ways. You'll feel better, look better, sleep better – do we need to go on?
Drop that squat girl. If solo exercise isn't for you try a group exercise class such as yoga or spin. Just make sure you look sassy doing it in PLT sportswear.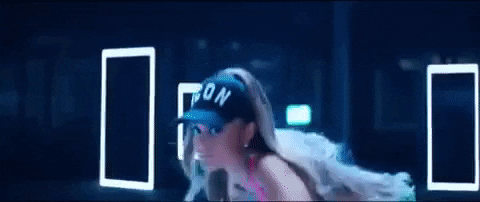 #6 Get Organised
Sometimes life can get overwhelming when you're trying to work, gym, socialise, eat right, see family and be the babe you are. Consider organising your thoughts and plans in a journal. Throw some creativity in there by using colourful pens, stickers or whatever else that helps you stick with it. Having your week planned out and somewhere to scribble down ideas and thoughts will help you reduce stress and look like an organised socialite. Winner.

#7 Talk It Out
If all of the above fails to help and you feel stuck make sure you speak to those closest to you. it's important to let people know if you're not feeling like yourself for more than a few days.
With the constant buzz of technology. money worries, housing etc. it's no surprise so many people are looking for ways to better take care of themselves.
The main priority is to speak up before it gets overwhelming. Try to understand what you need and what makes you feel good so you can make the right changes for you.
If you need to talk and your friends and family cant help, there are resources which can help. YoungMinds has some great advice available 24/7 here.
Take Care x