The 90th ceremony of the Oscars hit our screens last night and the most extra awards show in Hollywood did not disappoint. In case you missed it 'cos you were too busy catching up on your zzz's from a weekend of big night outs, we've done the hard work and rounded up all the best "OMG moments" in one place.
Most OMG Moments From The Oscars 2018
From your Meryl Streep meme update to Jennifer Lawrence just being really… Jennifer Lawrence, consider this your round-up of the Oscars 2018 moments you need to know about.
#1 Host and comedian Jimmy Kimmel proved he could be oh-so-serious with his opening speech around the #TimesUp movement which has taken Hollyowood by storm. Kudos.
#2 Emma Watson debuting her new do and new tattoo. The actress who never shies away from speaking her mind introduced the world to her new edgy look and super important "times up" ink. Edit: the tattoo turned out to be temporary. Still a commendable effort though.
#3 Jennifer Lawrence stayed true to her (clumsy but cute AF) self and reignited our love for her even more. Hey, what girl hasn't awkwardly clambered over half a dozen seats to get to where she wants to go, whilst hitching up her ball gown and balancing a glass of wine.
#4 Singer Andra Day took posing on the red carpet to a whole other level of extra and did this. You go girl, you making art.
#5 When Dame Helen Mirren proved she was all kinds of "life goals" by downing a tequila shot on the red carpet and modeled riding a jet ski on stage. Yep, this actually happened. Literal Queen.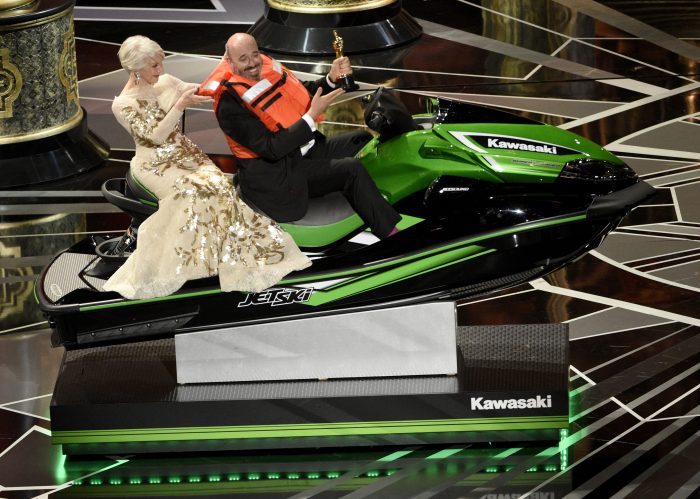 #6 Remember how that, now iconic, image of Meryl Streep hollering in the crowd at some awards show in 2015 became a long-standing meme? We have an update. Meryl, we salute you.
#7 Tiffany Haddish and Maya Rudolph put forward a seriously good case for being the two women you should definitely give next year's Oscars hosting gig to. Or their own TV show. Or anything really we just want more T&M screen time.
Until next year, Oscars.