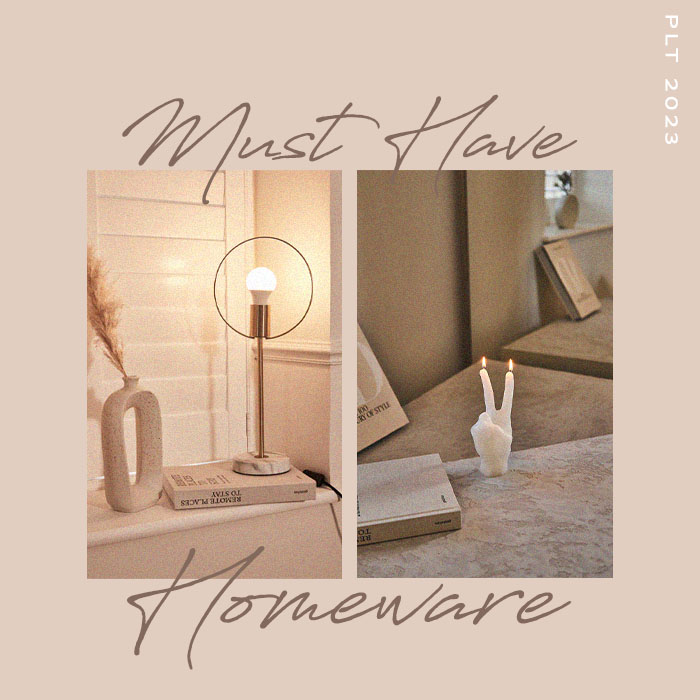 Start 2023 with a homeware refresh by shopping PrettyLittleThing's new-in home collection.
New year, new homeware!
From new bedding sets to coffee table accessories, we've got it all so get set to level up your home this January.
Bedding Refresh
The clean girl aesthetic had a serious moment in 2022, and good news as it's here to stay!
Manifest the TikTok inspired lifestyle and transform your bedroom to match the look.
This white bedding set is giving all the neutral vibes to get the aesthetic and we are obsessed.
White Diamond Pintuck Double Duvet Set
Complete the look by adding extra cosy vibes with this cream teddy throw.
New Year, New Habits
If one of your new year's resolutions is to be more organised, then these are the new in pieces for you.
Level up your kitchen with these Sass and Belle stacking jars, perfect for storing tea bags and coffee neatly.
Set Of 3 Tea Coffee & Sugar Stacking Jars
Hide away any clutter with storage boxes, perfect for tucking away under the bed or on top of a wardrobe to keep your home tidy and organised.
Stone Drawer Storage Boxes Set Of 2
Soft Girl Era
It's official. TikTok has confirmed 2023 is the year of the soft girl era.
'Soft girl' is all about a gentle life and priotitising well-being and honestly we're so here for it!
Start by ticking off that water intake in style with a new zodiac approved water bottle.
After all, hydration is key.
Gold Pisces Horoscope Water Bottle
Set the mood with new season candles and room scents.
PRETTYLITTLETHING Green Set Of 4 Tonal Candlesticks
Thought about taking up journaling as a way to unwind or focus on gratitude or goals?
A new notebook is the perfect way to kick off the new year and start journaling.
PRETTYLITTLETHING Goals And Dreams Gold Foil Notebook
Find yourself scrolling before bed? Why not opt for self-love cards instead.
Daily affirmations and cute quotes? It's a yes from us.
Self Love Cards | Sleep Easy Cards
Looking for more ways to enter your soft girl era?
Treat yourself to new winter skincare.
Coffee Table Dressing
Level up your living room with these PLT approved home accessories.
Coffee table books, hints of gold and effortless neutral accessories are sure to create an Insta-worthy look.
Black Abstract Stacked Boucle Vase
The Little Book Of Chanel | Little Book Of Prada
Prefer something that makes more of a statement?
Say yes to this Insta approved bear ornaments and of course, iconic PLT prints.
All You Need Is Love A4 Print | Lipstick Kiss A4 Print
Loving PLT homeware? Shop even more here!
All about TikTok trends?