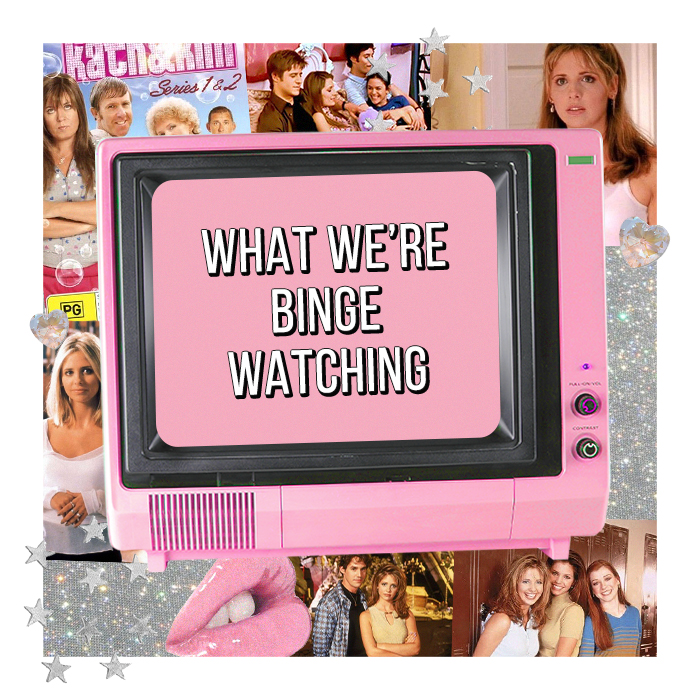 Let's be honest, we are watching a lot of TV right now. Whether it's a light-hearted comedy or a must-see thriller, TV is giving us a sense of escapism right now and we're so here for it. Whilst it's great when you're stuck in a series, actually finding something to watch can take up some time. To give you a bit of inspo, we thought we'd let you know what we're binge watching rn.
What We're Binge Watching
Peep below to see what the PLT blog team are currently binge watching.
FRIDAY NIGHT DINNER – 40D
"Through catching up on the last 3 seasons in the past week, Friday Night Dinner is one of those series you just can't get enough of. With it's relatable story line and weird next door neighbour antics, you can't help but giggle."
– Ellie, Affiliate Marketing Assistant
THE NEST – BBC IPLAYER
"This is a drama about a rich Scottish couple who can't conceive and end up with a mysterious 18 year old as their surrogate. The show explores the surrogates (Kaya) complicated past and if she's really who she says she is! Involves murder, drama, fraud etc. It's soooo good"
– Brittany, Marketing Admin Assistant
THE O.C. – AMAZON PRIME VIDEO
"I'm finally getting round to watching this iconic early 2000's show and I am obsessed. The show follows new kid Ryan as he moves to the wealthy and upper-class community of Orange Country. Filled with lies, drama and romance, this is the perfect binge-worthy watch. Think 90210 meets the real life Laguna Beach."
– Tess, SEO & Content Co-ordinator.
BROADCHURCH – NETFLIX
"Since being in lockdown I've watched all 3 series – it's had me hooked. Never mind couch potato, I've been a couch detective over the past few weeks and each time I've been way off- expect horrific plot twists like you've never imagined."
– Carina, Assistant SEO Manager
KATH & KIM – NETFLIX
"This Australian sitcom comes with a side of sassy, as mother (Kath) and daughter (Kim) navigate their unconventional lives. The outrageous 90's inspired fashion (bumsters anyone?) and dark but silly humour make this laugh-out-loud show my top binge!"
– Asim, Affiliate Marketing Co-ordinator
BUFFY THE VAMPIRE SLAYER – AMAZON PRIME VIDEO
"I've been feeling nostalgic during this time in lockdown and revisiting some past faves from my youth – Buffy is iconic. Plus, her outfits are pretty good too and serve as some serious inspo if you want to inject some 90's revival into your life."
– Anna, Senior Creative Content Executive