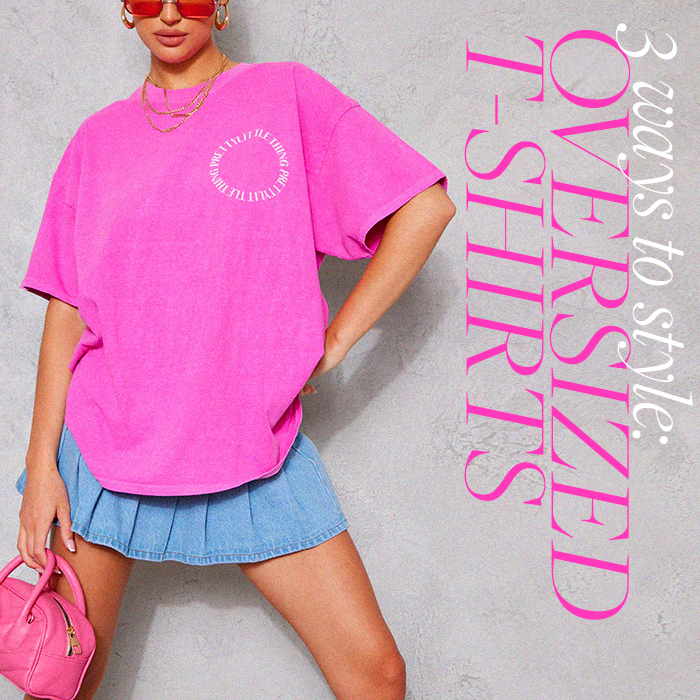 We're going for effortless chic with these oversized t-shirts.
Comfort it always key and we've got you covered with some super easy oversized t-shirt 'fits.
3 Ways To Style An Oversized T-Shirt
We love an easy outfit and there is nothing easier than an oversized tee.
It's street wear chic and comfort all mixed into one and we are here for it!
Not sure how to make your oversized tee look street chic and not pj slobby? Don't worry, we got you.
Comfy and Casual
Make you casual 'fit a bold one with this graphic print oversized t-shirt.
We love this look with jogger shorts and chunky trainers for that off-duty model look.
No matter your vibe, here at PrettyLittleThing we'll have a slogan or style to suit.
Turquoise Car Print Washed T-Shirt
PLT Product Picks 
Bright Blue Speedway Front And Back Print Washed T Shirt
White Outrun Car Print T Shirt
Only The Tee
Oversized t-shirt and go? Yes please.
Possibly THE easiest 'fit in the world and we wanna wear it everyday.
Colour co-ord your accessories with a graphic t-shirt dress for the perfect casual style.
Why not opt for on-trend green for a look that'll have all eyes on you.
White Oversized Back Hike Slogan T Shirt Dress
Get The Full 'Fit
Green Moon Shape Slouchy Clutch
Green Towelling Platform Mule Sandals
Oversized Night Out Vibes
Is there anything better than being comfortable on a night out?
Add this charcoal slogan T-shirt to your wardrobe and you'll be the coolest gal in the club.
Wear with boyfriend jeans and heels for a fierce 'fit.
Charcoal Savage Slogn Rock T Shirt
Still not sure how to style your t-shirt?
We got you girl, browse all PrettyLittleThing t-shirts here!
Looking for more off-duty outfit inspo?