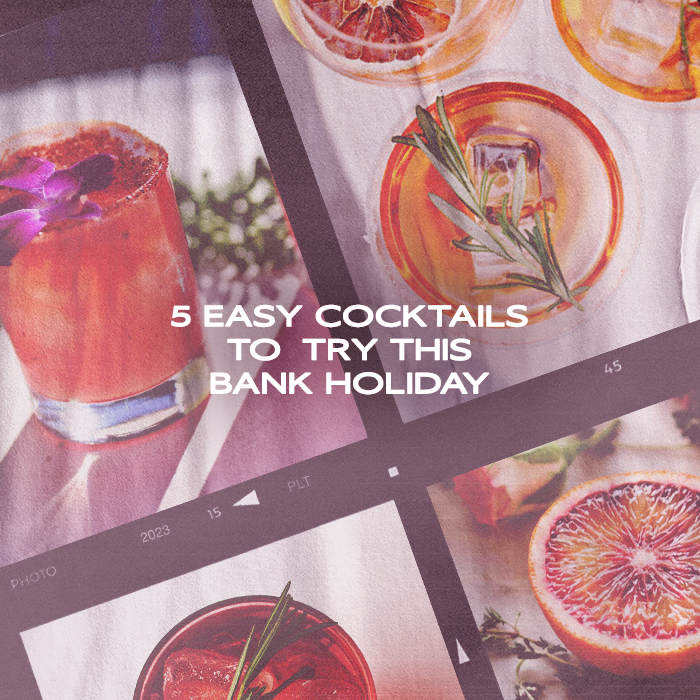 From popular cocktails to the best cocktail recipes you'll love all summer season, you won't want to miss this!
With yet another bank holiday fast approaching (May really has been a dream), we're manifesting the good weather to stick around for the long weekend.
It's finally BBQ and garden party season and what better time to make plans than the bank hol.
We've picked 5 easy cocktail recipes that bring the perfect summer vibes for your upcoming bank holiday agenda.
Strawberry Frosé
Rosé in a cocktail? It's a match made in heaven.
You'll Need:
1 bottle rosé wine
300g strawberries, halved
50g caster sugar
1 lemon, juiced
How To:
The night before, pour the rosé into a deep roasting tin and freeze overnight.
On the day, mix the strawberries and sugar in a bowl and leave to sit for 30 mins.
Add the frozen rosé, sugared strawberries, and lemon juice to a blender and blend the mixture.
Pour into glasses and decorate with a strawberry half to serve.
Pimms Iced Tea
An upgrade on a garden party classic that's guaranteed to impress your guests.
You'll Need:
4 tea bags
20g fresh mint
100g caster sugar
2 large oranges juiced
2 lemons juiced
400ml Pimm's
Sliced strawberry, oranges and limes
How To:
Add 1.2 litres of boiling water to the teabags and half the mint and leave for 10 mins.
Take out the tea bags and stir in the sugar.
Once it's cooled, take out the mint and add the orange juice, lemon juice and Pimm's.
Keep in the fridge until ready to serve.
Serve over ice with the sliced fruit and left over mint.
Mango and Pineapple Mojito
Add a fruity twist to a classic fave.
You'll Need:
50g chopped pineapple
50g chopped mango
3 chopped limes
2 tbsp brown sugar
2 mint sprigs
150ml white rum
200ml pineapple rum
600ml sparkling water
How To:
Add the pineapple, mango, lime and sugar to a large jug and mix.
Crush the mint leaves and add to the jug with plenty of ice.
Stir in the white rum and pineapple rum.
Finish with the sparkling water and enjoy.
Frozen Watermelon Margarita
Nothing says summer like watermelon flavoured cocktails.
You'll Need:
800g cubed watermelon
125ml tequila
75ml triple sec
2 limes zested and juiced
2 tsp honey
4 tsp sea salt
2 tsp caster sugar
1/4 tsp chilli flakes
How To:
Freeze the watermelon cubes overnight or until solid.
When ready to serve, blend the frozen watermelon, tequila, triple sec, lime juice and honey together until smooth.
Mix the sea salt sugar and chilli in a bowl.
Run a lime wedge around the rim of your glasses, then dip in the garnish mix bowl.
Pour the frozen drink into the garnished glasses and enjoy.
Coconut Rum Punch
It's a yes from us.
You'll Need:
500ml pineapple juice
500ml mango juice
250ml Malibu rum
250ml coconut milk
Sliced pineapple
Sliced lime
How To:
Mix the juices rum and coconut milk in a jug.
Add the sliced pineapple and lime to cocktail sticks.
Pour over ice to serve and finish with the pineapple and lime skewer toppers.
All recipes are from BBC Good Food.
Find the perfect summer outfit for your upcoming bank holiday plans here.
Loving the summer vibes? Us too!