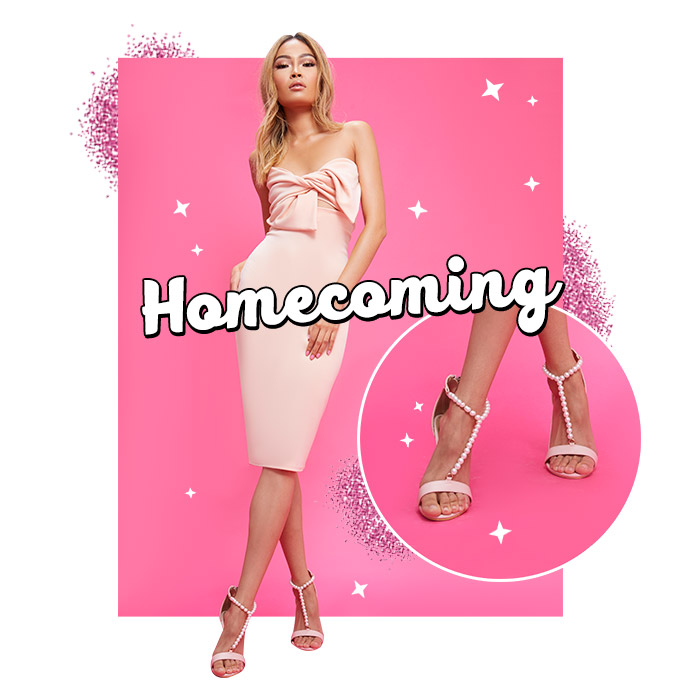 Girl, you can't be arriving at homecoming without the most important wardrobe staple… Shoes! We are getting some major #SHOESPO at the moment so we wanna show you a few of our faves to help you match to your super stunning homecoming dress. Whatever colour, style and cut you're looking for, we got you covered. The most amazing part about your homecoming shoes, is that you can wear them again, and again, and again! Shoes are definitely a girls best friend.

#1 Lace Me Up
Simple, but sassy. If you're looking at rockin' a midi dress, why don't you pop on a pair of killer heels with lace up detailing to add extra style points to your outfit. This takes you from plain jane to insaaaaaneeeeee.

#2 All That Jazz
Channel your inner queen…. If you're looking at adding some glitz and glam to your homecoming outfit, why don't you try some super on trend clear strap heels with jewel detailing. SO jazzy, if worn with your fave LBD it adds those extra sassy vibes.
#3 Velvet Dreams
Winter is soon approaching and so is the Velvet Trend. Luxurious and soft, adding a Velvet Heel to your outfit is sure to turn heads. As simple as they are, they can be worn again casual or dressed up. The possibilities are endless!
#4 Subtle Stud
Add some fiyaaaaaa to your outfit with some studded strap heels. This style is so versatile it makes it easy to style with anything! They would look extra cute under an elegant maxi dress.

#5 Trending Tassels
The trend everyone is lovin' right now! TASSELS! You are sure to make a statement in our premium tassel heels. Affordable and defo not for the faint hearted but the perfect add-on to any outfit to keep you looking fresh and #ONTREND. Create some major attitude and add that pop of colour with oriental purple or keep it cute with baby pink.
# On The Low
If you're the kinda gal that doesn't often wear high heels, don't worry, we got you. Add some major cute vibes to your homecoming outfit by adding some low block heels, short and comfortable so you can dance the night away…. Don't worry either, they are still super flattering and the mirror detailing will defo compliment your stunning homecoming dress.