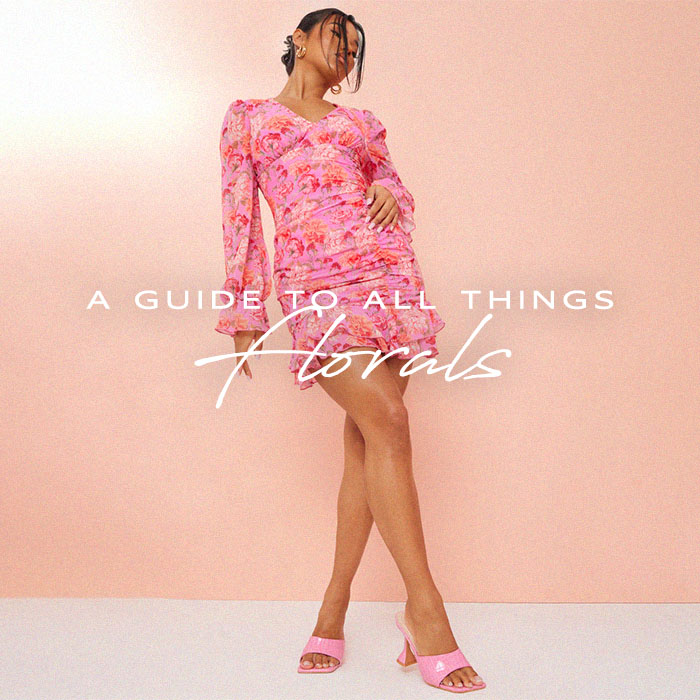 Stuck on how to style florals for 2023? This PrettyLittleThing post will have your outfit dilemmas sorted in seconds.
From florals for wedding guest dressing to floral print you'll want to style all season long, this is a guide to all things floral!
Let's start with what floral actually means.
Does floral mean flowers?
Essentially yes, in terms of floral clothing anything that has a flower pattern will class as floral print.
This could vary from a bold and bright floral jumpsuit to a ditsy floral dress.
The options are endless when it comes to floral or flower print meaning there will be a look you'll love.
What is ditsy floral print?
A ditsy floral print is a more subtle compared to a full floral look.
Here are are top three floral tea dress picks to show how to style the trend.
Unsure on what constitutes a tea dress?
Think short sleeves with a full skirt, they can be mini, midi or maxi in length making them perfect for the warmer season!
Not only dreamy but a must-have on your summer dress wish list.
Black Floral Puff Sleeve Frill Hem Tea Dress
Plus Red Floral Puff Sleeve Tea Dress
Green Floral Print Button Detail Puff Sleeve Shift Dress
Now the florals are confirmed, let's talk looks.
How do you wear floral prints?
No matter your style, there will be a floral PLT look to suit your vibe.
First up, styling floral dresses. Pick out your pattern, are you feeling the oversized statement florals or prefer to keep it more neutral?
What's the occasion? Decide your floral dress based on your plans, if it's a daytime vibe why not team with a denim jacket?
More about occasion dresses? We got you!
Here are three PrettyLittleThing floral dresses that have hit new in recently.
Nude Floral Print Plisse Strappy Maxi Dress
Plus Rose Floral Printed Plisse Cowl Neck Maxi Dress
Plum Chiffon Lace Up Back Long Sleeve Draped Midi Dress
One of the most popular looks, especially if heading to race day or a spring time wedding would be a floral midi dress.
How do you wear a midi floral dress?
Why not start by thinking what you feel your most confident self in, if loving a fitted silhouette then a floral bodycon dress is a must.
Maybe you prefer something a little more floaty and loose? You guessed it, here at PLT we have options for all!
#EveryBODYinPLT
Once your midi dress is confirmed, all that's left to do is level up your look with chic accessories.
Beige Floral Print Satin Twist Cup Detail Midaxi Dress
Plus Brown Floral Printed Plisse Cowl Neck Maxi Dress
How do you accessorise a floral dress for a wedding?
The key to styling a floral dress is to either keep your accessories timeless and style the staples or decide on a certain colour within the dress and allow your accessories to truly pop.
We're loving this bold pink and green combo. Wedding guest ready!
Green Floral Print Mesh Binding Detail Midaxi Dress
Prefer pastels? Team with ditsy florals for the perfect floral 'fit!
Plus Lilac Ditsy Floral Cowl Front Corset Bodycon Dress
Adding statement jewellery is another easy way to elevate and accessorise your floral outfit.
Cute gold chain – check. Maybe you're more for the clean girl inspired gold hoop earrings?
Stunning either way!
Gold Flat Snake Chain Layered Necklace
Green Floral Print Cold Shoulder Gathered Skirt Midi Dress
Blue Floral Print Contrast Lace Up Corset Bodycon Dress
Gold Small Chunky Tubular Hoop Earrings
If feeling the florals but not the dress aspect, why not opt for a floral top or floral jumpsuit instead?
Keep it casual with floral corset tops and jeans or prep for out out plans with floral co-ords.
Here are a few of our fave looks onsite right now!
Plus Yellow Ditsy Floral Tie Front Corset Top
Blue Floral Jacquard Strappy Lace Up Back Dipped Corset Top
Blue Ditsy Floral Print Strappy Bodycon Dress
Navy Floral Print Oversized Shirt & Navy Floral Print Woven Wide Leg Trousers
Burgundy Floral Print Underwired Strappy Wide Leg Jumpsuit
Still unsure on how to style florals? Why not shop by current trends?
Here are three of the most popular floral trends ATM.
Mesh Detailing 
Black Floral Applique Layered Mesh Cut Out Bandeau & Black Floral Applique Layered Mesh Micro Mini Skirt
Cherry Red Floral Print Mesh Split Hem Midi Skirt
Sage Green Floral Print Mesh Split Hem Midi Skirt
Applique & Embroidery
Cream Floral Applique Dip Hem Corset Top & Cream Floral Applique Low Rise Maxi Skirt
Black Stretch Woven Corset Top Floral Detail
Ivory Stretch Woven Corset Top Floral Detail
Taupe Satin Floral Embroidered Corset Top & Taupe Satin Floral Embroidered Midaxi Skirt
Black Floral Applique Detail Halterneck Bodysuit & Black Floral Applique Detail Flared Trousers
Plisse
Pink Rose Print Plisse Long Sleeve Split Detail Midi Dress
Pink Floral Printed Plisse Micro Mini Skirt
Multi Floral Print Plisse Cowl Strappy Jumpsuit
Blue Floral Print Plisse Frill Sleeve Shift Dress
All about spring styling?