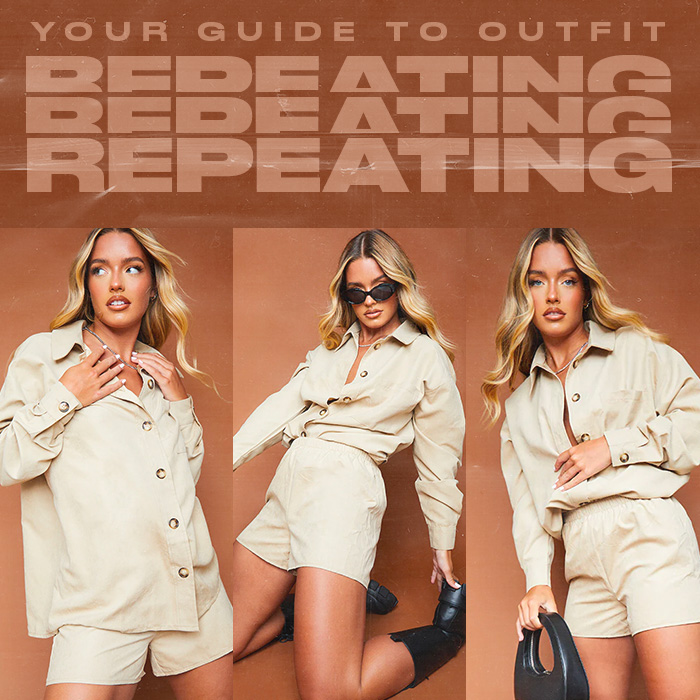 Ever feel like you've got so many clothes but still nothing to wear? We hear you gal.
A Guide To Outfit Repeating
Get ready to banish any what to wear dilemmas and fall back in love with your wardrobe by saying hello to outfit repeating.
If re-wearing outfits isn't something you're used to, we've got all the tips and tricks you need to re-invent your look so your outfit repeating goes unnoticed.
All About The Accessories
One of the easiest ways to refresh an outfit is by switching up the accessories.
Swap out a dainty necklace for a statement style for an instant and easy change.
Or, opt for different coloured accessories to what you've worn with your outfit previously.
Swap out a black bag for a bright neon style or a bold print that will take your look to the next level.
Layer It Up
Not ready to say goodbye to your summer wardrobe just yet? Don't worry doll, we've got you covered.
Repeat and revive some of your fave summer looks by simply adding more layers.
Add a chunky knit jumper on top of a t-shirt and shorts combo for a seamless transitional look we're loving.
Or style statement cardigan over your go-to summer co-ord and ditch the sandals for a pair of chunky boots.
Mix Up The Outerwear
Coat season is here and we're so ready.
An easy way to keep your outfit repeating going unnoticed is by switching up your choice of coat.
Keep the base layer of you outfit the same but go for a different style jacket each time.
Opt for a statement trench for a chic day look and switch it up with a biker jacket for a killer evening look.
Take It Back To Basics
Whilst we love our bright and bold pieces, investing in the basics is also so important and will make outfit repeating even more effortless.
The basic pieces we reach for in our wardrobes time after time are often the ones that are easiest to restyle.
From classic white tees and plain dresses to oversized hoodies and sweatshirts, good basics will build the perfect base for any outfit.