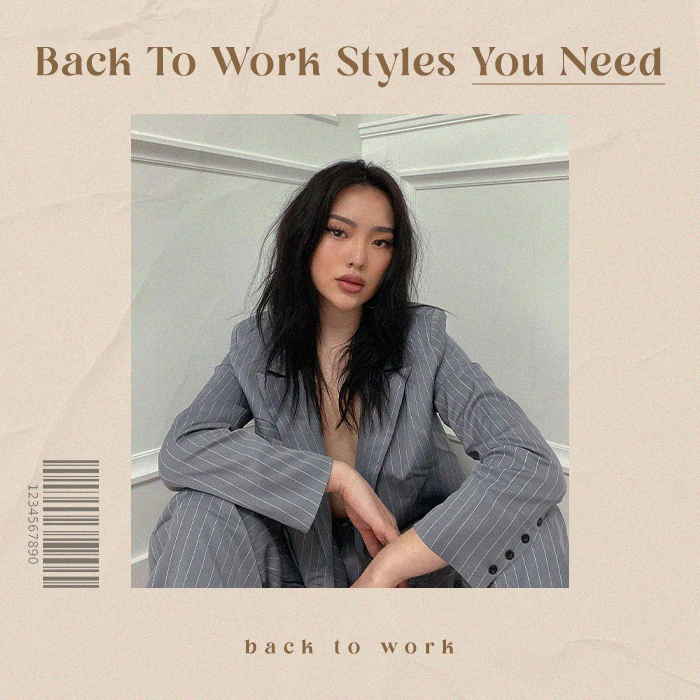 The daily routine of wearing nothing but loungewear could soon be over for us all and honestly, we can not wait!
Long gone are the days when staying at home in joggers felt like a luxury, so trust us -Â  we mean business when we say it's time to re-build your working wardrobe.
BACK TO WORK STYLES YOU NEED
We're thinking after a year of casuals (and possibly pj's) the first day back in the office is going to go one of two ways – keep it casj and ease in from oversized joggers gently or all out with major girl boss inspo. Whatever your vibe, we've got a fit for you that will make your first day feel anything but basic.
Oversized Shirts
A serious must have for any work outfit is a classic oversized shirt, this trusty staple will forever stand the test of time.
Blazers
Blazers are legit going to be your BFF when it comes to refreshing your workwear wardrobe. Repeat your basics but opt for a must-have blazer to instantly elevate your office attire.
Trousers
Obvs trousers can do no wrong when it comes to workwear but let's face it, sometimes we want to level up our 9-5 look. Style it out with added extras, whether you're looking for a Split Hem, Wide Leg, Flares, High Waisted or Belted deets – we've got them all.
Co-ords
An absolute fail safe when it comes to your working wardrobe is a co-ord or matching suit. Those early morning commutes are going to be a shock to the system so why not cut time off your outfit prep with matching two pieces. We really do mean it when we say effortless!
Shirt Dresses
Another must have when it comes to the 6am mid-week rush to get ready! Shirt Dresses are an easy way to upgrade your office outfit with minimum effort required. With added details that are bound to give you instant style points – we're thinking one shirt dress for each day of the week wouldn't be the worst idea we've ever heard.. *adds one of each to basket*