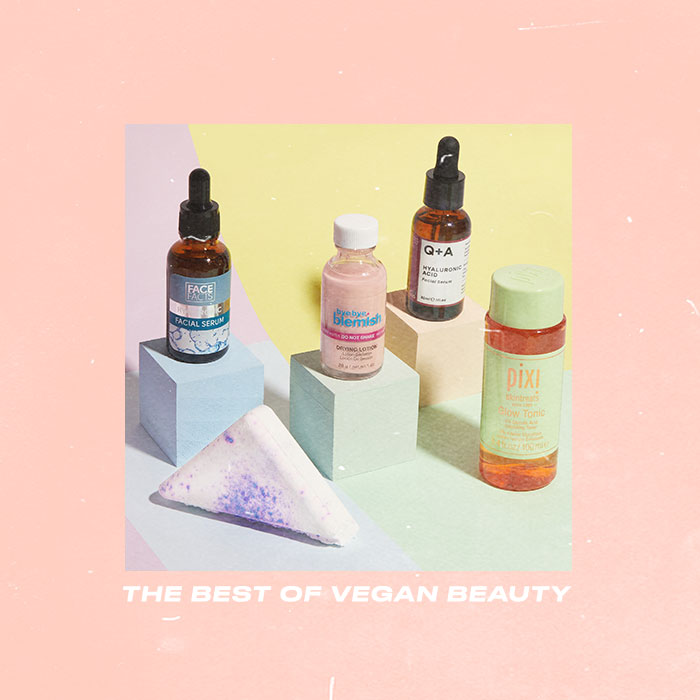 Whether you're the ultimate green queen or just starting out, get ready to update your beauty routine with all natural ingredients.
Best Of Vegan Beauty From PLT
From cruelty free makeup essentials to vegan skincare products that will have you glowing all year round.
Keep your regime in check whilst easily swapping to cruelty free options! Get ready to add to bag as we share our top picks of vegan makeup and beauty products.
Beauty
Prepare to have all bases covered, from foundation and concealer to palettes and highlight! These vegan must-have beauty picks are comin' in hot.
Makeup Obsession Mega Concealer
Shop here
Lime Crime Eyeshadow Palette Venus XL II
Shop here
NYX PMU Contour Wonder Stick Deep
Shop here
Makeup Obsession Mega Metal Highlighter
Shop here
Tanning
When it comes to fake tan, the vegan options are endless! Ready to get your glow on?
Filter by Molly Mae Tanning Foam Extra Dark
Shop here
Sunkissed Self Tan Mousse Medium 200ml 95% Natural
Shop here
Isle of Paradise Dark Self Tanning Water
Shop here
Skincare
Self care just got serious! Have your skin feelin' fresh whilst keeping it cruelty free.
Your newest obsession starts here.
Pixi Vitamin-C Tonic Toner 250ml
Shop here
Bye Bye Blemish Vitamin C Gel Exfoliator
Shop here
Bye Bye Blemish Drying Lotion Original
Shop here
Q+A Hyaluronic Acid Facial Serum 30ml
Shop here
Lashes
With the countdown to June 21st, we are so ready for the return of full lashes!
Barry M Feature Length Mascara – Black
Shop here
PrimaLash Vegan Lash Vault 16 pairs
Shop here
All About The Lip
Of course we have you covered when it comes to vegan lip products! From chic nudes to plumping glosses.
Makeup Obsession x Belle Jorden Lip Gloss Collection
Shop here
NYX PMU Suede Matte Lip Liner Soft Spoken
Shop here
Barry M Plumping Lip Gloss
Shop here
Q+A Liquorice Lip Oil 15ml
Shop here
Self Care
Obv we had to mention some serious pamper products that will have you feeling flawless ASAP.
Miss Patisserie Rainbow River Bath Ball
Shop here
Coco & Eve Travel Size Hair Mask 60ml
Shop here
Ready to transition your beauty essentials? Shop all vegan beauty here!