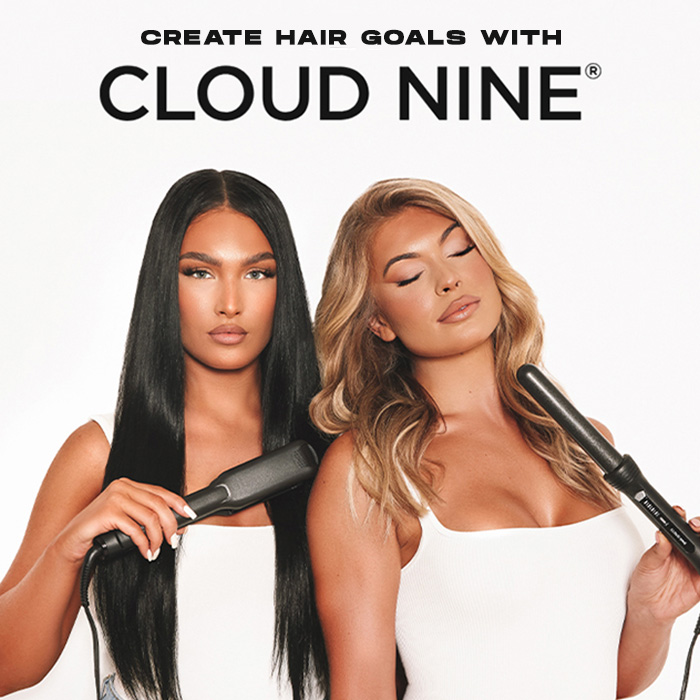 Hair goals pending…
Create Hair Goals With Cloud Nine
CLOUD NINE has landed at PrettyLittleThing, meaning your journey to healthy looking hair is easier than ever.
No matter your vibe, style or hair type with kinder styling technology you can achieve next level hair looks all whilst knowing your locks are in no way compromised.
Healthy happy hair, styled in dreamy ways – what more could you want?
Today on the blog we're sharing styling tips that will have you covered no matter what the occasion.
First up, prep your hair for any look with the CLOUD NINE Magical Quick Dry Potion.
Not only will this save you on drying time but with heat protection along with frizz and flyaway prevention, this little bottle is the ultimate go-to when it comes to hair styling.
Sleek, Chic & Straight
A classic, yet never ever basic. Sleek hair is a easy go-to hairstyle for all your AM to PM plans.
Office at 9am, drinks in the evening? Keep it sleek and straight with this timeless look.
CLOUD NINE The Original Iron Hair Straightener
CLOUD NINE The Touch Iron Hair Straightener
CLOUD NINE The Wide Iron Hair Straightener
Benefits of straightening with CLOUD NINE
Variable Temperature Control:
With heat settings ranging from 100-200°C for styling at lower temperatures without the unnecessary heat damage.
Mineral-Infused Ceramic Plates:
Infused with CLOUD NINE's signature healing mineral Sericite to seal the hair's cuticle and lock in moisture for shinier hair every time you style.
Floating Ceramic Plates:
The Ceramic Mineral-Infused Floating plates cushion the impact minimising drag and friction on the hair to minimise split ends and breakage.
Beachy Waves
Off-duty model waves are such a vibe.
With barrels suited for that 'Oh I woke up like this' look – achieving this lived in look is easier than ever thanks to CLOUD NINE.
Soft waves incoming…
CLOUD NINE The Waving Wand Curler
How to achieve the look:
Take small sections of your hair and loosely curl around the barrel, hold for just a few seconds before leaving to cool down.
Once set, simply comb through with a wide tooth comb for a look that will last all day.
Thinking more texture?
CLOUD NINE The Texture Wand Curler
For tighter curls swap to a smaller barrel yet maintain the same technique.
CLOUD NINE The Curling Wand Curler
Mask On The Regular
Upgrade your haircare routine with the CLOUD NINE Magical Remedy.
This deep conditioner will help strengthen existing bonds and repair broken ones while instantly sealing split ends for visibly shinier, stronger and healthier hair.
CLOUND NINE Magical Remedy 100ml
Did you know?
All CLOUD NINE products are made in South Korea, the only place in the world you can find their signature hair healing mineral Sericite which is infused into all CLOUD NINE hairdryers, wands and irons – gamechanger!
Ready to revamp your hair routine?
Shop all CLOUD NINE products onsite here.
Looking for more hair styling inspo?