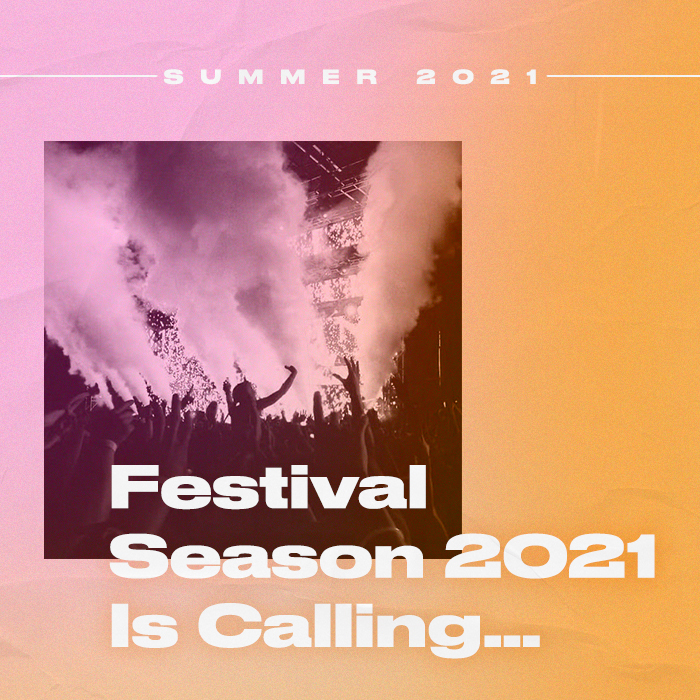 2021 hasn't been written off yet, rather than a cancelled festival season, things are starting a little later this year. With an optimistic look at the roadmap and searches for festival outfits and accessories increasing by 1778% on prettylittlething.com we know you are as excited as we are.
Festival season 2021 is calling
The likes of Glasto and Download have already announced they won't be happening in 2021 but with Reading & Leeds still on track for 27-29 August as well as Manchester Pride, Creamfields, Boomtown, Isle of Wight and Parklife to name a few we cannot help but get PUMPED.
Stage three of the government's lockdown roadmap states that events spaces, including live music and cinemas, can be expected to open as early as May 17th. This means that with restrictions on venue capacities in place outdoor events can take place with 4000 people or half the venue's capacity.
But prior to stage three of the roadmap test events will take place with large crowd sizes in order to ease future restrictions on larger crowd sizes, eg festivals, sports events etc by June!
Festival season 2021
This little ray of light has got us all ready for overpriced pints, festival outfits and singing our hearts out this summer. But what can we expect to be different at festivals in a pandemic?
We can only speculate at the moment, but it could look like…
Tests before attending the festival
Health passports for the event for the vaccinated + tested
On site testing facilities
Increased medical staff
Sanitising stations
Compulsory masks
Festival season 2021 will come with heaps of learnings from the test events as we move down the roadmap leaning on the incredible teams and vast amounts of work it takes to make amazing festivals happen. But of those announced which UK festivals are you looking forward to the most?
The UK's most anticipated festivals
Parklife
Independent music festival Parklife is due to take place in Manchester this September with an epic lineup due later this month. With a 300% increase in searches for the festival it is one of these most anticipated music festivals in the UK this year.
Creamfields
SOLD OUT EDM festival Creamfields takes over Cheshire this August bank holiday with a packed line up and a 350% search increase making it one of the most sought after festivals in the UK this summer.
Mighty Hoopla
The UK's most inclusive festival takes place this September in Brockwell Park, the Mighty Hoopla taking on the pop festival mantle with a 300% increase in searches.
Leeds & Reading Festival
Another August bank holiday titan, Leeds and Reading Festival is back for 2021 with an epic line up and heaps of interest with an 600% increase in searches making it one of the most anticipated in the UK this summer.
Manchester Pride 
With a 700% increase in searches Manchester Pride is the most anticipated UK festival in 2021 with an incredible set up and groundbreaking pride festivals. Combining free and paid events, Manchester Pride Festival is changing the festival set up, creating versatile and inclusive events.
As more festivals spike in interest we eagerly await the effects the early stages of the roadmap will have on summer festivals.
What about festivals ab
road?
The international travel ban is due to be reevaluated and discussed in the April 12th phase of the lockdown roadmap but we doubt festivals abroad will be on the cards.
USA's Coachella has been cancelled, as well as Barcelona's Primavera Sound for 2021, so maybe we can create the iconic looks we'd rock at home instead or make the most of what the UK has to offer.
Festival essentials
Since the announcement of the roadmap searches for festival outfits and accessories have shot up with festival essentials driving the trends.
Summer Dresses
Lighter evenings and positive news means we're getting ready for Spring and Summer with a 131% increase in searches for summer dresses on PLT. 
Boots
Never underestimate British weather, even with the sun shining, thousands of people trampling on fields always equals mud which means chunky boots at festivals are your new best friend.
Bum Bags
Keep your sh*t safe and the hand santisier close. Bum bags have seen a 114% increase in searches across PLT because these beautiful handbags style up any outfit whilst leaving your hands free for warm cider and epic dance moves.
Sunglasses
With a 114% increase in sunglasses across Pretty Little Thing we know the perfect festival accessory is here to save the day. From completing an outfit and protecting those eyes to helping you hide in your hoody during the hellish (but very much missed) queue for the loo in the morning.
Face + Body Jewels
Face gems saw a 62% increase in searches across PLT so we know you are all ready to glam it up this Summer.
But are you all about a touch of glitter with our individual jewels or a full bedazzled look?
Whatever happens this summer, we've got you covered this festival season with cautious optimism, hoping we'll be singing our hearts out in a field or recreating the experience at home with the ultimate festival outfit, streaming old sets with themed bevvys.