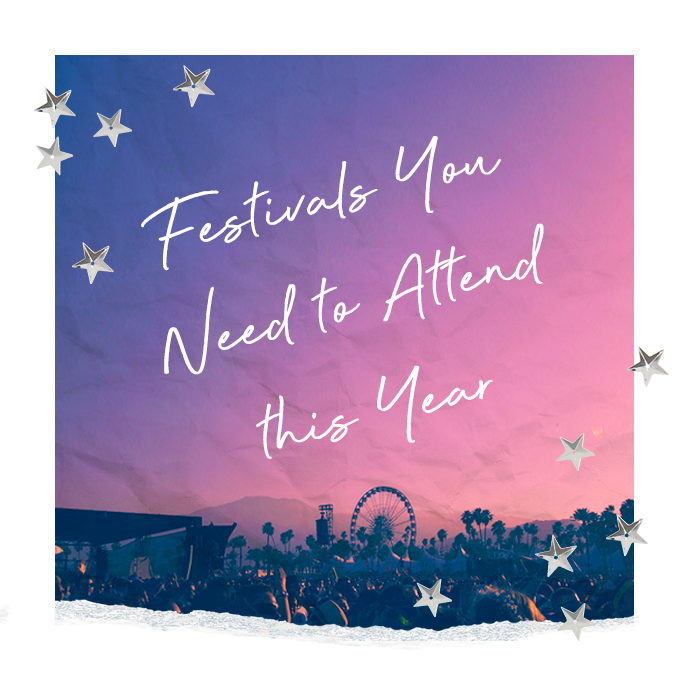 It's almost our favourite time of the year again… festival season! So doll, as the calendar starts to fill up, we've rounded up a list of festivals that you need to start jotting into your diary.
Whether you prefer to travel to hotter climates or keep it local, there is something here for everyone.
Festivals To Attend In 2019
Prepare to start outfit planning because these fests are unmissable.
Snowbombing – Austria
What: Europes largest show on snow
When: 8th – 13th April
Let's switch up the game this year and mix being active with partying – Snowbombing is the ultimate ski holiday with a twist. You might not be able to wear your bikini and beach flares here doll but the never-ending. You can ski or snowboard down the hill to see your favourite DJ's at the bottom, attend indoor pool parties and finish your night off in the local clubs. With artists such as Groove Armada, Stormzy, Hannah Wants, Sub Focus and many more, there is literally a genre for everyone. It is literally " the greatest show on snow".
Arcadia – London
What: A unique electronic music festival
When: 4th & 5th May
If you're looking for something a little more 'out of this world' then Arcadia is the one for you. The stage is a huge gigantic robotic spider that explores cutting edge technologies to put on an amazing show. We don't really need to say more about the festival other than that you are guaranteed a party. Spread across two different days with two different genres of music, this show is definitely unmissable.
Parklife – Manchester
What: A multi-genre music festival
When: 8th & 9th June
In the heart of PLT HQ, Parklife is our local festival that never disappoints. With the biggest line up yet, featuring artists like Cardi B, The Streets, MK and Solange, it was the fastest selling year yet. Can you tell why we are so excited yet? We may even have a few PrettyLittleThing surprises up our sleeve so this is not a festival that you want to miss.
Exit Festival – Serbia
What: An award-winning summer music festival
When: 4th – 7th July
The music revolution is taking over this year for the infamous Exit festival in Serbia. The historical coliseum stages and festival fields have seen a mix of artists such as Solomon, The Prodigy, Wiz Khalifa, Dimitris Vegas & Like Mike and The Vaccines. ' The fortress' is a hidden gem for the festival as it is a venue like no other. If you're looking for something unique this year, prepare your girls to get booking.
Wilderness – Charlbury
What: A UK boutique music festival
When: 1st – 4th August
If hippie vibes are your thing, Wilderness festival is for you. This weird and wonderful place is situated in the Oxfordshire countryside and has so much to offer. With everything from various stages featuring a range of genres, hot tubs to chill in, theatre and arts, talks and debates right through to yoga classes, everyone is covered. This is the time to gather your sequins and glitter and create your most adventurous festivals looks yet!
Boomtown Fair – Hampshire
What: An entire festival city
When: 7th – 12th August
Boomtown fair is one of the most creative festivals in the UK, split into four parts, and separate districts, you will literally get lost every day in this wonderland (We think that's a good thing, maybe?). If you are versatile with your music, Boomtown is gonna blow you away. They unite a diverse line-up of underground and global music including reggae, world music, folk, jazz, ska, hip hop, drum and bass, techno, house, disco, jungle and so on. If you're looking for something a little crazy and out there, you do not want to this miss this one.
Mint Festival – Leeds
What: A techno/ house music festival
When: 28th – 29th September
This one is for all you dolls that love a rave in the sun. Get ready to get your neons and your sequins because this festival is definitely gonna be one to remember. With all the best house and techno acts around, it is always guaranteed a party. The line-up is yet to be announced but we know that it will never disappoint. You can sign up now for exclusive news and pre-sale tickets on they're website, so get ahead of the game.
Start planning your festival outfits here.