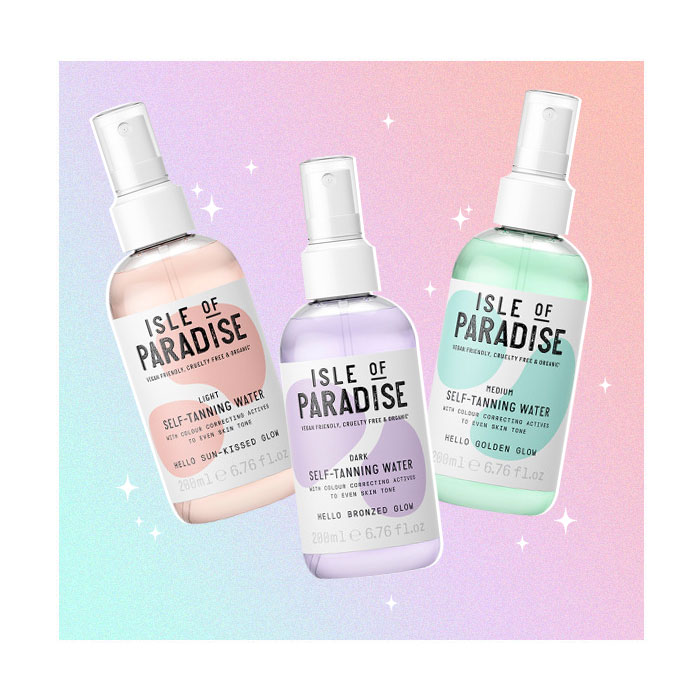 When it comes to faking that glow up, Isle of Paradise is showing us a whole new approach to our tanning rituals and it is the stuff of pale person dreams. Who said tanning had to be high maintenance, not so pleasant smelling and totally patchy? Not the babes at Isle of Paradise – this beauty band has answered our prayers with their tanning waters.
Fuss Free Tanning With Isle Of Paradise
Tanning can be a dangerous game, there's just so much room for error, right? Not anymore. Whether you're a tanning novice or an absolute tanning addict, Isle of Paradise tanning waters cater to all. Want a nice subtle bronzy glow? We got you covered. Want to look like you've just been to Jamaica for 3 weeks overnight? Girl, we've got your back. Isle of Paradise can transform your skin tone to the glow up you've been dreaming of.
Step 1: What's Your Shade
First things first, choosing the right shade or level of tan for you, as well as the perfect product for any slight skin concerns you have can be tricky. Let us break it down for you.
Tanning Water #1: Hello Sun-Kissed Glow
What: Self-Tanning Water in Light
This stuff legit does what it says on the bottle – say hello to a sun-kissed glow. Whether you're a novice tanner or a pro, this is perfect for a low-key glow when you're just looking to achieve a subtle "just caught the sun" look. Plus, it's made up of OXY-glow technology, said to deliver oxygen to the surface of the skin for the effect of a brighter, more radiant complexion.
The verdict: Subtlety is key here. This product is the shade for all you pale honeys out there looking for that low maintenance day-to-day glow.
Tanning Water #2: Hello Golden Glow
What: Self-Tanning Water in Medium
When in need of a golden flawless glow, this is your go to. The SuperBalance Complex product is clinically proven to reduce redness, inflamation or the appearance of stress on the skin and to pretty much answer our prayers when it comes to having a flawless complexion.
The verdict: We recommend this product for girls with a slighter darker skin tone, to top up your colour and make you feel like you've had a 2 week holiday overnight.
Tanning Water #3: Hello Bronzed Glow
What: Self-Tanning Water in Dark
Ok the shade says "dark" but don't be scared. There's no Ross from Friends moments here, this level of tanning water will make you the ultimate bronzed up goddess. Even better, the addition of the exclusive HyperViolet complex hides orange, yellow and ashy tones to colour your skin and leave you looking golden.
The verdict: This product is perfect for the girl who loves to look hella bronzed on her nights out or if you've got a big-deal event coming up that you need to be looking and feeling your best for.
Step 2: How To Apply
The secret to the perfect tan, much like achieving the perfect makeup is getting the right base as your canvas so it's important to ensure skin is looking prepped ready for application. Here's how:
#1 This is a given but make sure your skin is make-up and deodorant free before you start; a blank canvas is a must.
#2 Make sure those difficult to tan (evenly) areas such as hands, elbows, knees and feet are well moisturised for an easy application leaving your skin looking buffed and babein'.
#3 You've all heard primers are best for a flawless base when it comes to your makeup, right? The same rule applies for tan. Luckily, not content with letting you achieve the perfect tan, Isle Of Paradise also offer a Self-Tan Prep It Priming Spray to ensure your skin better absorb your tan, resulting in a deeper and more long-lasting tan.
#4 Choose the Isle of Paradise tanning water in the shade of your choice and generously spray all over until saturated.
#5 Once applied, use a tanning mitt and gently blend to ensure a full even coverage.
#6 Baby wipe the palm of your hands, in between fingers to make sure no excess tan is left.
#7 Leave your tan to develop for 4-6 hours and then shower. Or leave overnight and wake up flawlessly glowing.
Step 3: Girl, That Glow
You can thank Isle of Paradise for a seriously enviable glow. Oh and did we forget to mention, these products are all cruelty-free, organic and vegan? Getting your tan on has never felt so guilt free.
Oh, and for when you're over your tan – Isle of Paradise also have you covered with their Over It Magic Self Tan Eraser.
Happy tanning!