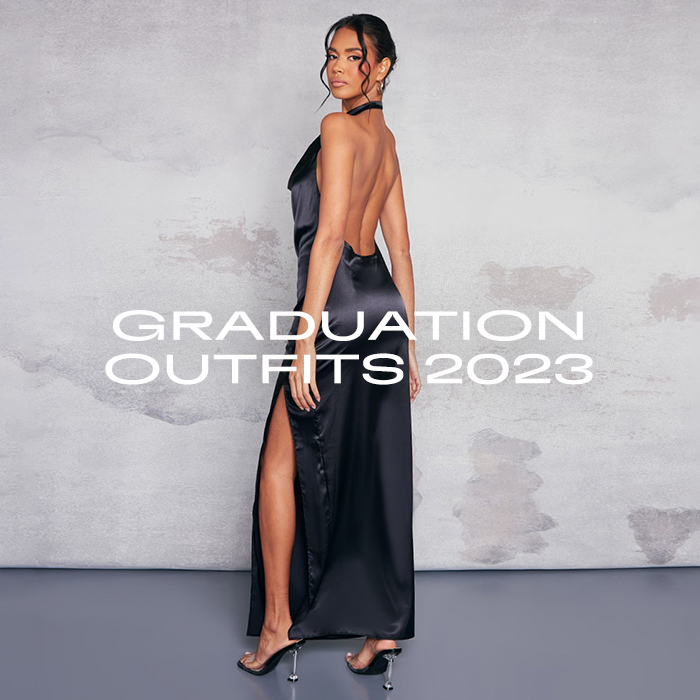 Whether you want to go all out with a formal gown or are just in need of graduation outfit inspo, we're sharing endless graduation outfit ideas.
So, say cya to the question of what should I wear for my graduation?
PrettyLittleThing graduation outfits is the answer!
How to dress for graduation?
First of all you're going to want to make sure you're not only comfortable but also still mange to show off your personal style.
Here are three fun (but practical) tips when it comes to picking your perfect graduation outfit:
#1. Ensure you can move your arms.
It may seem silly but getting that perfect Insta pic throwing your cap will be wayyyy harder if wearing a tight fitting bardot sleeve.
#2. Make sure your outfit is just as comfortable to sit down in as when you're stood up.
We've all been there – unreal outfit on images but in reality you can't sit down, not comfortably anyway.
#3. Footwear is key.
Not only will your outfit be covered by a gown mostttt of the day so statement shoes are a must BUT they also need to be comfy as can be.
Tripping up on stage? No thank you!
What should I wear for my graduation?
A good stating point when deciding on what to wear for graduation is to pick out a key feature you'd like for your look.
For example, are you set on wearing a graduation dress or open to other options such as suits, jumpsuits etc.
If wanting a particular colour, shape or fit, filter your searches by that.
Also, be sure to pick something you like, sure everybody else can think you look incredible but it's what you like best that matters most.
Here's five of our fave graduation dresses from onsite right now!
Black Cowl Neck Thigh Split Satin Maxi Dress
Blue Grey Satin Halter Plunge Ruched Waist Midaxi Dress
Cream Bandeau Asymmetric Frill Detail Maxi Dress
Plus Cream Polka Dot Pleated Hem Shift Dress
Grey Abstract Print Chiffon Ruched Drape Midaxi Dress
We're also rounded up the most searched styles for women's graduation outfits, you're welcome! 
Short graduation dress
Leg lengthening looks for graduation? We're sold.
From shift dresses to bodycon dresses, simply take your pick!
Silver Satin Underwired Back Strap Detail Shift Dress
Black Slinky Cut Out Mesh Flared Sleeve Bodycon Dress
Graduation dress with sleeves
Why not make sleeves the main focus point of your graduation outfit?
We're thinking batwing and puff sleeves to ensure all eyes are on you!
Hot Pink Satin Batwing Sleeve Midaxi Dress
Plus Cream Puff Sleeve Ruched Side Split Midi Dress
White Rose Applique Puff Sleeve Cup Detail Bodycon Dress
Black Puff Sleeve Ruched Puffball Shift Dress
Graduation outfit without heels
We're loving maxi dresses for this, the added length means the majority of your footwear will be covered meaning no added stress over footwear choices.
In terms of actual footwear, a small heeled sandal is the perfect shoe option if you don't want to commit to heels without loosing the overall look.
Here are three shoe options that are more than graduation worthy.
Gold Metallic Pu Padded Knot Asymmetric Strap Low Block Heeled Sandals
Nude Pu Square Multi Criss Cross Strap Block Heeled Tie Up Sandals
Black Pu Square Multi Criss Cross Strap Block Heeled Tie Up Sandals
Graduation outfit ideas not dress
Wearing something different to a dress for graduation is actually easier than your probably think.
It could be that you opt for jumpsuits, playsuits, co-ords or suits – whatever you go with, you'll be looking nothing short of iconic come the big day.
Cream Textured Chiffon Cowl Scoop Back Jumpsuit
Orange Chiffon Frill Tie Bust Detail Cut Out Playsuit
Pale Blue Linen Look Split Hem Longline Bandeau
Pale Blue Linen Look High Waist Flared Trousers
Tall Sage Green Oversized Blazer
Tall Sage Green Tailored Wide Leg Trousers
Finally, knowing what not to wear can sometimes be as hard as deciding what you do want to.
What not to wear to graduation?
Whilst there are endless outfits you'll be able to wear for graduation 2023, remember it is a special occasion so try to avoid anything too casual such as jeans, cargos or loungewear.
Although we love these pieces for daily dressing, make the most of going all out for graduation 2023.
Trust us, it will be worth it!
So, all you've got to do now is pick out a look and get set to celebrate.
Have the best day, you deserve it!
In need of even more more graduation outfit inspo?