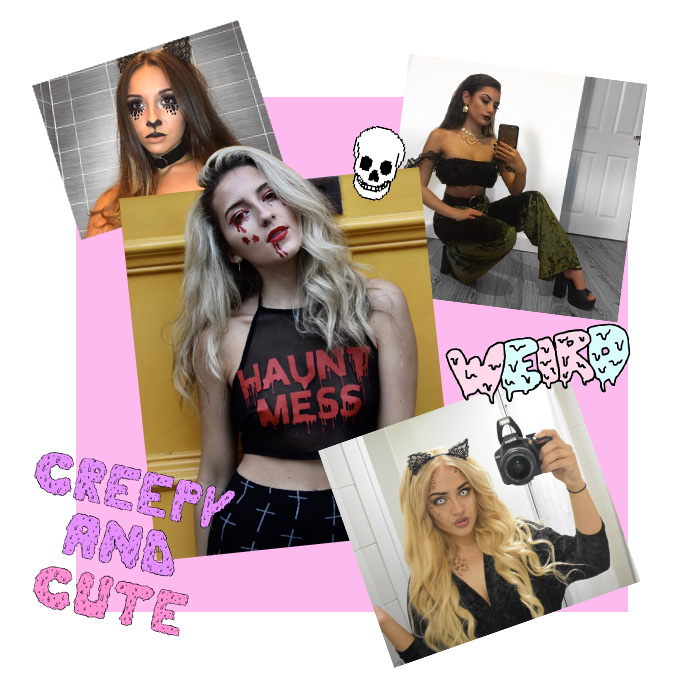 Our #PLTsorority babes have. This month we challenged our girl gang of student ambassadors to get their hallo-queen on and create for us a last minute Halloween costume on a budget – 'cos we all know being a student means being extra careful with your dollar. Come at us student loan.
Halloween Looks For £30 & Under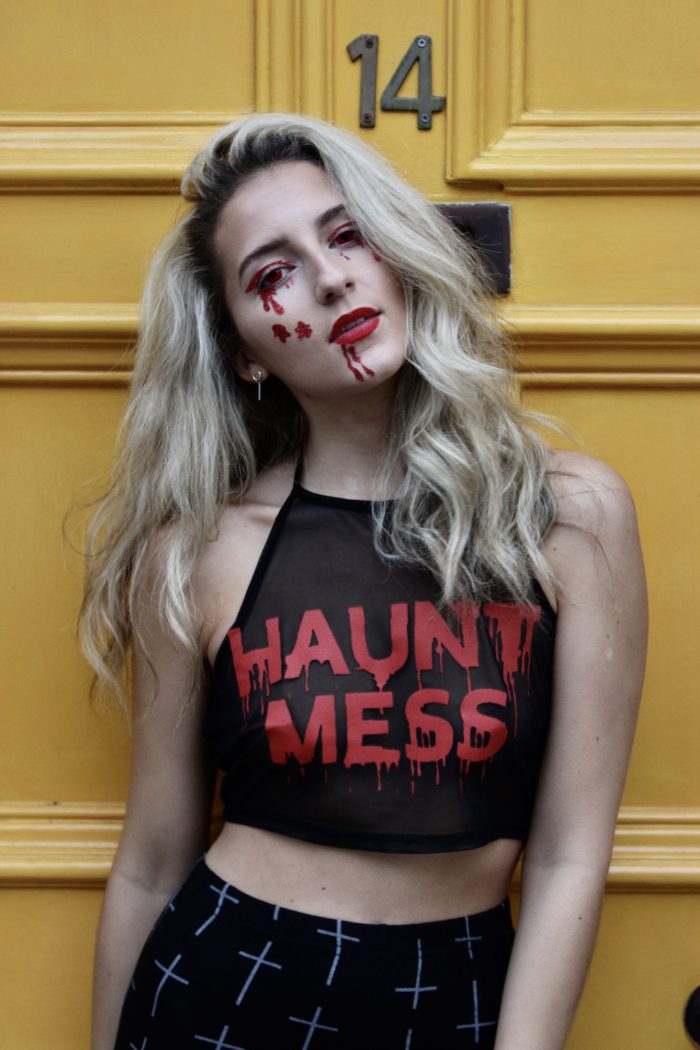 The #PLTsorority babe: Aoife Malone
The challenge: Create a Halloween outfit for £30 or under.
In her words: When it came to picking out a last-minute Halloween outfit on a budget, PLT had everything I could've wanted. I'm obsessed with flares at the minute, so I knew straight away that I needed a pair of the graveyard cross flares and paired it with the gorgeous haunt mess mesh crop top.
I chose the fake blood and red eye contacts which made me look totally made up but with minimal effort. The contacts were super easy to put in. The stick on blood was so quick, easy and really pulled the look together without me having to use fake blood and messing it up no doubt.
Shop Aoife's look:
Follow Aoife on Insta: @aoifemalone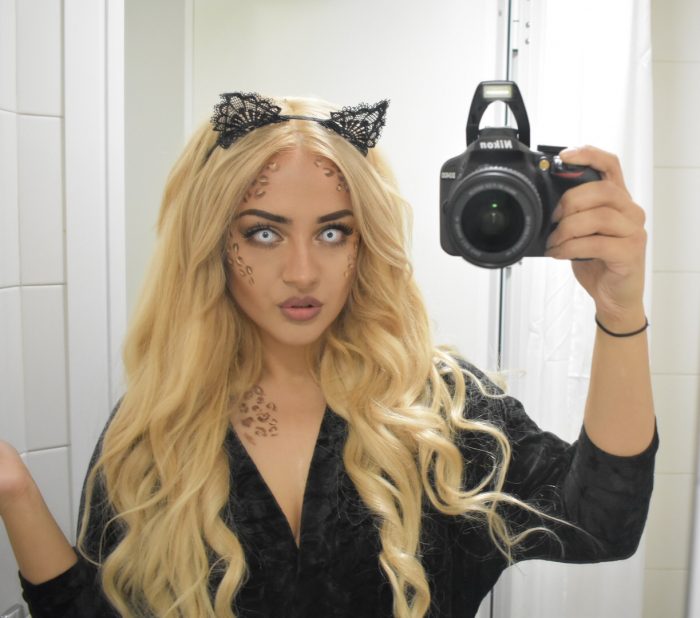 The #PLTsorority babe: Shunita Laskar
The challenge: Create a Halloween outfit for £30 or under.
In her words: I absolutely adore big cats! Therefore, I have put together a leopard inspired Halloween look that is simple to recreate and easily affordable on that ever-disappearing student budget.
I've started the look by applying my makeup using lots of gold and nude tones to create a Smokey eye, along with a strong contour and exaggerated winged liner. I then went on to create loose bouncy curls with my hair and applied a really cute lace cat ear headband (had a little dance around my room between shots thinking I was Ariana Grande).
I then went back to my makeup to add some leopard print spots on my face and body. I concentrated on putting these around my eyes, cheekbones and neck but you can go as wild as you want with these. After creating the finished makeup look, I put in som white out, Halloween contact lenses. I have created this look without the lenses before but they make a Halloween look a hell of a lot more spooky.
Finally and most excitingly, THE OUTFIT! I paired the Adelle crushed velvet plunge bodysuit with the leopard suit skirt to create this really fun two-piece and I absolutely love it. The best part about this look? It was under £30 and after Halloween, I'll be able to mix and match these pieces with other garms and create endless hot looks. I will also continue to rock the cat ears while dancing around my room to my fave Arianna tracks.
Shop Shunita's look:
Follow Shunita on Insta: @shunnaynay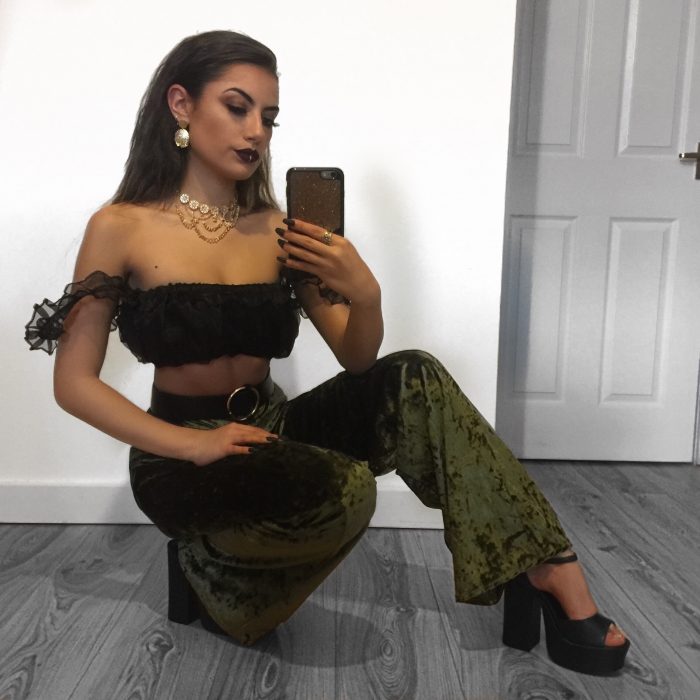 The #PLTsorority babe: Lidia Sophia
The challenge: Create a Halloween outfit for £30 or under.
In her words: To achieve this gypsy inspired Halloween look, you need to reach for all things flared and frilly, preferably all different textures for that boho feel. I opted for a mesh ruched frill crop top and the khaki velvet trousers.
Gold accessories match super well with khaki and you can even add a bit of gold glitter or Gypsy Shrine gems to make your look more mystical. The lip cuff adds a bit of edge to the look.
Crimp or curl your hair for a whispy wild hairstyle (I plaited mine the night before and then backcombed it). Aim for all things dark; I have chosen a dark brown eyeshadow, a deep purple lipstick and navy nails.
Shop Lidia's look:
Follow Lidia on Insta: @lidia.sophia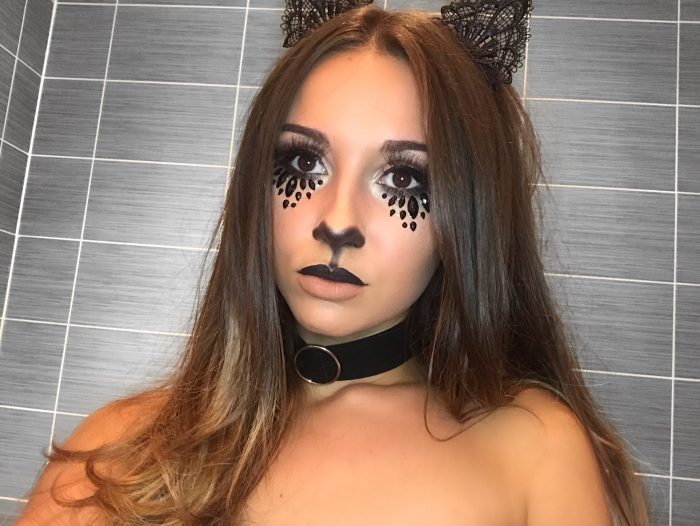 The #PLTsorority babe: Caitlyn Simpson
The challenge: Create a Halloween outfit for £30 or under.
In her words: This Halloween cat look is super simple and easy to put together, making it both a time and money saver. Start off by creating a simple winged liner look. I then curled my hair to create messy waves and put on the Black Lace Cat Ears Headband. Use the Gypsy Shrine Halloween Swan Face Jewels under your eyes and put on a pair of fake lashes to complete the face.
Now for the best bit, the outfit: I am wearing the Kelli Black Bandeau Cropped Jumpsuit which is such a comfortable but sexy outfit and it's super cheap. I paired this with a Black Ring Detail Choker it almost looks like a cat collar, so that's perfect! To finish off the look, add a pair of black heels. I really enjoyed putting this look together, it was super easy and only came to £30!!
Shop Caitlyn's look:
Follow Caitlyn on Insta: @_caitlynsimpsonx