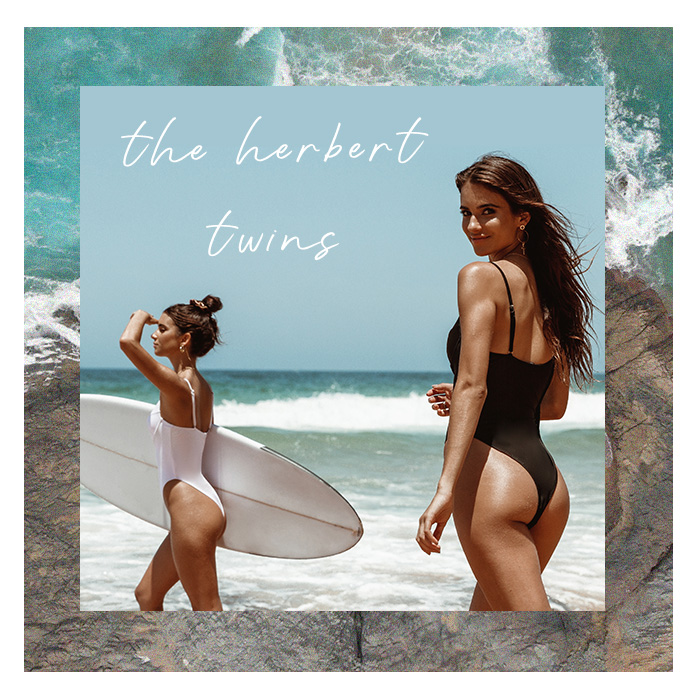 Get to know Aussie influencers, faces of our latest Australia campaign and all round babes Elisha and Renee Herbert. We caught up with them to talk all things traveling the world, passions and big things.
Hanging With The Herbert Twins
What's a typical week in your life look like?
Renee: It's honestly all over the place. A lot of trips we go on are always organised last minute and everything we do is super spontaneous and random! It allows us to live in the moment and not stress too hard about the future.
Elisha: It's hard to describe a typical week in our life as every week is always so different considering how much we travel and change base for work or for trips. It's always allowing us to explore different ways of life and new exciting things. However normally when we are home a week in our life would normally involve chilling out a lot many beach days, tanning, reading, hiking, yoga and spending time with friends & family.
How did your Instagram's 'blow up'?
Elisha: I think it started taking off for us when people saw us modelling as twins at about 15…
Renee: Yeah, when we were around 15 years old we would randomly take photos of each other and post them. It was easy to be consistent with posting since we have each other to take photos and we just found it fun. It's always been a fun thing for us to adventure and take photos or dress up and take photos so our feed was mainly fashion or lifestyle posts.
Describe each other in 5 words.
Renee: I would describe Elisha as spontaneous, passionate, dramatic, stubborn and extroverted.
Elisha: Simultaneously annoying, amazing, funny and compassionate.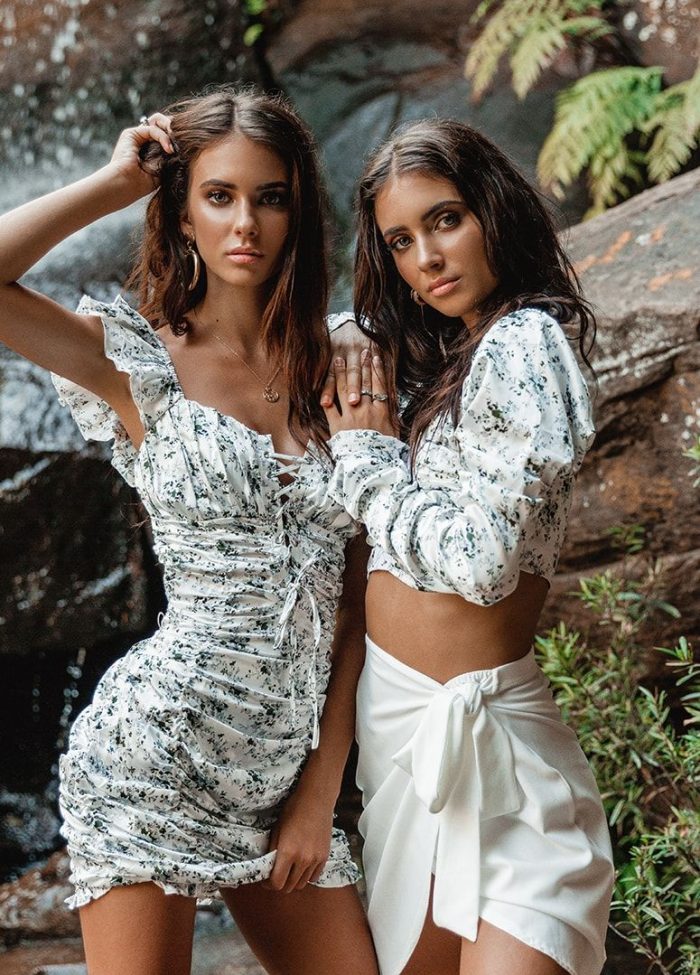 What's one thing people would be surprised to know about you?
Renee: I'm a triplet! Most people don't know that…
Elisha: I guess when I tell people I'm a triplet most people are surprised considering everyone knows us as twins haha.
Tell us three things you stand for.
Renee: Body positivity, fighting against animal cruelty and stopping global warming.
Elisha: Veganism, equality with humans and animals, fighting global warming.
5 essential items to pack when travelling?
Renee: I love being super comfy on the plane so I'll always pack fluffy socks, lip balm, neck pillow, ALOT of moisturiser (to moisturise your dry plane skin) and headphones are a must!
Elisha: Packing for the plane would be moisturiser, face mask, toothbrush, lip balm, fluffy socks.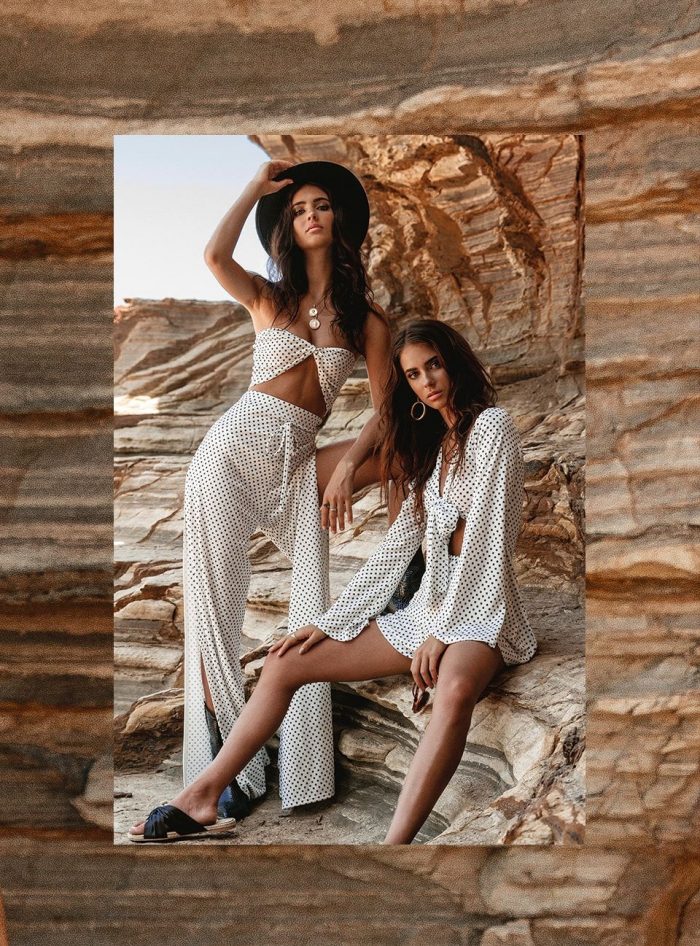 How do you handle the high pressures of what you do and how do you stay motivated?
Renee: We always try to have fun with everything we do instead of taking it so seriously. It's easy to stay motivated when you have each other, we are always picking each other up. When the pressure gets too much it's good to take a small break and refresh. Which is usually spending time at home with the fam (and our dog).
Elisha: Modeling is always something hard in regards to staying confident and feeling pressured to be constantly perfect when there's such a trend for pseudo features on girls these days, but you get more used to it with time and realise that everyone has a unique perfection in their own way, so you just gotta own it. It's very rare that I'll feel pressured to be a certain way on social media because I'm just myself.
"I don't think anyone should try to be someone their not because then there's no pressure to be anything but themselves."
Motivation stems from passion so I believe you just really need to find those things in life (big or small) that make you feel truly passionate and you'll never feel unmotivated.
If you could change one thing about the world what would it be?
Renee: Soooo many things but one major one would be global warming 100%. This is something we're super passionate about.
Elisha: Global warming without a doubt.
What's the best thing going on in life right now? Do you have any exciting projects on the go or any goals you'd like to accomplish?
Renee: Right now the best thing is travelling, experiencing, learning and being young!! We are both super ambitious and want to do so many things. The industry we are in right now can bring a lot of opportunities. Like I said we are super spontaneous so when we want to take the next step or do something else we will pour everything into that! For now, we are focusing a lot on our modelling. Who knows what the future holds!
Elisha: The best thing in life right now for us is the impulsive desire to merely follow our passions and live our lives learning and growing every day with an open mind. Right now we are so grateful to be able to work and travel together around the world as young as we are. We have so many goals we are working on for the future and are very excited about!