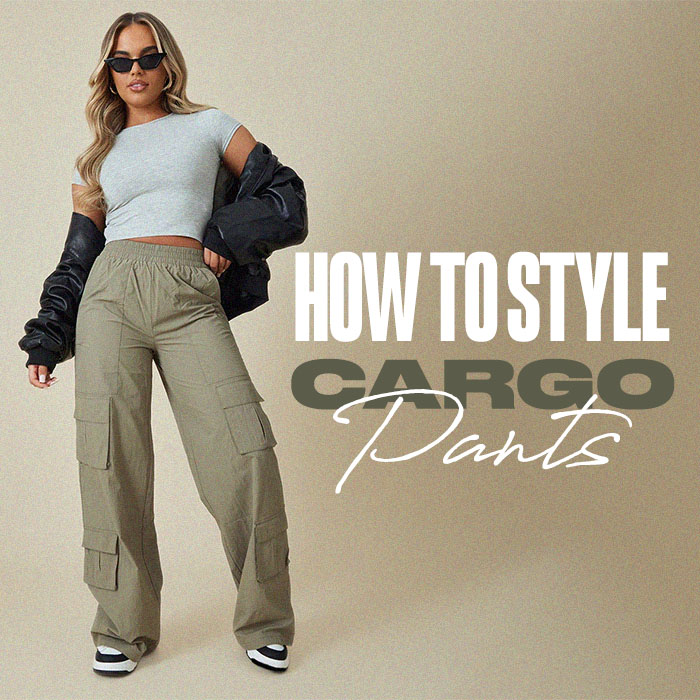 If you don't yet own a pair of cargos then you are seriously missing out.
Cargo pants have become the ultimate go-to for daily dressing and we can see why!
Dress them up or down depending on your plans.
Heading to the office? No stress, cargos are the ultimate versatile piece.
Here are our top PLT tips on how to style cargo pants.
So, let's get into it!
Are cargo pants jeans?
Technically no, cargos are usually a cotton or polyester blend but you can shop denim cargo jeans.
In fact, they are quickly on the rise and set to be one of the biggest denim trends for 2023.
Here are three of our fave denim cargos onsite right now.
Mid Blue Wash Cargo Pocket Baggy Wide Leg Jeans
RENEW Grey Cargo Pocket Baggy Wide Leg Jeans
Grey Acid Wash Low Rise Baggy Boyfriend Cargo Jeans
Are cargo pants supposed to be baggy?
Yes, cargos are slightly baggy due to their off-duty style.
Want to take the oversized 'fit even further? We got you!
Say yes to trending parachute cargos as well as wide leg cargos and low rise 90's style.
We're obsessed with them all.
Mocha Parachute Oversized Shell Cargos
Cream Baggy Low Rise 90's Cargo Trousers
Stone Elasticated Waist Wide Leg Cargo Trousers
Are cargo pants smart casual?
We'd say so yes, however they are so easy to transition to suit your style and agenda.
Why not try out the following outfit inspo to help you achieve smart casual outfits effortlessly.
Cargo pants and hoodie
If effortless laid back style is your vibe then this look is a must.
Cargo pants and leather jacket
You know it, a classic faux leather jacket is a go-to for daily dressing.
We're loving this all black outfit. Casual yet cool as can be.
Black Lightweight Shell Low Rise Cargo's
Cargo pants and crop top
Keep it warm weather approved by teaming cargos with a crop top.
Not quite ready for no jacket weather? Opt for a chic bomber jacket for a easy trend led look.
Khaki Oversized Straight Leg Cargo Trousers
Cargo pants and blazer
Blazers are another easy option for those what to wear dilemmas.
Keep your basics simple then bring a little extra to your look with a oversized blazer.
Perfect!
Black Lightweight Parachute Pocket Detail Toggle Cargo's
Motocross
Team two trends by adding a slogan racer jacket to your cargo inspired OOTD.
Start your engines, this look is next level.
Taupe Peached Pocket Detail Fold Over Waist Wide Leg Cargos
What should I wear with cargo pants?
Whether you're heading to work, drinks with the girls or out out weekend plans, cargos will have you covered.
Here are three looks that are perfect for upcoming plans.
From your 9-5 to date night dressing, we're obsessed with these looks!
Cargo pants to office
If wanting to style cargo pants to work then this look is not to be missed.
Dress as formally as you need depending on your office attire.
We're thinking white shirt or oversized blazer and bodysuit.
Khaki Elasticated Waist Straight Leg Cargo Pants
Cargo pants with heels
We're going bold and saying ANY cargos can be styled with heels.
Why not make a statement and go all out with metallic or denim heels?
Light Blue Baggy Wide Leg Cargo Pocket Jeans
Light Grey Woven Cut Out Cargo Joggers
Cargo pants with denim
If loving a textured look, add denim into your cargo outfit.
From structured denim corsets to oversized denim jackets – the options are endless.
Seasonal dressing made easy!
Lilac Parachute Shell Pintuck Knee Cargo's
Prefer to shop based on cargo pant style?
Here are some of the most popular cargo searches we have onsite.
Cargo pants without side pockets
Prefer a more minimal look to your cargo outfit? Try out jersey cargos with just simple side pockets.
Tall Olive Jersey Cargo Pocket Wide Leg Trousers
Cargo pants for women petite
Best believe we have cargo product picks for you 5 ft 4 and under gals.
Perfect in length and set to take you to PM plans effortlessly.
Petite Khaki Wide Leg High Waisted Cargo Trouser
Utility cargo trousers
Join the hype with the addition of utility vibes. Your cargo collection just got upgraded!
From after work drinks to night out plans, there is a pair of utility cargos to suit.
PRETTYLITTLETHING Charcoal Grey Badge Peachskin Utility Trousers
Stone Twill Pocket Detail High Waist Cargo Trousers
Of course we couldn't discuss styling cargo trousers without mentioning the classic corset top and cargos combo!
Seriously this is a true ride or die when it comes to outfit prep.
Grey Acid Wash Lace Up Denim Top
Grey Acid Wash Cargo Pocket Detail Slim Wide Leg Jeans
Black Mesh Panel Lace Up Corset Top
Black Baggy Wide Leg Cargo Pocket Jeans
Cream Bandage Structured Panelled Hook & Eye Corset
Grey Camo Wide Leg Cargo Trousers
Loving the cargo and nice top duo? Shop more here.
If cargos are your vibe, check out denim corsets!