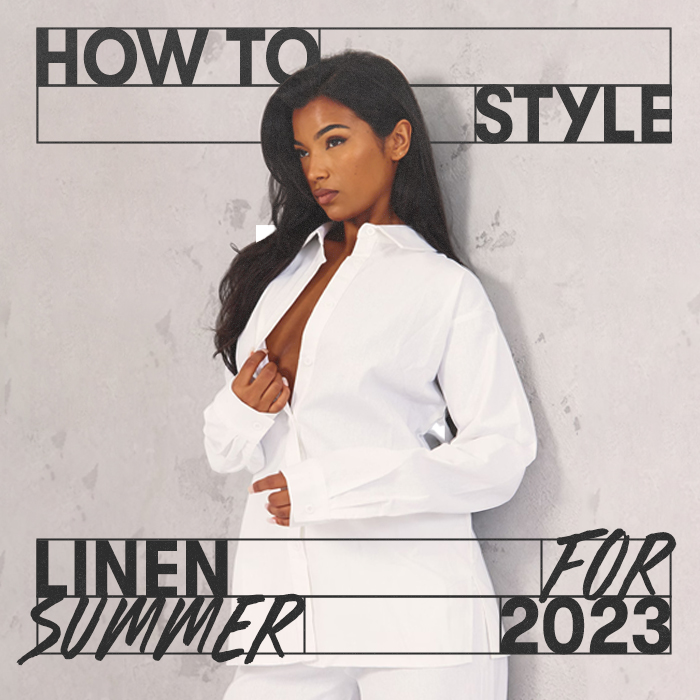 Stuck on how to wear linen for the summer season? Here at PrettyLittleThing we have your linen looks sorted.
From linen outfit inspo to styling tips, new season style is served.
First up, let's answer some of your most searched questions when it comes to wearing linen.
Is linen good to wear in summer?
Yes, this is mainly due to it's lightweight fabric.
Linen tends to be the best option for summer outfits as it's much more breathable, especially compared to cotton.
If deciding between cotton and linen this season, we'd recommend you opt for linen.
Why is linen fabric suitable for summer clothing?
As mentioned, linen is extremely breathable making it effortless and easy to wear, especially on those hottttt summer days.
Linen is also made of a natural fibre which allows you to stay cool when wearing – perfect for vacay vibes!
How do you wear linen in the summer?
Whether you're jetting off and prepping your holiday outfits, have a summer event and only occasion wear will do or are just in need of linen outfit inspo, these new in linen looks will have you covered for all.
Stone Linen Look Bardot Frill Detail Bodycon Dress
Heading to a wedding abroad? We think this linen bodycon is the perfect pick!
Style with all gold accessories and lace up heels for a outfit that will win you best dressed guest.
White Linen Look Pocket Front Short Sleeve Oversized Shirt
White Linen Look High Waisted Tailored Trousers
There's nothing worse than trying to think of summer work outfits.
Boilingggg hot but still needs to be work worthy – this oversized linen shirt and matching trouser co-ord is nothing short of effortless.
Simply style with chunky sandals and cute bag for a summer work outfit that you'll want to rewear endlessly.
Off White Linen Look Contrast Rim Backless Corset
Loving the coastal cowgirl trend?
Best believe summer linen teamed with cowboy boots will have you feeling your VERY best self.
We're obsessed with this 'fit.
How to style a linen dress?
When it comes to linen dresses the options are endless.
Whether you're wanting a figure hugging fit, something a little more loose or are searching for a specific dress length.
Here's our top five linen dresses onsite right now!
Orange Linen Look Underwired Side Cut Out Strappy Maxi Dress
Stone Linen Look Bandeau Underwired Midaxi Dress
If linen maxi dresses are your vibe then these dresses are a must-have.
Complete the 'fit with lace up heels and timeless accessories.
New summer wardrobe essential? We think so!
Black Linen Look Oversized Double Breasted Short Sleeve Blazer Dress
All about oversized boxy vibes? We are loving this linen blazer dress for those throw on and go days.
*adds one of each colour to bag*
Stone Woven Linen Cut Out Strap Detail Bodycon Dress
Stone Linen Look One Shoulder Knot Detail Bodycon Dress
Say yes to short linen dresses for peak summer days.
Add cut out detailing for something a little extra.
Linen trousers are of course, a serious summer essential.
Here are 5 ways to wear linen trousers for any summer occasion!
#1. Swimwear Styling
Level up your swimwear by teaming with tonal linen trousers.
From beach days to relaxing poolside, linen beach trousers are a gamechanger in your holiday wardrobe.
White Linen Look Palazzo Beach Trousers
Stone Linen Look Palazzo Beach Trousers
#2. Holiday Evenings
No matter how much we plan holiday outfits, some evenings we do just need a quick and easy throw on outfit.
Not too casual but not super dressy, linen trousers are perfect for this vibe!
Wear with cute crop top and sandals for a effortless yet put together look.
Natural Linen Look Mid Rise Wide Leg Slouchy Trousers
White Linen Look Baggy Low Rise 90's Cargo's
#3. To The Office
Make the most of staple linen by rewearing your looks for workwear.
All black is not only timeless but makes for a classic linen co-ord that you'll be able to wear separately too.
Who doesn't need a pair of black linen trousers in their wardrobe?
Black Linen Look Pocket Front Short Sleeve Oversized Shirt
Black Linen Look High Waisted Tailored Trousers
#4. Bottomless Brunching
Switch up your linen colourway to suit bottomless brunch plans.
This stone co-ord is proving just how effortless a going out linen outift can be.
Stone Linen Look Split Hem Longline Bandeau
Stone Linen Look High Waist Flared Trousers
#5. Out Out
Summer night out on the agenda?
Not only is an all white outfit perfect for the season but flared linen trousers make for the ultimate out out look.
If wanting to add a pop of colour to your outfit simply add statement accessories.
Stone Linen Lace Up Back Fitted Shirt
Stone Linen Lace Up Front Tailored Pintuck Flared Trousers
Prefer to shop your summer outfits by trend? No stress.
Here are the top three trending linen looks for summer 2023.
Colourful Linen
If bright and bold is your summer vibe then colourful linen is where it's at.
Pink, orange and green linen, we see you.
Clay Linen Look Shirred High Neck Frill Hem Bodycon Dress
Orange Linen Look Oversized Shirt
Printed Linen
Sticking with statement makers, printed linen is going to level up your summer outfit inspo.
Complete the look with sleek hair, straw bag and espadrilles for a Insta approved outfit.
Sand Swirl Linen Look Button Up Beach Shirt
Sand Swirl Linen Look Wide Leg Beach Trousers
Wide Leg Linen Trousers
Oversized is of course a summer staple so we're not shocked to see wide leg trousers are trending.
We're loving this classic white linen co-ord.
Dress it up or down to suit any summer plans that come your way!
White Linen Look Oversize Button Up Shirt
White Linen Look Oversized Wide Leg Trousers
Continuing with summer trends, of course a linen jumpsuit is a must on your PLT wish list.
Cream Linen Shirt Style Pleated Jumpsuit
Sand Linen One Shoulder Extreme Wide Leg Jumpsuit
Blazer lover and worried they'll have to be put to the back of the wardrobe for the summer season? Forget that!
These linen blazers are going to be front runners when it comes to summer outfit prep.
Tall Sage Green Oversized Linen Look Blazer
Tall Mocha Brown Oversized Linen Look Blazer
Loving linen? Shop even more linen outfits onsite here.
Celebrating Taurus season? Don't miss out on this birthday outfit inspo.