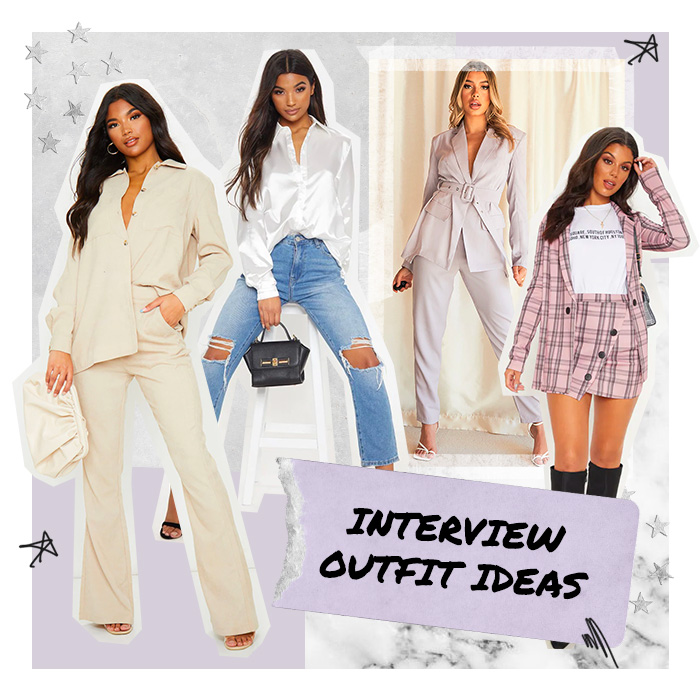 Ok, so you've landed the interview for what is promising to be your dream job and have proven that you have the right skills and would be an asset for the company. Way to go, girl. Now, it's all about showing them who you are when it comes to the big day. Alright, we may be somewhat biased, but what better way to do that than through what you're wearing?
Let's face dolls, what you wear speaks volumes when it comes to someone's first impressions of you and your outfit is so much more than just clothing. What you wear says everything about your confidence and attitude so it's super important to plan accordingly before tackling the interview itself.
Interview Outfit Ideas
It goes without saying that your interview attire depends on the type of job you're applying for. However, whatever the position and even if there's no obvious dress code, you should always look neat, tidy, well dressed and presentable for any interview.
Comfort and confidence is key. Whatever you choose to wear to an interview, make sure you feel comfortable and confident to enable you to look and feel like the best possible version or you. That way you're sure to give yourself the best chance of representing yourself to your best and fullest potential.
Deciding what to wear to make the right first impression can be a stressful task at the best of times, but even more so when it comes to what to wear to an interview. Get clued up on the best outfits for interviews with our tips and tricks on the interview outfit ideas to help you dress for success.
The Informal Interview
To make a good impression at any job, you still need to appear polished and professional.
While an informal interview is more laid-back and so there's no need for a suit, wearing a blouse or a button up shirt with a pair of tailored pants or a pencil skirt is a foolproof outfit when it comes to what to wear.
To keep this look looking sleek, choose neutral colour hues that look clean and contemporary and keep the styling professional – don't show too much skin!
Khaki Elasticated Waist Straight Leg Cargo Pants
The More Formal Interview
An interview with a formal dress code basically requires a dressed-up version of your best and most sophisticated office wear.
A tailored suit or a pantsuit is a perfect choice for this.
Pair it with heels and a crisp button up shirt for an outfit that'll leave you looking professional and powerful.
To keep the overall aesthetic sharp and sophisticated stick to a neutral colour palette such as black, white, and grey.
These shades worn as colour block hues create a sleek and impactful look.
Cream Tailored Woven Blazer & Cream Tailored Trousers
The Internship Interview
When it comes to bagging an internship, particularly for a cool or creative industry, you can afford to be a little more fun and playful when it comes to the dress code.
When interviewing for an internship standing out from the crowd is key to help eliminate your fierce competition.
Make a statement in a co-ord with a twist.
A bold print presented through tailoring will still keep the look polished whilst showcasing your personality.
Green Croc PU Oversized Blazer & Green Croc PU Mini Skirt
The Skype/Video Interview
The rule dress to impress doesn't go out the window just because your interview will be via video call rather than in person.
A sophisticated look is still a must so don't even think about sitting the interview in your comfies or loungewear.
For a video interview avoid wearing patterns, bold jewellery, and low-cut tops. Basically anything that could come across as "distracting".
A simple "jeans and nice top" approach should work well for this with a smart blouse or button up shirt.
Vibrant shades, such as red and magenta can appear too bright and intense on video, whereas pale or cool colours, such as off white, navy and sky blue, will come across well.
White Cotton Oversized Cropped Shirt
Remember, when it comes to nailing the best outfits for job interviews go by the below:
1. Before an interview, research the dress code and the culture of the company.
2. Don't forget that casual and informal interviews still require a sophisticated and smart outfit.
3. For a formal or business interview, a suit or pants and a blazer is always a good option.
4. If your interview is via video, avoid wearing patterns, bold jewellery, and low-cut tops.
5. Stick to colours that convey professionalism, such as navy, grey, and black.
CV in need of a refresh? Searching for your dream job role?