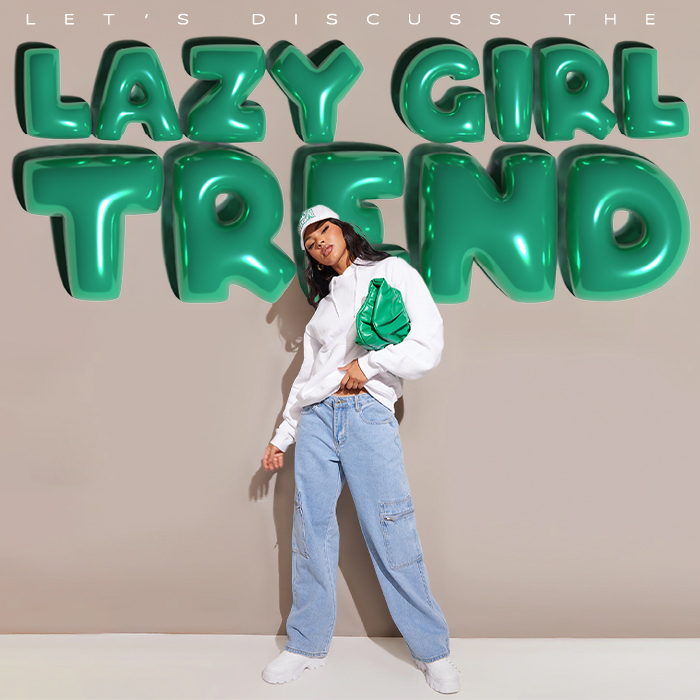 With over 47 million views on TikTok lazy girl living is huge right now.
From lazy girl looks to lazy girl jobs – this TikTok trend is going viral ATM and we've done the hard work for you.
Welcome to your PrettyLittleThing guide to all things lazy girl life!
Lazy Girl Jobs
Rumor has it the girl boss era is over and instead lazy girl life is the new go-to…
So, what are lazy girl jobs? According to the trend, it's all about getting paid for less, resulting more time for your wellbeing, hobbies etc.
In a TikTok posted by @raeanszeeboo, Rahel shares:
"Lazy girl jobs are my favs, all I do is copy and paste the same emails, take three to four calls a day, take my extra long break, take more breaks AND get a nice salary,".
With 840K views it seems Rahel isn't alone.
What do you think? Is a lazy girl job your goal?
From lazy girl jobs to taking outfit inspo from Selena and dressing down on the daily…
Lazy Girl Outfits
A firm staple in your lazy girl wardrobe is, you guessed it – hoodies & sweatshirts.
Not only is loungewear a timeless trend but if the lazy girl looks are good enough for Selena then we're sold.
Whether you're WFH and want a hoodie or sweatshirt to just throw on in the AM or if your office has a relaxed dress code, then this look is where it's at!
Here are our top picks when it comes to lazy girl loungewear.
WFH Vibes
The more oversized and cosy, the better.
Charcoal Grey Lightweight Drawstring Waist Wide Leg Joggers
Cream Embroidered Double Pocket Hoodie
PRETTYLITTLETHING Stone Seam Detail Rib Pocket Hoodie
PRETTYLITTLETHING Plus Berry Oversized Slogan Joggers
Shop Hoodies | Shop Tracksuits
Office Attire
Enough to look like you haven't just rolled out of bed, yet still laidback.
White Colorado Print Oversized Sweatshirt
Ash Grey Oversized Longline Sweatshirt
Ash Grey Split Hem Flared Joggers
Ash Grey Oversized Fit Sweatshirt
Plus Beige Slogan Oversized Sweater
Complete your full lazy girl outfit with coffee cup, tote and trainers. Effortless!
All about TikTok trends? Don't miss this!