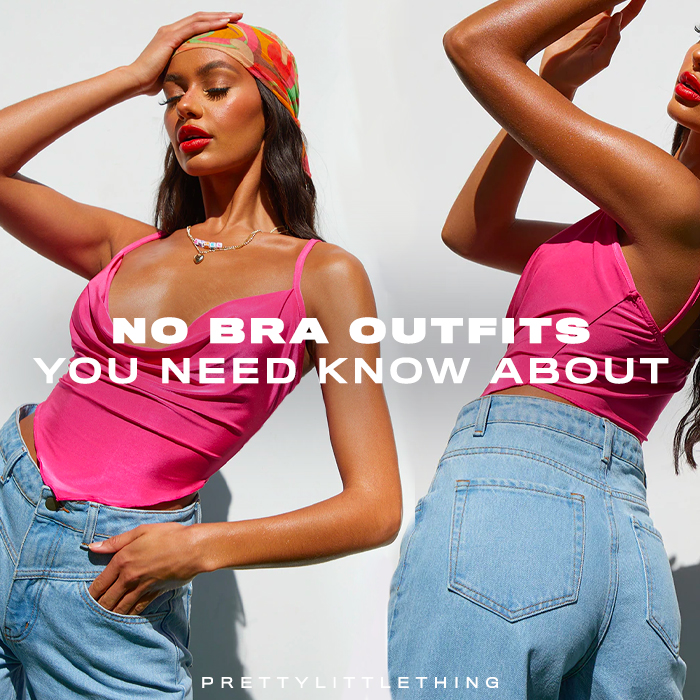 Cya bra's!
No Bra Outfits You Need To Know About
With working from home becoming the norm for many of us, the days of getting home and taking off the bra that's felt uncomfortable all day have gone! We seriously get it doll, and completely understand you don't want to go back to that routine! Luckily, no bra looks are on the rise and we are SO here for it.
Today we are sharing the must-have pieces you need in your wardrobe when it comes to no bra outfits. From date night, chill days and even office suitable attire – we got you!
So, get scrolling to see all the inspo for those braless days ahead of you.
Supportive structure
Opting for a supportive fabric or cut of an item can be the perfect way to style the no bra trend as a beginner or if you have a bigger bust and would still like some support. Corset tops are perfect for this, simply decide if you're feelin' strapless or Tik Tok cross fronts!
STONE ABSTRACT RENAISSANCE PRINT STRUCTURED CORSET TOP
WHITE BANDAGE RIB V-WIRE HALTERNECK BODYSUIT
NUDE TEXTURED PRINT WOVEN UNDERBUST HALTERNECK CROSS OVER ZIP CORSET
ORANGE SATIN POINTED HEM BANDEAU CORSET
Mix up your necklines
We're here for them all, V neck, cowl, draped fronts or simply just leaving a few buttons undone – necklines are everything when it comes to switching up your look easily.
HOT PINK SLINKY COWL NECK POINTED HEM CROP TOP
CREAM LINEN FEEL TWIST FRONT SHORT SLEEVE CROP SHIRT
BLACK SATIN COWL NECK LONG SLEEVE JUMPSUIT
TALL STONE BUTTON FRONT CARDIGAN
Oversized
We get it, you might not want a figure hugging fit when styling the no bra look! Style up an oversized shirt or blazer and simply show what you feel comfortable with. We're loving a few buttons undone and a chunky necklace for a daytime look then oversized open blazer for those date night feels. Chic yet still a major mood!
WHITE OVERSIZED CUFF POPLIN SHIRT
STONE OVERSIZED BOYFRIEND BLAZER
Ruching
The perfect distraction from the no bra deets. Not only is ruching a huge trend right now but perfect when wanting to go braless. Choose to play it safe with a monochrome colour or go bold and bright with a statement pattern.
PLUS BLACK RUCHED FRONT SHIRT DRESS
GREEN ABSTRACT PRINT MESH RUCHED OVERSIZED CUFF SHIRT DRESS
BRIGHT GREEN SATIN RUCHED TIE DETAIL BLOUSE
Simply own it!
You probably already guessed this one girl.
WHITE SLINKY RACER EXTREME DROPPED ARMHOLE CROP TOP
CHOCOLATE DROP ARMHOLE SLEEVELESS TANK TOP
Shop more no bra 'fits here!