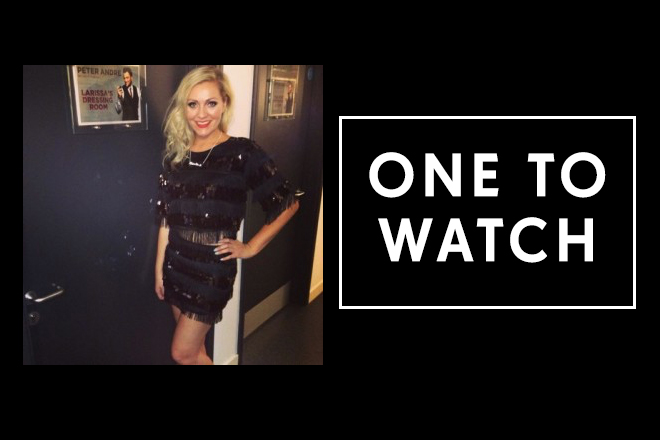 If she's not already, Larissa Eddie should be on your radar. This Brighton born singer/songwriter has recently been on tour with Mr Peter Andre, and while she may be a mysterious girl now, she's soon to be a big name on the music scene!
We're crushing on her tour outfits as well as her vocals, so we sat down with her to get all the inside info!
Why did you want to be a singer?
I always loved performing as a child and I come from a musical family, so singing has always been second nature to me. I think I was initially intrigued and wowed by the whole mystique and glamour around being a popstar, but as soon as I started to get involved in music I realised that my passion was not only for singing but also songwriting and being able to move audiences through my voice and song.
Favourite gig you've ever played?
My favourite gig so far has to be performing at the Royal Albert Hall just a few weeks back! It was so amazing to sing on such an iconic stage and share that moment with my band which consists of my Brother Rawnsley Eddie who play Cajon and our good friend Joe Colburn on guitar. Looking out and performing to a packed audience which included my friends and family was such a buzz!
What would be your advice for someone wanting to get into the music industry?
Be yourself and don't give up!! Keep doing what you love and what makes you happy. Create your own trend, individuality is key in this industry.
Most memorable moment of 2014 so far?
It was being told that I would be supporting Mr Peter Andre on his "Big Night" 23-date UK tour. I was so excited!! I literally jumped up and down when I found out. Just looking at the tour dates and all the amazing venues I was going to be playing was a dream come true. Peter is such a lovely guy and it was a pleasure to also share the stage with him to duet on his song 'Perfect Night'.
Describe a day in your life on tour…
I love being in tour mode.
A day in the life consists of firstly making sure I get my morning cup of tea (which is very important) and making sure that I'm dressed in something comfy but still stylish, then I'm ready to go!!
Most days we would be traveling to the venue which can take hours, so making sure I have my music to listen to to pass the time is a must.
Once we arrive at the venue we normally go straight into soundcheck…this is one of my favourite parts of the day, that is until some of the crew and my boys decide to have a full blown Nerf gun wars around you…I thought if I can't beat them then I might as well join them and oh boy did I join them!! I certainly got the boys back..got to love girl power!
After all the fun and games are over it's down to business and making sure that everything is sounding sweet and then it's onto the most fantastic catering, which is where myself and the band get to hang out and socialise with everyone else on the tour.
Then It's straight onto hair and makeup and deciding on my outfit for the show!! This is my favourite part of the day as I get to play dress up and look through lots of gorgeous clothes by Pretty Little Thing!!
Once I am stage ready, I will do a quick run through and warm up with my band and then onto the stage we go! This is the moment where I get very excited, I can hear the crowd cheering and that psych's me up for the performance.
Once I am on stage I am in my element. I love getting the crowd involved and making sure that everyone has a great time. Live performance is such an important part of what I do and there is no better feeling than performing to thousands of people every night!
Then once the performance is over I love going out and meeting the fans and hearing about how much fun they are having!! That response really makes everything worth while.
I then dance the night away whilst watching Peter Andre's set, he is backed by an 11 piece band and the whole show is amazingly entertaining.
Top five songs on your iPod right now?
Sam Smith – I'm Not The Only One
Jessie J ft. Ariana Grande & Nicki Minaj – Bang Bang
What are your three key pieces every girl should have in her wardrobe this A/W?
A jersey maxi dress – so on trend and perfectly comfy and warm for A/W
A sparkly part dress – Ideal for the Christmas Party Season!
AND heels, heels, heels!
Most memorable panic moment?
One night whilst on tour, literally seconds before I was due on stage I thought I had left my shoes at home…Panic!!! Luckily my brother found them in the back of the car just in time! PHEW.
What is the one item of clothing you could not live without?
My staple black leather jacket that I wear on and off stage! It's perfect for rocking up any outfit!
Follow Larissa on twitter at @Eddiemusicuk