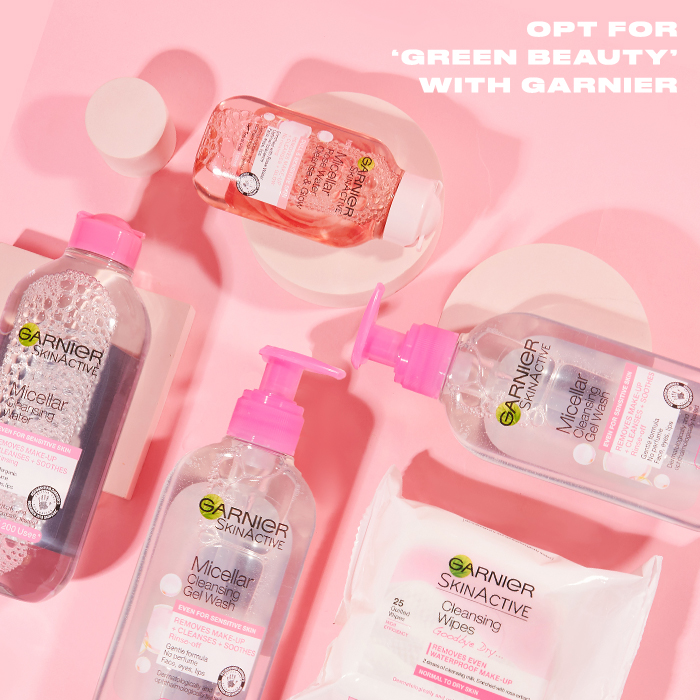 ---
In celebration of Earth Day later this week, we are sharing easy ways to revamp your beauty routine with a spring clean.
Opt for Green Beauty with Garnier
As one of the world's leading natural beauty brands, Garnier commits to a greener approach to beauty helping to create a positive impact by leading the way towards sustainable beauty that's accessible to all.
With simple ways to maintain your beauty stash must-haves but with less cost to the environment, going greener never looked so good.
All Garnier products globally are officially approved by Cruelty Free International under the Leaping Bunny Programme.
Hair Care
Shampoo bars that are zero plastic waste for the planet, we are SO here for it! Outside of recyclable packaging the bars are crafted sustainable sourced ingredients. The shampoo bars are full of care for your hair, 94% plant based and have a 97% biodegradable formula with no silicones for a natural hair feel, leaves hair nourished, shiny and looking healthy!
Ready to join the shampoo revolution?
Directions:
Step 1: Wet your hair and your Shampoo Bar to make it foam
Step 2: Hold the Shampoo Bar to your hair and lather from roots to tips. Keep massaging into your hair and scalp until all hair is covered in an extra foamy lather. This shouldn't take too long!
Step 3: Rinse thoroughly
Step 4: Store your Bar in a dry place such as a box for best preservation
Step 5: Follow with conditioner to strengthen and restore damaged hair
Step 6: Recycle your packaging
Another option to up your hair care routine is the Garnier Ultimate Blends Hair Food Shampoo and Conditioner. Blended with up to 98% natural ingredients, 100% vegan formula* and no silicones in sight (for a natural hair feel) It's a no brainer. Worried about the bottles on this one? No fear as not only are they recyclable but also made for 50% recycled plastic too. Talk about hair goals!
All you've gotta do now is decide which scent you're feeling! Will you opt for watermelon, banana, coconut or papaya?
Beauty Refresh
Looking for an effective yet gentle way of removing make-up and cleansing skin in one easy step? Garnier's first ultra-soft, reusable micellar Eco Pads are the perfect sustainable alternative to single use cotton pads. Each pad lasts up to 1,000 washes and reduces daily cotton pad wastage. These tried and tested skincare saviours are a beauty lovers must-have.
Face masks are a go-to on those all important self-care days, and now your Garnier Moisture Bomb and Charcoal Sheet Mask faves are certified biodegradable by home compost**. Simply home compost your sheet mask and leave it to biodegrade itself – Genius.
Think it's time for a beauty restock?
Shop all Garnier products on site HERE
*Vegan formula: no animal-derived ingredients or by-products.
**Nutri Bomb & Ampoule sheet masks are currently undergoing testing to ensure their biodegradability by home compost .