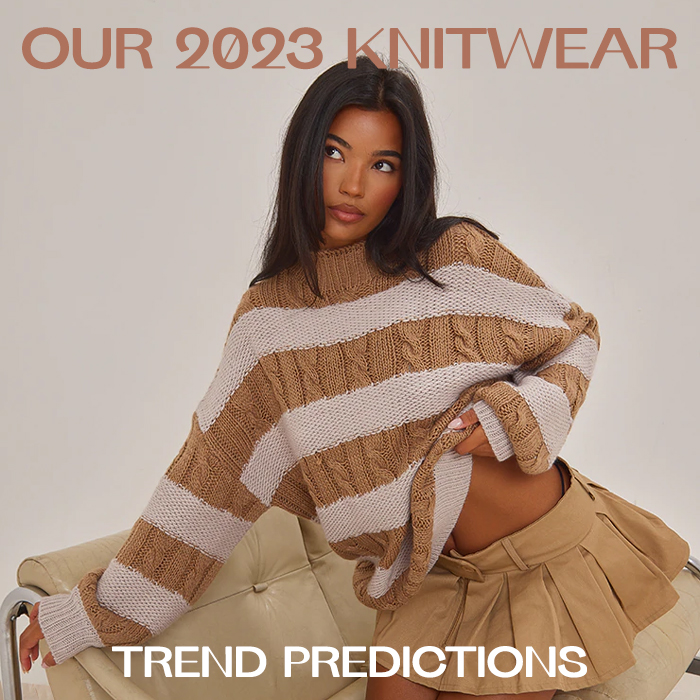 Searching for the must-have knitwear for 2023?
Here at PrettyLittleThing we're sharing everything you need to know when it comes to knitwear.
From fashion trends to outfit inspo – we got you!
What is the fashion trend for knits in 2023?
The top knitwear trends for 2023 are set to be open knit cardigans, colour blocking, the classic cable knit and all new glitter knit.
Knitted co-ords also remain popular here at PLT!
Oatmeal Knit Wide Leg Trousers
Oatmeal Knitted Cropped Crew Neck Jumper
Oatmeal Knitted Split Hem Flare Trousers
How do you wear a cardigan in 2023?
Loving knitted cardigans but stuck on how to style them? Here's three easy options for cardigan styling.
Cream Button Front Knit Cropped Cardigan
Layering up your look has never been easier thanks to this cropped cardigan.
Not only perfect for the transition in season but cute as can be.
Wear with your go-to denim jeans, chunky black boots and black bag for an effortless look.
Cream Space Dye Chunky Knit Cardigan
Chunky oversized cardigans are huge on TikTok right now and we're loving the open look.
Opt for just a couple of buttons done up to serve the off-duty cool girl aesthetic.
Grey Ribbed Knitted Midi Cardigan
This grey chunky cardi is anything but basic.
Whilst it may be a staple in your wardrobe, grey is easy to layer over any outfit meaning it will quickly become the knitwear you grab for.
We're thinking thrown on over a patterned pieces or worn with your Insta approved athleisure for the Sunday coffee run…
What is the trend in jumpers in 2023?
As mentioned, colour block knit is set to be huge for autumn 2023.
No matter if you're wanting bright and bold or prefer more pastels – these jumpers are not to be missed.
Brown Contrast Cable Knit Stripe Oversized Jumper
Sage Super Chunky Knit Striped Oversized Crop Jumper
Petite Pink Cropped Mixed High Neck Jumper
Black Ribbed Knit Roll Neck Cropped Jumper
Beige Extreme Cropped Knitted Jumper
Stone Oversized Colour Block Jumper
Black Round Neck Side Split Knit Jumper
Plus Green Oversized V Neck Balloon Sleeve Jumper
Cable knit jumpers will forever be an essential in our knitwear wardrobe. Staple but such a style savior.
You name it, a cable knit jumper will go – skirt, jeans, blazer – daytime dressing made easy!
Stone Cable Knit Collared Oversized Jumper
Jumper dresses are always a must for autumnal fashion.
Not only are they effortless but perfect to throw on and go, especially when the weather is doing a thing of it's own.
Not too hot, not too cool. Knitted jumper dress, chunky boots and bag = effortless!
Grey Basic Roll Neck Knit Jumper Dress
We've rounded up some of our fave knitwear picks onsite right now to help you work out what knitwear you want to add to bag!
Oversized Jumpers
Petite Oatmeal Oversized Knitted Jumper
RENEW Plus Oatmeal Knitted Slouchy Roll Neck Jumper
Knit Vests
Maternity Chocolate Brown Popcorn Oversized Knitted Vest
Bright Blue Chunky Knit Roll Neck Vest
Knitted Sleeves
Beige Oversized Crochet Knitted Sleeves
Slouchy Knitted Cardigans
Dusty Blue Chunky Knit Slouchy Cardigan
Grey Chunky Knit Slouchy Cardigan
Ready to prep your knitwear collection for AW23? Shop all knitwear here.
Searching for autumn basics?