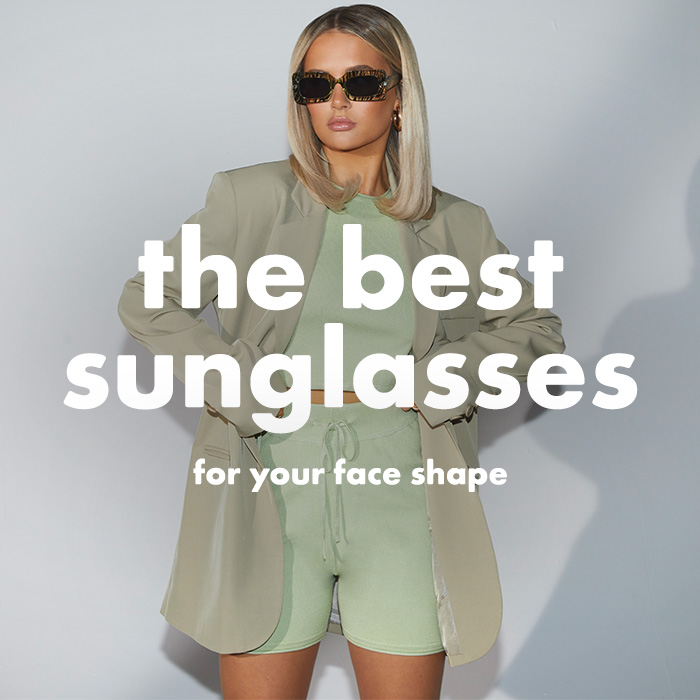 The Best Sunglasses For Your Face Shape
Sunglasses are the ultimate summer accessory to complete any outfit. But, with so many shapes and styles on offer, it can be hard to know which sunglasses are the right shape for you. Don't stress gal, we've got you covered. Check out our blog below to find the best sunglasses for your face shape.
How to find out your face shape
If you're not sure what face shape you have, it's super easy to find out. Tie your hair back and stand in front of a mirror and have a look at the width of your forehead, cheekbones, jawline and the length of your face from the hairline to the tip of your chin. If you want to get really technical you can use a measuring tape but this isn't really necessary. Using these measurements as well as some facial characteristics you might have, you can determine your face shape. We've listed what to look for under each face shape below to help. Don't forget your face shape can change and we don't all fit into one category, you might have a blend of different face shapes, we are all unique!
Oval Face
Characteristics of an oval face are:
Tall forehead that is smaller than the width of cheekbones
Cheekbones are the widest part of the face
Face is longer than it is wide
Soft jawline and chin with no sharp angles
If you have an oval face shape, it's your lucky day as literally any shape of sunglasses frame will suit your face shape! From rounded aviators to rectangle or square frames, you can pull off just about anything so go wild with your sunglass collection this summer and try them all. We're loving these taupe square frame sunglasses that will go with any outfit and make a statement this season.
TAUPE SQUARE FRAME SLIMLINE SUNGLASSES
Round Face
Characteristics of a round face are:
Rounded forehead at hairline
Width and length of face are the same
Rounded jawline with only subtle angles
Round face shapes are very soft with no harsh angles so the best sunglasses for you are those that will create balance by adding some harsher lines to your face. Opt for square or rectangle frames that will set off those curves. Good news is square and rectangle frames are on-trend this season so you can keep up with the latest styles whilst complimenting your face shape. Check out these black square slimline sunglasses and throw some shade all summer long.
BLACK SQUAREFRAME SLIMLINE SUNGLASSES
Heart Face
Characteristics of a heart shaped face are:
Hairline rounded or widow's peak
Forehead width same as cheekbone width, both are wider than width of jaw
Narrow jawline, chin come to a point
Face is slim and long
As heart shape faces are wider towards the forehead and temples and slimmest at the chin, the best sunglasses for you are those that have wide edges at the bottom of the frame and avoid straight lines. This avoids elongating the face with a frame that draws the eye downwards. Cat eye shaped sunglasses are perfect if you have a heart shaped face and create a beautiful balance for your face shape. These transparent peach sunglasses feature an oversized cat eye shape and are perfect to take you from everyday wear to a bold, festival look.
PEACH TRANSPARENT OVERSIZED CAT EYE SUNGLASSES
Square Face
Characteristics of a square face are:
Straight hairline
Forehead, cheekbones and jaw follow the same width
Width and length of face is the same
A strong, squared jawline
It's all about balance baby so you guessed it, if you've got a square shaped face you'll want to choose a round or oval pair of sunglasses with soft edges. Compliment your face shape with these rose gold round sunglasses from Jeepers Peepers. Pair these with any look for an effortless finishing touch.
JEEPERS PEEPERS ROSE GOLD ROUNDFRAME SUNGLASSES
Rectangular Face
Characteristics of a rectangular shaped face are:
Tall forehead, cheekbones and jaw all follow the same width
Strong, squared jawline
Face is much longer than it is wide, following a square face shape but elongated
Rectangular faces are perfect for oversized sunglasses or sunglasses with thick frames and wide edges that create an illusion of a wider face. Try avoid smaller frames if you have a rectangular face shape. These brown oversized sunglasses with thick square frames are the perfect addition to your sunglasses collection this season and they also come in black.
BROWN SQUARE FRAME OVERSIZED SUNGLASSES
Shop all sunglasses on site here.