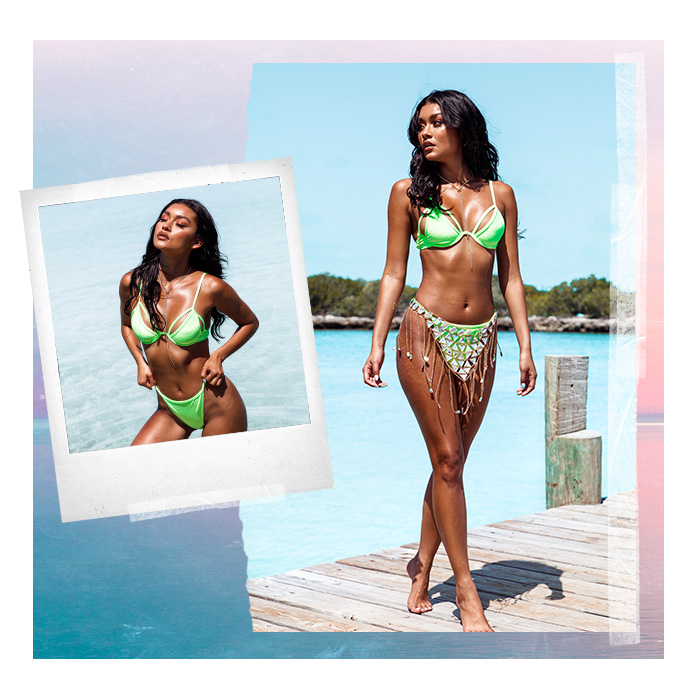 Believe it or not, astrology can totally influence your outfit choices. With each zodiac style having different interests and personalities, there is a bikini or swimsuit out there that will suit each one perfectly. Get ready to delve into the depths of your horoscope and find swimwear that is one hundred percent you.
The Perfect Swimwear For Your Star Sign
Checking your horoscope has never been so exciting.
ARIES
With your confident personality and huge amounts of positivity, you aren't afraid to bare some skin. Your optimism means that you can step out in bright colours and feel totally yourself, so a cheeky bikini is the perfect style for you to head to the beach in.
TAURUS
You Taurus dolls love to show off your creative side, so prints are a must in your swimwear collection to make sure you're flaunting your talents. Your playful personality can be expressed through your bold looks and you're totally stubborn so no one will be standing in your spotlight.
GEMINI
Gemini's love being social and are always ready for some fun. To flaunt that wild side, your perfect swimwear would, of course, be animal prints. They are wild, attractive and totally out there. This swimsuit is perfect for pool parties, where you will always find Gemini's having all of the fun.
CANCER
Cancers like to feel safe an secure so why not keep things sweet and simple with a black bikini? Although you probably have a million black swimsuits in your wardrobe right now, another won't hurt. You may be thinking ' black is boring' but we can assure you, it isn't. With the right accessories and footwear, your gonna be feeling the love Cancer.
LEO
Leo's are warm-hearted and passionate and with that in mind, red is totally your hue. Being ruled by the sun, Leo's love to be in the spotlight, causing drama and being the leader so basic swimwear is definitely not on the cards.
VIRGO
Calm and focused, Virgo dolls like to relax and unwind. Laying on the beach sunbathing all day is totally up Virgo's street whilst they have a break from they're successful lifestyles and busy schedules. Palm prints provide an escape from reality and also look super cute.
LIBRA
For a Libra, life is all about balance. Wearing a simple bikini is perfect for a Libra because they can dress it up with accessories or stay simple if they are just chilling for the day. Libra's are gracious so soft pastel hues are totally suited to them.
SCORPIO
Scorpios are brave, so not afraid to step out in a thong bikini and show off that killer bod they've been working all winter for. They are not afraid of what anybody thinks so if they like it, they are so gonna wear it. Watch out dolls, miss confident coming through.
SAGITTARIUS
Sagittarius dolls don't take themselves too seriously so this print is showing off that trait so well. They are not afraid to explore new things and take on new challenges. As Sagittarius is always on the go, a swimsuit is the perfect choice to keep them covered up but confident.
CAPRICORN
Capricorns are strong independent women who don't do anything by the books. Their self-control keeps them tamed and disciplined so basic swimwear is a must. Their swimwear may be basic but there is nothing standing in their way.
AQUARIUS
The water sign, so basically any bikini is the one for Aquarius. To be specific though, Aquarius aim to be original and independent and love to express themselves through art. They love being around people so heading to the pool party in this bikini is just what Aquarius would do.
PISCES
Pisces are creative and artistic so bright colours are everything. They love to escape from reality and listen to a versatile mix of music. Pool parties are totally their thing so teaming a neon bikini with some retro accessories screams Pisces all over.