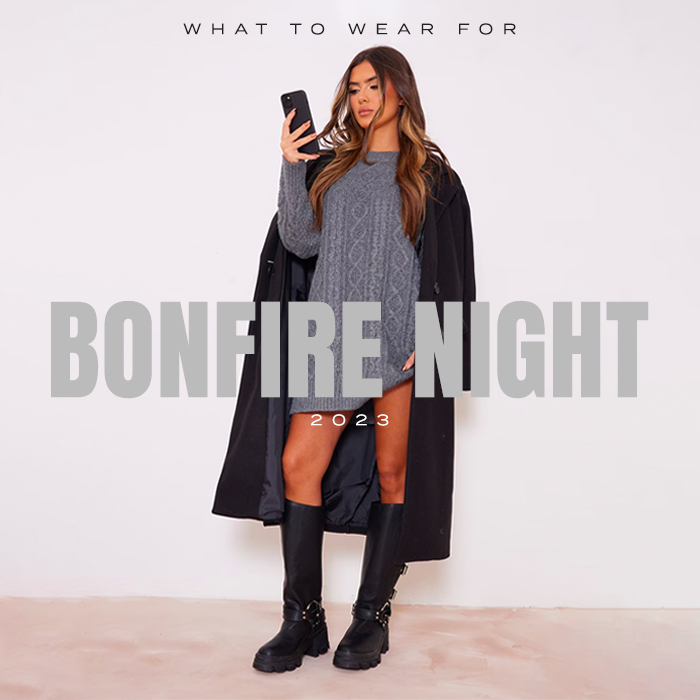 Wondering what to wear for bonfire night? We've got your bonfire outfit ideas covered!
Fireworks, sparklers, bonfires and toffee apples!
Nothing says autumn quite like bonfire night but, what actually is bonfire night and why do we celebrate it?
Guy Fawkes day, also called bonfire night is a British observance which is celebrated on November 5th.
The reason we do it is because it's the anniversary of a failed attempt to blow up the Houses of Parliament – the gunpowder plot of 1605.
We won't go too far into the deets but essentially there would be a dummy man on the top of any bonfire which represents Guy Fawkes.
Give him a quick Google if you want to know more!
In terms of bonfire night traditions, it's all about heading outside so keeping cosy is essential!
So, how to dress for bonfire night?
Lots of layering, think oversized coats, snug scarves, gloves and beanies.
Autumnal colours are perfect for Guy Fawkes night too.
Here are five firework-friendly outfits that'll have your bonfire night outfit covered.
Oatmeal Knit Straight Leg Trousers
Charcoal Crew Neck Cable Knit Jumper Dress
Light Blue Wash Boyfriend Jeans
PRETTYLITTLETHING Cream Slogan Front Teddy Jacket
PRETTYLITTLETHING Khaki Embroidered Boxy Sweatshirt
PRETTYLITTLETHING Khaki Embroidered Oversized Cuffed Joggers
What do you wear to a fireworks show?
Now your outfits is sorted, let's discuss outerwear and coat options.
Perfect to keep you wrapped up warm whilst watching the fireworks (hot choc in hand of course).
Light Grey Wool Look Oversized Coat
Plus Black Faux Fur Hooded Puffer Coat
PRETTYLITTLETHING Stone Text Front Maxi Puffer Coat
Black Oversized Collar Belted Longline Puffer
Don't forget your accessories!
PRETTYLITTLETHING Sage Tab Fuzzy Blanket Scarf
Black Soft Blanket Tassle Scarf
Cream Oversized Fluffy Ear Muffs
Still questioning what to wear for bonfire night? Here's some of our fave looks to hit new in this week!
AW23 is officially served.
Petite Brown Borg & Distressed PU Aviator Jacket
Stone Belted Cuff Detail Trench Coat
Beige Wool Look Oversized Coat
Khaki Crew Neck Knit Jumper & Khaki Knit Straight Leg Trousers
All about autumn knitwear?