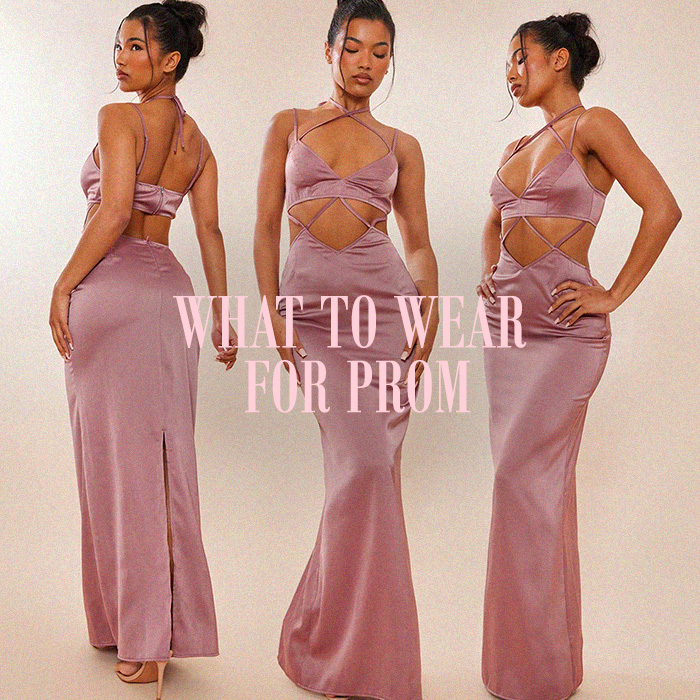 Whether you're searching for prom dresses or inspo on what to wear for prom 2023.
These PrettyLittleThing looks are going to have your prom outfits sorted in seconds.
Get ready to show up in style, these prom outfits are going to ensure all eyes are on you come the big night!
Let's start with some of your most search questions when it comes to shopping for prom.
If you're set on a dress then you're probably wondering, which prom dress should I wear?
Follow these 3 easy steps to ensure you find your perfect prom dress:
Shop to suit your personal style. 
Don't pick a dress just because everyone else is loving it, ensure the style you go for shows off your personal fashion sense and makes you feel unreal.
Comfort is key. 
You don't want to end up feeling restricted (and unable to dance all night), ensure you can move and truly show off those moves in your prom dress.
We've all been there when a dress looks incredible stood up but you can't do much else. Trial it out and know you'll thank yourself later.
Shop by colour, shape, size or height. 
If struggling to find your perfect prom dress, why not shop by searching specifics that you know fits you well.
Long prom dress or short prom dress? Fitted or smock style prom dress? It's completely up to you!
Black Scuba Bandeau Shift Dress
Black Scuba Wire Detail Cut Out Maxi Dress
Navy Stretch Woven Fishtail Maxi Dress
Plus Champagne Accetate Slinky Plunge Halterneck Maxi Dress
Plus Pink Accetate Slinky Plunge Halterneck Maxi Dress
Pink Scuba Bandeau Shift Dress
Can you wear a ball gown to prom?
Most definitely yes! Prep to steal all the stares knowing you look incredible.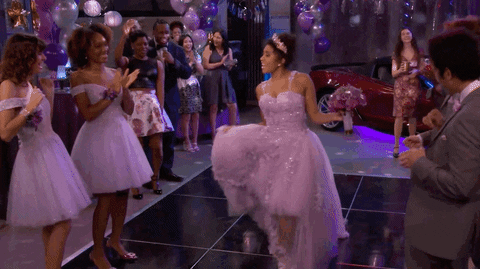 What is the style for prom this year?
The top trends for prom dresses 2023 are lace, tulle, ruffes and shimmer.
Think ultra glam girly vibes.
Blue Grey Chiffon Frill Drape Detail Strappy Shift Dress
Dusty Rose Feather Trim Bandeau Draped Wrap Midi Dress
Light Pink Acetate Slinky Ruched Strappy Midaxi Dress
Sage Green Satin Cowl Halter Strap Midaxi Dress
Mauve Corset Cowl Strappy Satin Frill Hem Bodycon Dress
Champagne Satin Halter Plunge Ruched Waist Midaxi Dress
Black Satin Bardot Contrast Frill Bodycon Dress
Black Organza Frill Strappy Satin Bodycon Dress
Deep Rose Satin Cross Waist Detail Strappy Maxi Dress
Sage Green Acetate Slinky Ruched Strappy Midaxi Dress
Sage Green Bardot Frill Sleeve Draped Midi Dress
Emerald Green Satin One Shoulder Draped Midi Dress
What can I wear to prom instead of a dress?
No stress if you aren't loving the idea of a dress this prom season.
Here at PrettyLittleThing we have endless options such as co-ords, suits and jumpsuits meaning creating a prom worthy look will feel effortless.
Scroll some of our top picks onsite right now that might just be your prom 2023 outfit.
Light Peach Split Extreme Wide Leg High Waisted Trousers
White Fitted Lace Up Back Blazer
White Woven Tailored Wide Leg Trousers
Pastel Blue Woven Belted Back Detail Suit Waistcoat Top
Pastel Blue Woven Double Belt Loop Suit Trousers
Plus Mocha Devore Cup Detail Wide Leg Jumpsuit
Plus Champagne Textured Velvet One Shoulder Drape Jumpsuit
Cream Organza Cup Detail Corset Satin Bandeau Jumpsuit
What not to wear to prom?
Whilst there are endless outfits you'll be able to wear for prom, remember it is a special occasion so you will want to avoid anything casual such as jeans, cargos or loungewear.
Next level for daily dressing but make the most of going all out for prom night, it will be worth it!
Now your prom outfit is sorted, complete the look with prom accessories.
From prom shoes to glam bags and jewellery, accessories will take your prom outfit to new heights.
Prom queen pending…
Mint Thin Diamante Statement Earrings
Silver Thin Diamante Statement Earrings
Gold Diamante Star Tassel Statement Earrings
Silver Metallic Diamante Knot Handle Shoulder Bag
Silver Chainmail Knot Mini Grab Bag
Silver Asymmetric Box Clutch Bag
Gold Wide Fit Diamante Knot Detail Point Toe Mid Heeled Courts
Silver Clear Pointed Toe Diamante Detail Stiletto Heels
Black Faux Suede Diamante Cross Over Platform High Block Heeled Sandals
Shop the PLT prom shop here.
Prepping graduation looks? Shop graduation outfits here.
Birthday celebrations on the cards as well as prom?