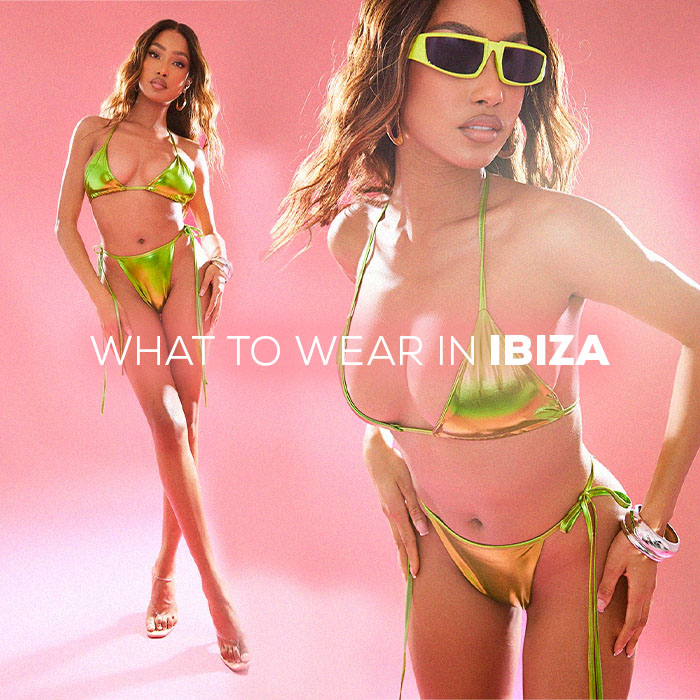 In need of next level Ibiza outfit inspiration? We got you!
We've rounded up the best Ibiza outfits meaning all you've got to do is scroll.
Welcome to the PrettyLittleThing guide to Ibiza outfits 2023!
Before we get into the looks, here's all you need to know if heading out to Ibiza soon.
When Ibiza season start?
The party season in Ibiza usually starts early May and lasts until the middle of October.
When Ibiza closing parties?
The Ibiza closing parties tend to start in September and continue until closing in October.
When is the best time to go to Ibiza?
If wanting to visit during peak Ibiza season then August is the time to go!
So, now you know when you want to go, what do you wear in Ibiza?
Like any holiday, you'll need different looks depending on your plans.
If this is your first ever trip to Ibiza then here's a list of essentials you'll want on your wish list:
Once you have your essentials sorted, you can start outfit planning those statement Ibiza outfits we all know and love.
How should I dress in Ibiza?
Honestly there are no rules when it comes to what to wear in Ibiza so be sure to go as bold (or not) as you want to.
The best thing about Ibiza is absolutely anything goes.
Here's our five top PLT picks for if wanting to create a head turning Ibiza look!
Cream Asymmetric Wave Knit Bandeau Top
Tangerine Slinky Tie Bust Cut Out Ruched Frill Hem Bodycon Dress
Lime Slinky Bandeau V Bar Detail Cut Out Bodycon Dress
Orange Contrast Knitted Asymmetric Maxi Dress
Shape Pink Snake Print Ruched Side Corset Detail Mini Dress
What should I wear during the day in Ibiza?
This will maily depend on your agenda, are you heading to a pool party or is it a hangover over chill day before the PM plans?
Either way, the majority of your Ibiza clothing daywear will include swimwear, beach cover ups, sandals and beach dresses.
If heading to a pool party and want to serve serious style, here's 5 new in swim looks you'll love!
Deep Orange Butterfly Print Triangle Bikini Top
Deep Orange Butterfly Print Tie Side Bikini Bottoms
Green Grunge Print Triangle Bikini Top
Green Grunge Print Mesh Fishtail Maxi Skirt
Cobalt Textured Tie Front Triangle Bikini Top
Cobalt Textured Low Rise Mini Beach Skirt
Pink Ombre Swirl Triangle Bikini Top
Plus Green Floral Underwire Bikini Top
Plus Green Floral Chiffon Maxi Beach Skirt
Spotted the new Into The Dunes campaign yet? We're obsessed!
Cream Contrast Textured Rib Tie Front Triangle Bikini Top
Cream Contrast Textured Rib Tie Side Bikini Bottoms
Sand Gold Trim Asymmetric Swimsuit
Chocolate Halterneck Silver Trim Bikini Top
Chocolate High Leg Silver Trim Bikini Bottoms
Plus Blue Contrast Textured Rib O Ring Bikini Top
Plus Blue Contrast Textured Rib Flare Beach Trousers
Blue Butterfly Print Triangle Bikini Top
Blue Butterfly Print High Leg String Side Bikini Bottoms
What to wear out in Ibiza?
Try not to stress when it comes to Ibiza party outfit ideas as it really is true that anything goes on the island.
Make the absolute most and simply have fun with your outfits.
There's no need to worry about what to wear in Ibiza clubs or how to dress for Ibiza clubs as there's no chance of being under or over dressed – you really can wear whatever you want.
The best Ibiza outfits are the ones you feel your very best self in!
Of course if heading to a themed party then you'll want a look that is on point with that.
Here are some of the most popular searches that'll help plan your party looks!
White Ibiza outfit
Shape Cream Slinky Cut Out Detail Mini Dress
White Long Sleeve Net Crop Beach Top
Ibiza outfits for plus size
Plus Multi Abstract Marble Print Satin Cowl Neck Strappy Maxi Dress
Plus Light Blue Acetate Slinky One Shoulder Bodycon Dress
Ibiza party outfit ideas
Orange Mixed Animal Print Short Sleeve Scoop Mesh Maxi Beach Dress
Orange Disk Sequin Cowl Halterneck Bodycon Dress
Why not prep your Ibiza outfits to channel the top TikTok trends?
Coastal cowgirl as well as mermaidcore will have you showing up in style all summer season!
Coastal Cowgirl 
This trend is all about denim shorts and western inspired accessories.
Here's three PLT coastal cowgirl looks to pack in your Ibiza suitcase!
Sand Wooden Bead Triangle Bikini Top
Sand Wooden Bead Ruched Tanga Bikini Bottoms
Multi Butterfly Print Bead Detail Triangle Bikini Top
Multi Butterfly Print Bead Detail Tie Side Bikini Bottoms
Brown Contrast Crochet Triangle Bikini Top
Brown Contrast Crochet Tie Side Bikini Bottoms
Mermaidcore 
Think wet look hair, pastels, shimmer, sequins and floaty fabrics!
Gold Glitter Halterneck Cut Out Swimsuit
Pale Blue Sequin Tie Front Shirt
Lilac Glitter One Shoulder Ring Detail Bodycon Dress
Finally, here are 5 top Ibiza packing tips to keep in mind:
Take a secure bag to ensure your belongings are safe (aim for a cross-body bag or bum bag that has a zip).
Mix & match swim will give you endless swimwear options.
It's a no to blisters so make sure you pack shoes you can party the night away in (as well as plasters justtttt incase).
Stock up on sun cream and SPF!
Don't forget about airport outfits, the ultimate Insta approved trip from start to finish (apart from the unavoidable hungover flight home obvs).
Shop the full PrettyLittleThing holiday shop here.
Check out even more airport outfit inspo here!