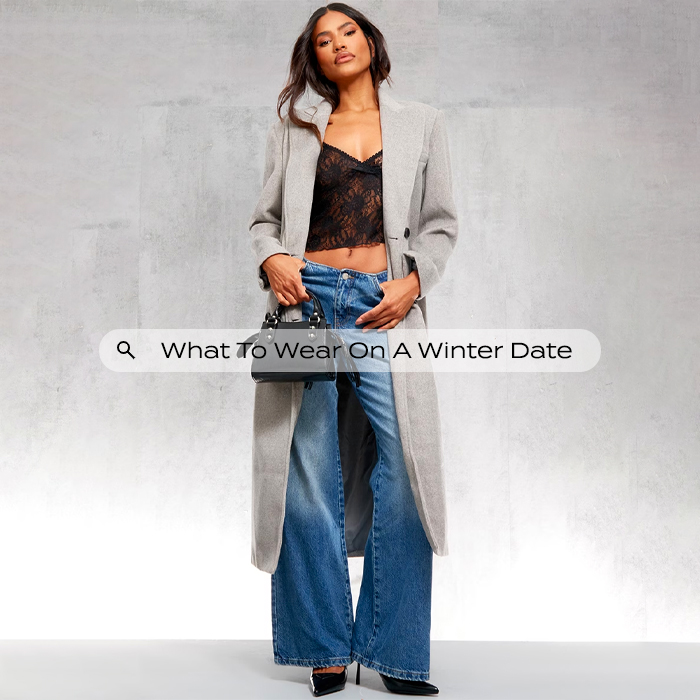 Baby, it's cold outside, but your style is about to heat things up!
Welcome to our guide on what to wear for those winter date nights that make your heart skip a beat.
From cosy layers to adorable accessories, we've got the perfect winter outfits to keep you warm and looking cute on your romantic adventures.
Cream Soft Faux Fur Ear Muffs &
Off White Faux Fur Trim Faux Leather Biker Jacket
Imagine a winter date night with your special someone.
Stay cute and warm in this Off White Biker Jacket, and add a touch of style with these Faux Fur Ear Muffs.
This combo keeps you cosy and fashionable for a night to remember.
Baby Pink Chunky Marl Knit Crew Neck Oversized Jumper
Bone Seamless High Waist Flare Yoga Pants
Ready for a sweet and comfy daytime winter date?
Slip into the Baby Pink Oversized Jumper and pair it with High Waist Flare Yoga Pants for a look that's as cute as it is cosy.
You'll be both stylish and oh-so-snuggly, perfect for a fun date in the winter sun!
Black Faux Leather Oversized Lapel Borg Lined Belted Coat
A winter daytime date filled with warmth and style!
Wrap yourself in the elegance of the Black Borg Lined Coat, and pair it with the Wide Leg Jeans for a look that effortlessly blends sophistication and comfort.
It's the perfect look for a winter rendezvous that will have you turning heads with every step.
Pink Candyfloss Knit Jumper Dress
Cream Extra Fluffy Faux Fur Calf Boots
The Pink Candyfloss Knit Jumper Dress paired with Cream Fluffy Faux Fur Boots creates an irresistibly adorable look.
It's the perfect girly ensemble, promising warmth and style for a delightful winter date that feels as charming as a fairy tale come true.
Pastel Blue Half Zip Cable Knitted Jumper
Embrace the charm of winter romance with a Pastel Blue Knitted Jumper paired with a White Tennis Skirt.
This cute outfit effortlessly blends warmth and style, creating a cosy look that's perfect for a delightful daytime date.
It's a chic combo to wear as you twirl through the winter wonderland of love..
Loving winter fashion trends?