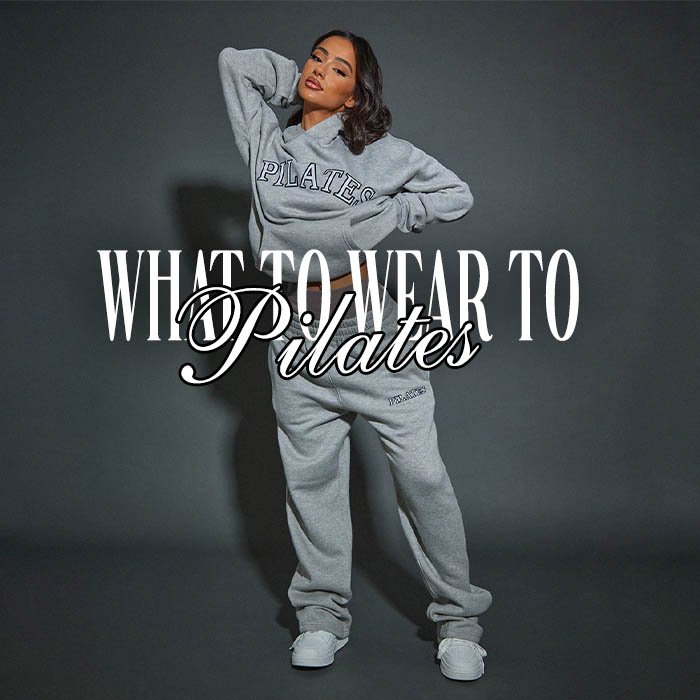 So, you've signed up for your first Pilates class… Whether it's mainly to style the Balletcore trend or actually work out, now is the time to think about what you're going to wear.
Of course here at PrettyLittleThing, we've got you covered!
Pilates is made up of low-impact exercises that are perfect for building strength, flexibility and muscle.
It's trending on TikTok for good reason, the results are next level.
You've seen the hype and wanna get involved…
Today we're gonna show you some must-have's for your next class.
Black Sculpt Cross Back Sleeveless Long Unitard
In a Pilates class, wearing fitted outfits is key so that you and your instructor can check your form is correct.
This unitard is perf – it's sleek, and the cut-out back is super stylish.
Black High Neck Half Zip Gym Top
This slim-fitting top is ideal for a future Pilates session.
It's not gonna fall down when you're changing into all different positions, especially because it has thumbholes, meaning the arms won't move either!
Rust Sculpt Scoop Neck Bodysuit & PRETTYLITTLETHING Rust Sport Sculpt High Waist Flare Yoga Pants

We're obsessed with this bodysuit and yoga pants combo.
Made in a breathable, figure-hugging material, you'll be everyone's outfit goals.
Black Sport Sculpt Luxe Booty Shorts

Rather be in shorts than leggings?
No probs, these PLT Sport shorts are breathable, light and will allow you to switch positions freely.
For effortlessly chic vibes, pair this with a sports bra in the same colour.
Khaki Washed Rib Seamless Sports Bra & Khaki Washed Rib Seamless High Waist Gym Leggings

Workout in style with this sports bra and leggings combo.
Team these with some non-slip trainers and you'll be ready to go!
Petite Oatmeal Pilates Hoodie & Petite Oatmeal Pilates Straight Leg Joggers
Petite Ash Grey Pilates Hoodie & Petite Ash Grey Pilates Straight Leg Joggers
More about the Pilates aesthetic? We don't blame you! You worked hard in your Pilates class, show off about it.
These slogan sweats are perfect. Yes to Pilates please.
Find out why everyone is loving Balletcore this season!