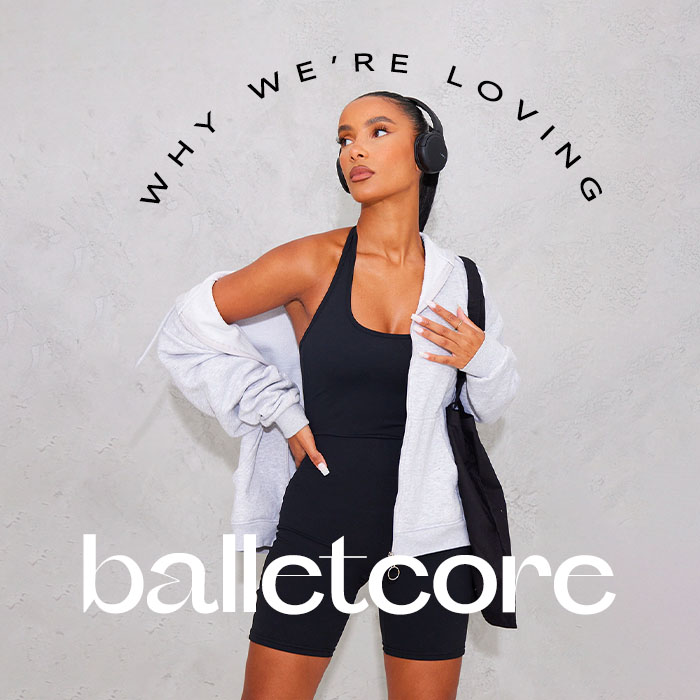 Balletcore is set to be everywhere.
Why We're Loving Balletcore
You've seen the look but did you know demand for TikTok's balletcore fashion trend has soared by 656%.
Of course it's thanks to dream girls, Hailey Bieber & Bella Hadid serving major looks!
With 81 million views on TikTok so far, this trend is about to be everywhere.
The trend surfaced on TikTok earlier in the year and #balletcore has now raked in a staggering 81.4 million views alongside the #balletcoreaesthetic having over 7.3 million views.
But with Hailey Bieber, Bella Hadid, Addison Rae and other trend-setting celebs recently rocking the trend, we're predicting it's only going to get bigger (and more iconic).
So, what actually is the balletcore trend?
From tulle skirts and wrap cardigans to ballet flats, headbands and cardigans, balletcore is defined by graceful, hyper-feminine fashion inspired by professional dancers' rehearsal gear.
A spin on athleisure wear, it's all about returning to elegant fabrics and colours alongside easy, wearable garments.
Featuring laidback fits like cycling shorts and oversized sweatshirts, many are also comparing the trend to Princess Dianna's iconic 90s style.
Here at PrettyLittleThing, we've seen a major increase when it comes to search!
With a 67% increase in demand for 'leg warmers' and 'tulle skirt' searching spiking at 51%.
Best believe the girls that get it, get it.
'Unitard' searches have also increased by 33% with 'wrap tops' following closely at a 26% increase.
Loving the look?
Obv we have you covered with a collection of laid back silhouettes and accessories that will let you channel the aesthetic, without breaking the bank.
Black Sculpt Halterneck Mini Unitard
Petite Navy Ribbed Plunge Sleeveless Unitard
Stone Ribbed Racer Neck Unitard
Grey Marl Button Front Crop Sweatshirt
Cream Panel Detail Oversized Sweat
Ash Grey Oversized Crop Sweatshirt
Basic Ecru Structured Contour Rib Cycle Shorts
Black Wrap Off The Shoulder Knit Jumper
Ivory Wrap Off The Shoulder Knit Jumper
PRETTYLITTLETHING Cream Manifestation Canvas Tote Bag
PRETTYLITTLETHING Grey Logo 2 Pack Socks
Black Round Toe Ballet | Green Round Toe Ballet Shoes
Love the trend led looks? Check this out!