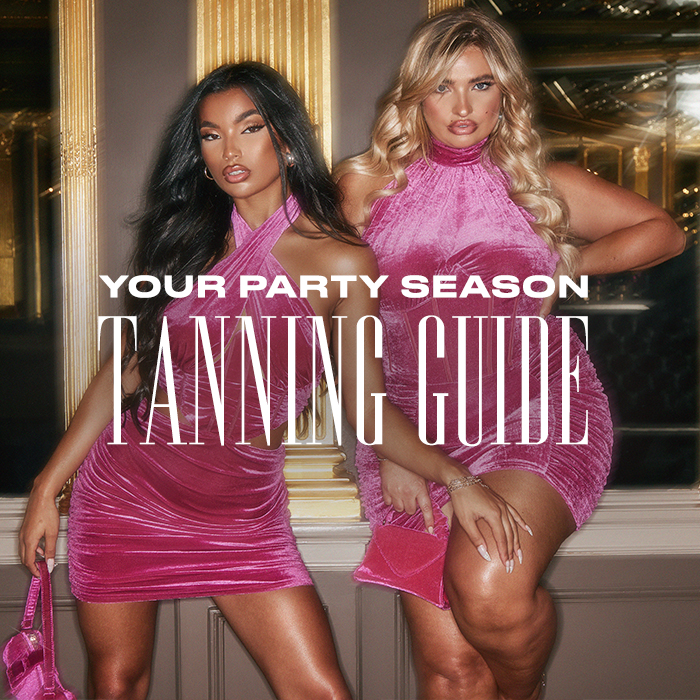 Flawless.
Your Party Season Tanning Guide
With party season in full swing there's no better time to stock up on those tanning essentials and get your tanning routine in check ready for all those nights out you've got coming up! Achieving the perfect flawless tan can seem like a distant dream but don't worry gal we've got you covered and it's not as hard as you may think.
Keep reading as we break down the steps you need to take to achieve the perfect fake tan this party season!
Step 1: Prep
The key to a flawless fake tan is all in the preparation.
Your skin needs to be well prepped in order for the tan to glide on seamlessly and to avoid the patchy look!
Exfoliate
First things first: exfoliation. If you have any old fake tan still lingering its important to remove this.
An exfoliating mitt is our weapon of choice although don't be too harsh on your skin with this.
SOSUBYSJ LUXURY TAN REMOVAL EXFOLIATING MITT
This luxury tanning mitt from SOSU by Suzanne Jackson is perfect for the job!
Simply buff the skin lightly with your favourite body wash and remove any leftover tan and dead skin cells.
The glove shape with built-in thumb feature gives you more control and easier movement over the body.
Add this to your tanning essential kit today!
Moisturise
Next up, we need to mosturise those drier areas such as elbows, knees, ankles and the back of your hands where tan can cling to.
You can use any moisturiser for this but avoid anything with oil in it as fake tan doesn't mix well with oil and can fade faster.
GARNIER INTENSIVE 7 DAYS COCONUT MILK BODY LOTION DRY ROUGH SKIN
This intense 7 days coconut milk body lotion from Garnier is just what you need for adding moisture to those dry areas before applying your tan!
This acts as a barrier to the tan from sticking to those areas. And better yet it's Cruelty Free!
Step 2: Choose Your Tan
The next step is to choose the tan that's best for you and the look you are trying to achieve. Different fake tans can work well for different people so it may take some trial and error before you find the tan that works best for you. Here's some options we suggest giving a try!
FILTER BY MOLLY MAE TANNING FOAM MEDIUM

Filter by Molly Mae is a lightweight foaming tan that comes in three shades – medium, dark and extra dark. This tan goes on with a guide colour so you can clearly see if you have missed any spots when you're applying it which is great for ensuring an even tan. This tan is also vegan, cruelty free and allergen free. What more could you ask for?
TANOLOGIST SELF-TAN WATER DARK
If you don't have time to let your tan develop overnight, Tanologist's Express Tan could be a good option for you! This self-tan water goes on clear (so it won't stain your clothes) and develops in just 1-4 hours depending on your desired result. Simply mist on and blend with a mitt, then shower off when you are ready to reveal a flawless glowing tan.
Step 3: Application
Now our skin is clean, exfoliated and moisturised it's time to get tanning!
A good tanning mitt is essential in your routine to ensure a flawless streak-free tanning application.
FILTER BY MOLLY MAE TANNING MITT
Our favourite type of mitt is a super soft velvety mitt like this one from Filter By Molly-Mae.
This mitt has a thumb hole and elasticated cuff which makes it easier to keep the mitt on as your apply your tan and helps get into every area giving you more control over your tanning application!
This mitt is reusable and easy to wash between uses with just a little soap and water.
BONDI SANDS TANNING BODY BRUSH
This Bondi Sands tanning body brush is the perfect tool you need for achieving a flawless streak-free tan especially on areas like the neck, chest and hands. Simply apply your tan to the body or directly onto the brush and blend. The curved brush head allows you the get into the contours of your body for that flawless application every time.
Step 4: Maintain
Now you've washed off your tan to reveal flawless glowing bronzed skin there's just one last important step. In order to keep your tan looking flawless and prevent scaley tan as it fades you must keep it well moisturised. Every time you shower make sure you are applying moisturiser religiously and your tan will thank you! A light exfoliation can help as well if needed!
BONDI SANDS TROPICAL RUM BODY MOISTURISER
This Bondi Sands moisturiser is formulated especially to be used after self-tanning. This will keep your skin hydrated and help prolong the like of your tan whilst giving off a sweet topical scent that will have you smelling and looking your best!