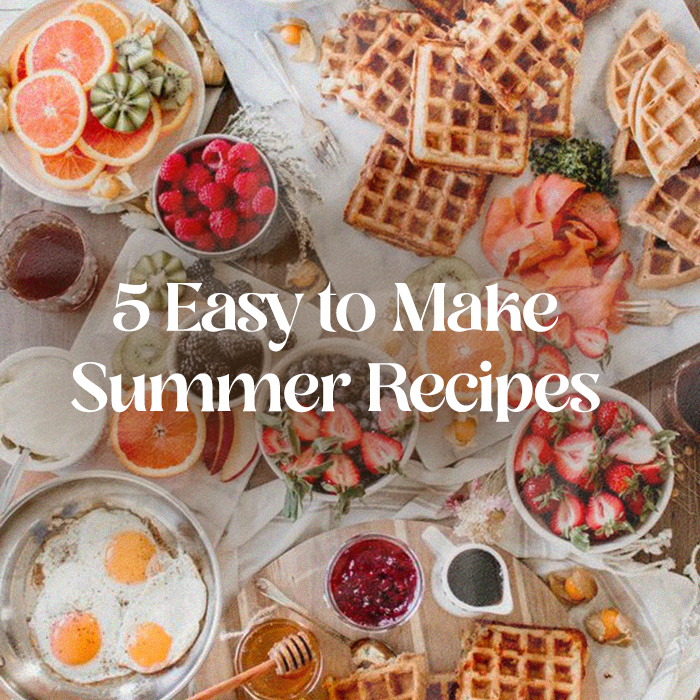 Get inspired this season, we've got all the recipes you need for those Summer days with the dolls.
5 EASY TO MAKE SUMMER RECIPES
Whether you're getting ready for a BBQ in the sunshine or need a fruity drink to pimp your picnic we've got all the inspo you need.
Summer Punch
The ultimate Summer drink for your garden party!
125ml lemon juice
50g caster sugar
250ml elderflower liqueur (we used St Germain)
250ml vodka
500ml apple juice (Bradley is best if you like it sharp)
125ml sparkling water
ice
fresh summer herbs like lemon verbena, mint and basil (optional)
lemon slices (optional)
In a bowl, mix the lemon juice and sugar until the sugar dissolves. Transfer into a large serving bowl, add the other liquid ingredients, fill to the top with ice and stir gently. Serve immediately, with herbs and lemon slices, if you like.
Greek Salad
This recipe is perfect for your new family BBQ!
4 large vine tomatoes, cut into irregular wedges
1 cucumber, peeled, deseeded, then roughly chopped
½ a red onion thinly sliced
16 Kalamata olives
1 tsp dried oregano
85g feta cheese, cut into chunks (barrel matured feta is the best)
4 tbsp Greek extra virgin olive oil
Place 4 large vine tomatoes, cut into wedges, 1 peeled, deseeded and chopped cucumber, ½ a thinly sliced red onion, 16 Kalamata olives, 1 tsp dried oregano, 85g feta cheese chunks and 4 tbsp Greek extra virgin olive oil in a large bowl.
Lightly season, then serve with crusty bread to mop up all of the juices.
Tomato Bruchetta
Super easy to make and the perfect Summer starter!
½ small red onion, finely chopped
8 medium tomatoes (about 500g), coarsely chopped and drained
2-3 garlic cloves, crushed
6-8 leaves of fresh basil, finely chopped
30ml balsamic vinegar
60-80ml extra virgin olive oil
1 loaf crusty bread
In a large bowl, mix the onions, tomatoes, garlic and basil, taking care not to mash or break up the tomatoes too much. Add the balsamic vinegar and extra virgin olive oil. Add salt and pepper to taste. Mix again. Cover and chill for at least an hour. This will allow the flavours to soak and blend together.
Slice the baguette loaf diagonally into 12 thick slices and lightly toast them until they are light brown on both sides. Serve the mixture on the warm slices of bread. If you prefer the mixture at room temperature, remove from the fridge half an hour before serving.
Mini Sausage Rolls
You can't go wrong with this recipe for your next picnic!
½ small garlic clove
handful of parsley, chopped
400g sausagemeat or sausages
375g pack ready-rolled puff pastry
1 beaten egg, to glaze
Heat the oven to 200C/180C fan/gas 6. Crush the garlic and a little salt to a paste using a pestle and mortar, or use the flat of a knife on a chopping board. Mix together with the parsley and stir in 50ml cold water.
Blend the sausagemeat in a food processor (if using sausages, peel away the skins) on a high speed, pour the garlic water into the mixture, then season with pepper. Blend until combined.
Unroll the pastry onto a board and cut in half lengthways.
Divide the sausage mixture in two and spread along the length of each pastry strip in a cylinder shape, leaving a 1cm edge.
Tightly roll the pastry around the sausagemeat and brush the ends with the beaten egg to secure.
Cut each roll into 10 pieces with a sharp knife, each about 2.5cm long, and arrange on a baking sheet. Will keep, covered and frozen, for one month. 
Brush more beaten egg all over the pastry. Cook for 25-35 mins until the pastry is puffed and crisp and the meat has cooked through. Add an extra 10 mins if cooking from frozen. Eat hot or cold with tomato ketchup, if you like.
Mini Milkshakes
We are obsessing over these milkshakes that are perfect for any Summer occasion
1 small ripe banana, chopped
400ml whole milk
100g natural yoghurt
1 small punnet blueberries
6 strawberries, hulled
1 small punnet raspberries
120g mango chunks (fresh or frozen)
200ml coconut milk for drinking (or coconut kefir)
2 lime, cut into wedges
Put the banana, half the milk and half the yoghurt in a blender, and blend until smooth. Pour into two or three milk bottles. Divide the blueberries between two skewers to make stirrers, then drop one into each bottle. Stir before serving.
Put the strawberries and six raspberries in a blender with the rest of the milk and yoghurt. Blend until smooth, then divide between two small milk bottles. Push the remaining raspberries onto two skewers to make stirrers as before.
Blend the mango and coconut milk until smooth, then add a squeeze of lime. Divide between two milk bottles and serve with the lime wedges.
Check out these recipes and more on the BBC Good Food site.