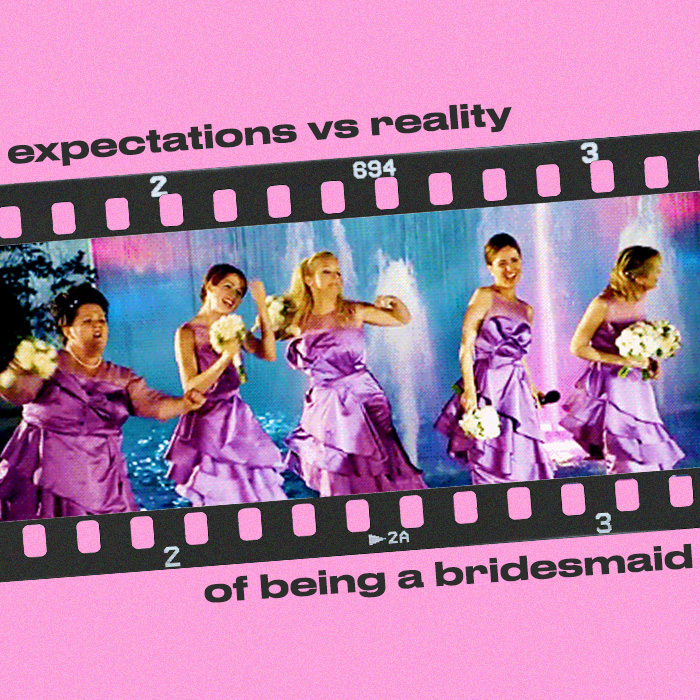 Wedding season is upon us which can only mean one thing, the bride-to-be has to make the most important decision of her life… who will be her bridesmaids.
Being asked to be a bridesmaid is so exciting – you're part of the official wedding party, you don't have to stress trying to find something to wear and, of course, the hen do!
However sometimes the reality of being a bridesmaid is slightly different to your previous expectations…
Expectations vs Reality Of Being A Bridesmaid
Got bridesmaid duties coming up? Peep below some expectations of being part of the bride squad vs the reality of what you may have to come…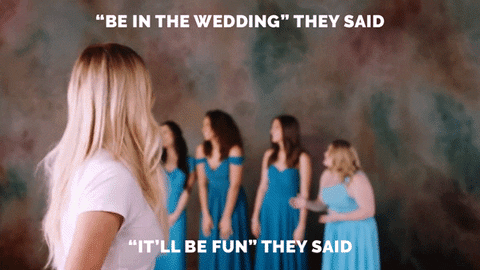 'If I don't get asked to be a bridesmaid that's absolutely fine and
I'll be completely chill if I do get asked'
The first and most important question – have you been asked to be a bridesmaid?!
If you haven't been asked, you may be feeling slightly bitter and hoping one of the 'chosen ones' falls face first down the aisle, sorry Karen x
But if you HAVE been asked you're probably a blubbering mess of excitement, with you and the bride inaudibly telling each other how much you love them and what an honour it is to be part of their special day. With no cost spared, you're making it your mission that this bridal party will be one for the history books.

'There won't be that many group chats'
Now you're officially part of the #BrideSquad, you'll probably expect a group chat to be made so everyone is on the same page about the upcoming bridesmaid duties.
The reality is more like you're in about ten different group chats, with and without the bride, with the mother of the bride, with the mother-in-law, potentially even one with the partner-to-be.
Until that fateful day, your phone will be pinging nonstop and WhatsApp will become your nemesis.
'This is going to be so much fun and not stressful at all'
When we first think of being a bridesmaid, the expectation is that this is going to be one of the best experiences ever. You've been chosen to be a key part of the bride's big day so surely from now until the wedding you're going to have the best time…
The reality is that come the day of the wedding, you've probably torn all your hair out, contemplated leaving the country with a new identity and vow to never be involved in another wedding again.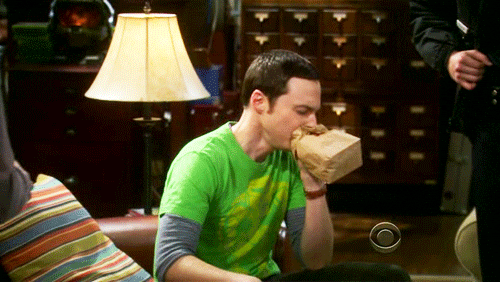 'We'll all become BFFs and be on the same page about everything'
Being part of the bridal party surely means you'll all become the best of friends, make lifelong memories and your future children will grow up together x
The reality is probably less rainbows and sunshine and more like the film 'Bridesmaids'… No Helen we're not going to Vegas for the hen and how DARE you steal my idea for the shower and make out as if it was your own!
Whether you're debating the colour of the dresses or if you're going to surprise the bride with a flash mob during the reception, there will be a fair few disagreements coming your way.
'The hen will be a breeze to organise'
The most anticipated event for any bride, the hen do.
Surely this will be a breeze, you all know the bride super well and have a clear idea for what she'd like as her ultimate bachelorette party – right?!
Wrong.
The hen can be a nightmare to organise, from location, to who's invited (is this being extended to people outside of the bridal squad? Looking at you mum) as well as costing more than you'd have hoped.
Regardless, the hen is one of the best parts of being a bridesmaid and we can promise that no matter how stressful it is to put together, you and the bride are definitely going to have a night to remember!
'I LOVE my dress and can defo walk in these shoes'
Not having to worry about your outfit for a wedding seems like a huge weight lifted – from the type of dress to the height of your heels it's all up to the bride what she wants her number 1 gals to look like next to her at the altar.
However, disagreements on the bridal uniform are bound to happen, if not from you then definitely from another bridesmaid.
Why is Janet kicking off about dusty pink not being 'her colour'? Is Bethany really going to request a HIGHER heel because she's a teenager and can definitely walk in six inch stilettos? Of course the mother-in-law isn't happy with the choice of bouquets.

'It's going to be the best day ever'
Regardless of any chaos leading up to the big day, you're probably thinking 'surely the wedding itself will make it all worth it?' and you're absolutely right!
After all the arguments and tears, the magic of the day washes away all that drama and the reality hits that it's one of the most important days in your brides life.
From getting your hair and makeup done, to slipping into your outfit and finally walking down the aisle to await the bride, being a bridesmaid really is a huge privilege!
Now go and have one too many glasses of champagne and enjoy yourself, you definitely deserve it girl!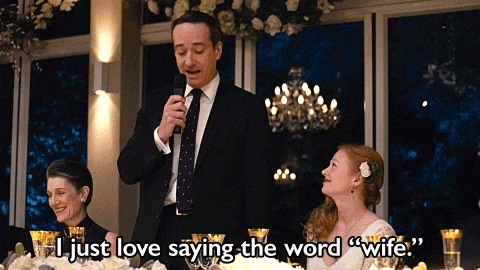 Shop all your wedding essentials HERE!