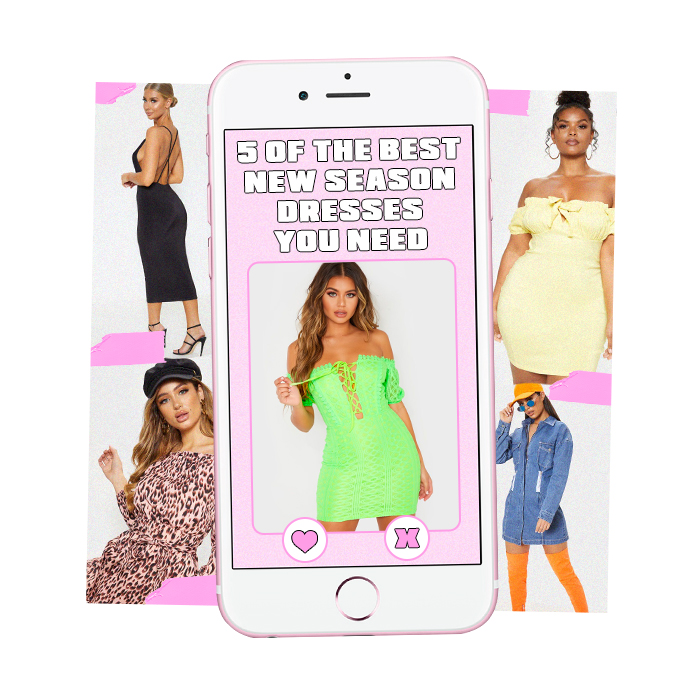 Have you got plans this weekend doll? If you're a week from payday and you don't feel like breaking the bank, a dress is the best option when it comes down to saving those pennies. With the new season rolling in we're making sure you're rocking the look first up with our range of new season styles.
5 Of The Best New Season Dresses
We've rounded up five of our favourite dresses that you totally need to have in your wardrobe right now.
Sometimes less is more and in this instance, it certainly is. With its figure-hugging slinky fabric this dress will make sure you're looking the part, whatever the occasion. The cross back design and side boob style adds attitude to this look and when styled with your fave pair of heels, you simply can't go wrong.
It's all about the neon right now and this bodycon dress is giving us those fluro feels. Neon was a thing last season but SS19 is bringing in blinding shades to make sure you stand out from the crowd. This dress has just the right amount of fierce and the right amount of feminine going on so it's perfect for so many weekend possibilities. Just add lace-up heels and a mini bag for a knockout look.
Yes doll, we are already working summer tones into our wardrobes. Bright ice cream tones add innocence to any look and can easily be dressed up or down. The bardot neckline on this dress gives some attitude and the tie front detail is totally cute. You can style this dress with high heels for a night out or dress it down with espadrille sandals if you're heading off on vacay.
We've got animal instinct this season when it comes to creating killer looks. We've revamped our favourite everyday styles are added a pop of leopard to take it to that next level. This bardot dress is everything when styled with ankle boots and a baker boy but you can also dress it up for a special occasion with lace-up heels. This trend is forever chic so don't be scared that this dress will ever go out of fashion, you'll be pulling it out of your wardrobe season after season to create new looks.
The utility trend is taking over this season and you can work it into your weekend wardrobe with a denim dress. This classic denim style has serious amounts of attitude and can be dressed up or down, which makes it the ultimate wardrobe staple. Why not add some neon or animal prints to create the ultimate on-trend vibe.