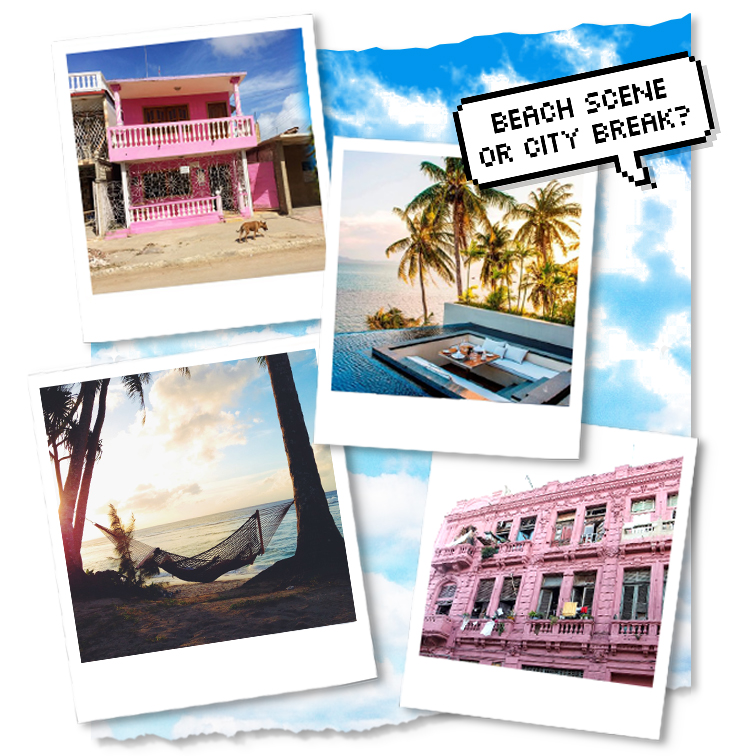 In need of some serious R&R on a beach scene, pina colada in hand? Or maybe your holiday mode of choice is more soaking in some new cultural vibes with city break? Whatever your vacay style, don't book anywhere 'til you read up on the hottest hot spots to jet off to for 2018.
7 Destinations We Wanna Go This Year
From secret beaches and seriously dreamy islands to must-see cityscapes and chill harboursides, check out our round-up of the holiday destinations you need on your radar this year.
#1 Bogot, Colombia
Said to be the beating heart of Columbia, with historical buildings and scenery to boot, including the view of the mountains, Bogata is an upcoming destination to holiday to you need on your radar. Vacaying here means unmissable nightlife, endless culture and green parks for picnic chills, meaning there's something to suit every girl's different holiday mode. Plus, the food is pretty good too.
#2 Comporta, Portugal
Pinned as an untouched Ibiza, Comporta has all the beauty of the island – before the party crowds came. With no major clubs and more on the vibes of sand in toes beach front bars, if you're looking for a late night fueled mad one, Comporta may not be for you. But if you're looking to chill and soak up some sun whilst having some much needed time out from real life, add it to your maybe list now.
#3 Havana, Cuba
Rich in culture and with streets that are endlessly Instagrammable, Havana we see you. From white sand beaches, eclectic tucked away towns, and photo-ready architecture, Cuba is fast creeping up the holiday goers hit list of trending now places. Drink endless rum cocktails in a cool cafe, hang with the super friendly Cuban locals, get your fill of Seafood whilst soaking in some of the live music, or check out the amazing vintage American cars roaming the streets that the people take serious pride in.
#4 Koh Samet, Thailand
With sandy shores, cute coves to explore and a hella fun party scene, Koh Samet is a must-visit if you're heading to Thailand. One of the more quiet beaches of Thaliand to beat the crowds and noise, a Koh Samaet is an all or nothing kind of place, where you can either get totally chill and do nothing but soak up the sun on a lazy day, go full throttle with some water sports activities or boat trips. From beach BBQ's to hikes to the southern tail of the island to partake in a little kayaking if you dare, you make the call.
#5 Dream Beach, Bali
A Â secluded 115-metre stretch of white sand on the southwestern coast of Lembongan Island – the most popular holiday destination of Bali's 3 Nusa Islands FYI, the Dream Beach is a beautiful and quiet haven to soak in the sun, chill, and escape the real world for a while. Get yourself an even bigger dose of R&R with a Balinese massage, or if you're more the getup and go type, check out the beach activities including diving, snorkeling and surfing. They don't call it the dream beach for nothing.
#6 La Paz, Bolivia
Arguably one of South America's up and coming coolest cities and at over 3600m above sea level, La Paz is nicknamed the 'city that touches the clouds. And it's as dreamy as its nickname sounds. With a population of over 835,000, La Paz is a hectic, diverse and busy city known as the gritty urban jungle. Get lost in everything from the cool cafes to hang in to the unreal eats on offer from street vendors and beyond. With so much to see, do and take in, you'll never be bored.
#7 Gold Coast, Australia
A city break with a twist, boasting 300 days of sunshine a year at least, hitting up the Gold Coast down under is always a good idea. From the beach culture and busy city nightlife, Queenslands other must things to do range from hanging with the dolphins on Moreton Island, to walks in the National Park, to the undersea wonders of the Great Barrier Reef. Talk about the serious wonders of nature, all right here.