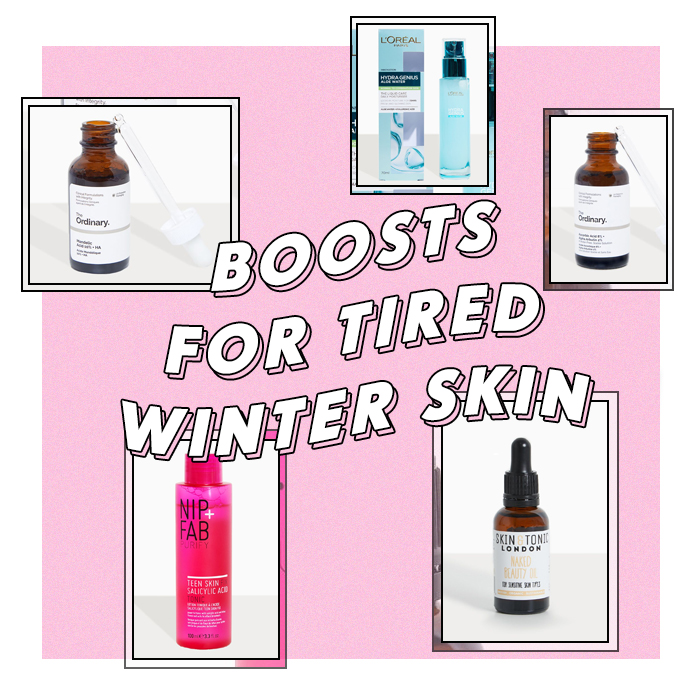 Boosts For Tired Winter Skin
The holiday season can really take a toll on your delicate face. A month of drinking and stuffing your face with treats with the addition of drying winter weather could leave even the most pampered skin parched and crying for help. Don't worry girl, we've compiled our fave picks to save your skin this January and take you from dry and drab to fabulously flawless.
Dry Skin
Say goodbye to dry, flaky skin with The Ordinary's Mandelic Acid 10%. This gentle chemical exfoliant sloughs away dead skin cells while reducing the need for potentially irritating physical exfoliation found in most face scrubs. Unlike other heavy-duty acids such as Glycolic, Mandelic acid is gentle on your skin due to its large molecular weight. With the addition of super hydrating hyaluronic acid, this is one winter skin saviour we can't live without.
Combination Skin
The age-old dilemma, how to moisturise combo skin without looking like you've cooked a fry up on your forehead?! Enter, L'oreal's Hydra Genius. This lightweight gel-like formula contains hyaluronic acid, an ingredient that attracts water molecules to the skin as well as aloe water to soothe and moisturise. Light layers of hydrating serums, essences and moisturisers are a must for combination skin. For an extra hit of hydration, we recommend pairing this moisturiser with the Nip & Fab Dragons Blood Jelly Mask.
Sensitive Skin
Formulated without fragrance or essential oils, this is our go-to for extra moisture with no irritation. Skin & Tonic's Naked Beauty Oil is jam-packed with vitamins to deeply nourish skin. With nutrient-rich rosehip fruit and seed oils, known for their skin healing properties and high antioxidant content, this soothing facial is perfect for patting over moisturiser to lock in hydration.
Oily, Spot-Prone Skin
Say bye-bye to stubborn spots with our holy grail for acne sufferers, Nip + Fab's Teen Skin Salicylic Acid Tonic. Salicylic acid is the blackhead buster you need, unclogging pores and reducing the size of active pimples. This superstar tonic also contains witch hazel, a must-have ingredient for reducing the over-production of oil. This is one item every spot-prone girl needs in their skincare routine.
Dull Skin
If your skin has been looking a little lacklustre lately and you're gunning to get that glow back, these two power ingredients will cure your skin concerns. Ascorbic acid, a potent form of vitamin C brightens while the addition of alpha arbutin helps fade acne scars and lighten hyperpigmentation. Not only that but when paired with a sun cream vitamin C based products can boost its efficiency. We know, we should be using sun cream every day and what better motivation than The Ordinary Ascorbic Acid 8% + Alpha Arbutin 2%. This is one product you'll see almost immediate results with so get ready to wake up glowing!