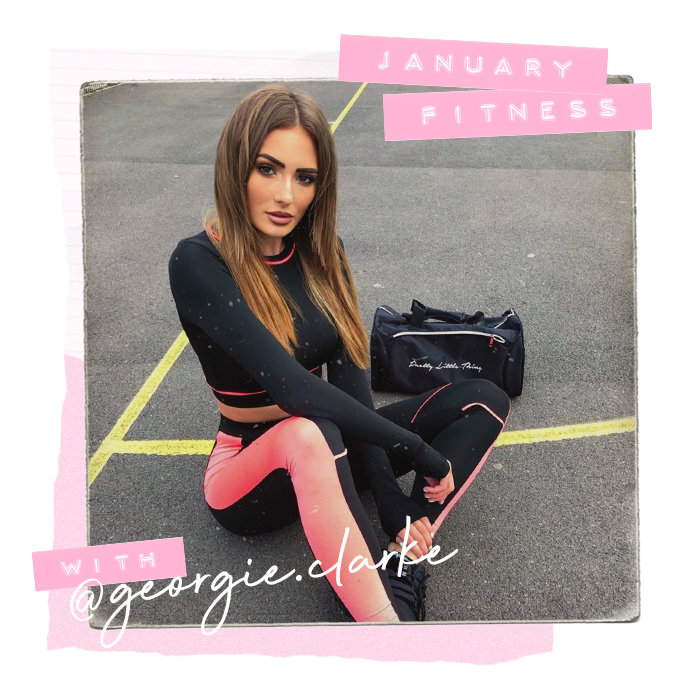 On that new year, new improved you hype? To kickstart our January health kick we've been catching up with some of our fave fitness influencers on the 'Gram to talk all things fitness and health for the new year.
January Fitness With Georgie Clarke
We caught up with Georgie Clarke to talk about her week in workouts and what keeps her motivated.
What does a typical week in workouts look like to you?
I try to mix it up each day as I get really bored doing the same exercises over and over. This is what a typical week looks like but I sometimes mix the days around. Monday's I go for an hour dog walk in the morning around the local Common, Tuesday evenings I attend a Barry's Bootcamp, Wednesday morning I do another hour dog walk, Thursdays are off and Fridays I do a 45 minute session in the gym. Weekends I always have off!
How do you stay motivated when working out is the last thing you wanna do?
When I'm unmotivated to work it out it's usually because I feel tired, so I try to remember that after the workout session I will have loads of energy. I try not to overthink it and just get myself there and as soon as I start – those endorphins start kicking in and feel so good. I also remember that I always end up being really productive after working out. I'm not someone who can work out at home so usually, it's always just getting to the place is the part that I dread. Once I'm there I'm always giving 100%!
What fitness resolutions or goals do you have for the New Year?
To try out more classes! For me, I'm motivated when I see people around me working out in the same class. It's fun and you get to meet new people. I like changing up my routine a lot so I keep pushing myself. I got into a bad habit of doing the same workout routine every day in the gym last year and I didn't realise how boring and unproductive it was for me until I started trying new things that were challenging and pushing me to try harder.
Is there any fitness classes or workouts that are on your 2019 hitlist to try?
I want to attempt Barry's Bootcamp Hell Week – you do a boot camp every day for 7 days. This would be so intense but I amazing for me to try.
What motivational mantra will you be living by for 2019?
To listen to my body more, I don't have fitness goals based on my dress size or weight. I exercise to feel good about myself and this works for me 🙂 if I am run down I want to be able to listen to my body and rest without feeling guilty for missing a workout.