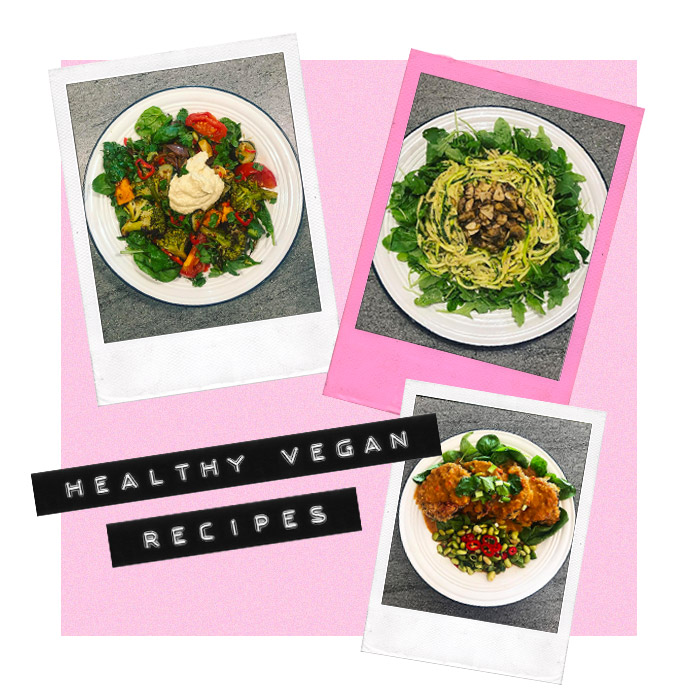 Looking for the inspo to kick-start your healthy start to the year when it comes to recipe ideas and what to eat? Whether you're a full-time green goddess or simply dabbling in some plant-based goodness for Veganuary, we have you covered.
Healthy Vegan Recipes Not Just For Veganuary
Try our round-up of our fave three easy vegan recipes that won't leave you hungry. Eating your greens never tasted better – plus these recipes are pretty Instagrammable too.
#1 Vegan Aubergine Katsu Curry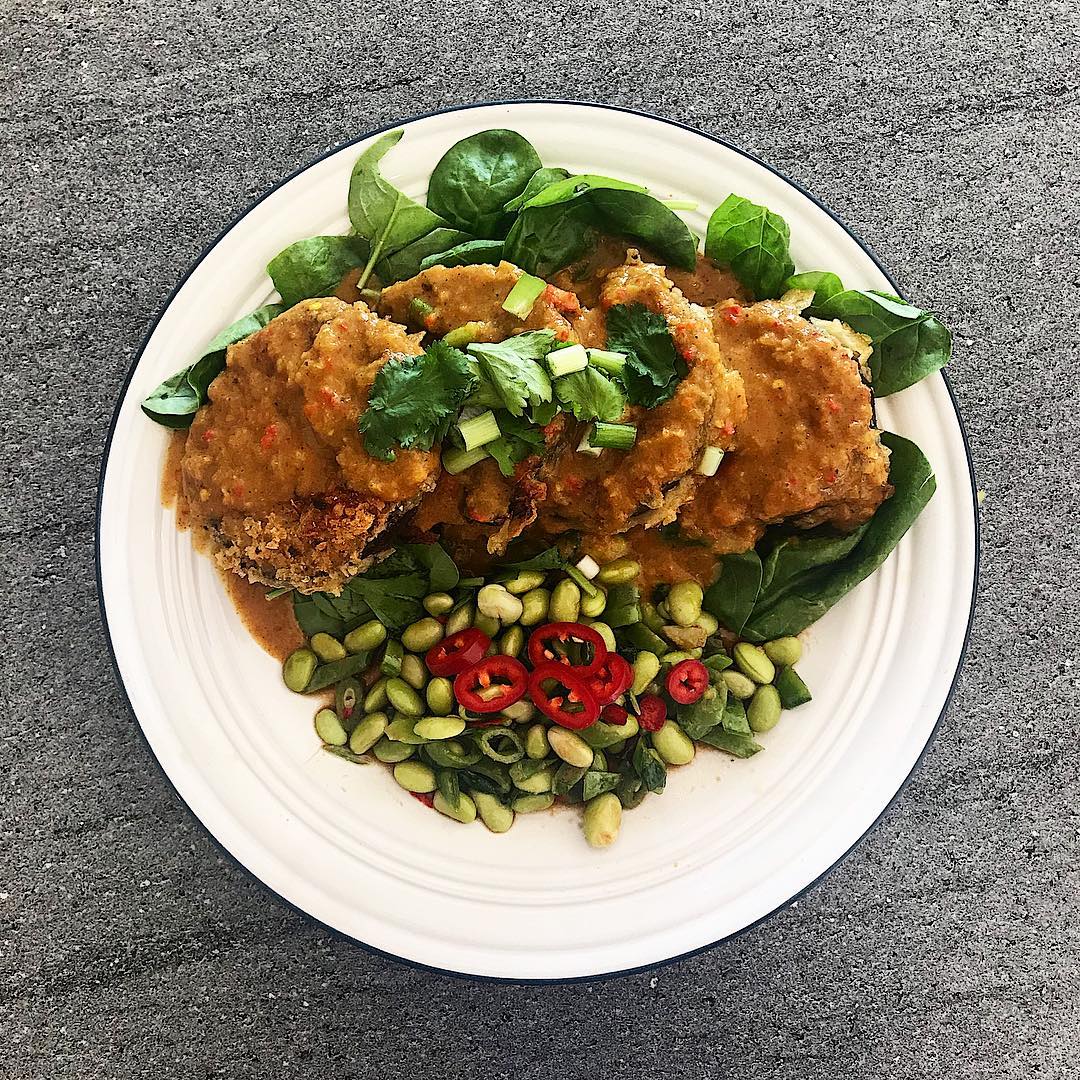 What you'll need:
1 x Aubergine
Panko breadcrumbs (if you can't get hold of these use plain crisps)
Plain flour
Almond milk
Vegetable oil
Sauce:
1 large white onion
4 cloves of garlic
Garlic salt
2 Tbsp. soy sauce
2 Tbsp. medium/Hot curry powder
2 Tbsp. garam masala
1 large carrot
2 Tbsp. plain flour
Veggie stock cube
1 red chilli
What to do:
Katsu Sauce: In a saucepan fry the onion, garlic, chili and carrot for a good 5 mins. Add curry powder, garam masala & plain flour. Add your stock (I am bad at measurements but do about 500mls – you can always add more!) Keep whisking the mixture together to make sure you don't have any flour lumps. Add soy sauce and garlic powder and simmer for 15 mins. Using a hand blender blitz together like you would if you were making soup. (this should now be a thick curry sauce) *leave this on a low heat whilst you make the aubergine*
Aubergine: Cut the aubergine into 2cm thick slices and place to one side. In a bowl combine flour and almond milk (or water but almond milk is thicker) to make a paste and season with salt and pepper. Tip out your panko breadcrumbs (or crushed up plain crisps) on to a plate. Heat up 200ml (you might need more depending on the depth of your pan) of vegetable oil until bubbling. Whilst this is heating get your slices of aubergine and dip into the paste then cover each side in the breadcrumb/crisp mixture. Fry in the heated oil for 4/5 mins each side. Once done place on kitchen roll to drain off any oil.
#2 Courgetti with Avocado Pesto, Garlic mushrooms & Rocket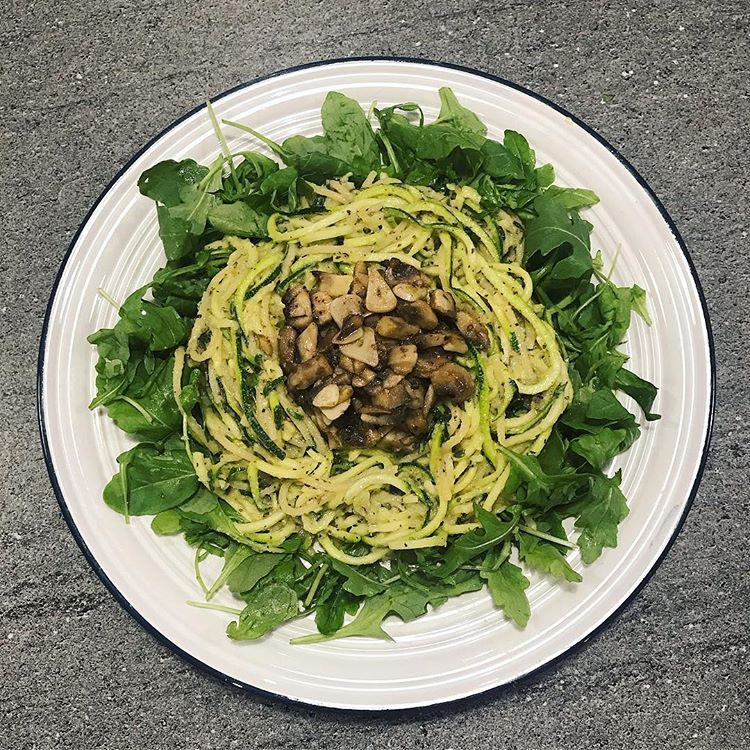 What you'll need:
1 x courgette
100g chestnut mushrooms
2 x garlic cloves
1 x avocado
Juice of 1 lemon
10g fresh basil
30ml olive oil
20g rocket
What to do:
Avocado Pesto: Use half of the avocado (per person), chop and place in a blender and squeeze the fresh lemon juice in. Remove skin from the garlic and place in the blender with the avocado and lemon juice. Roughly chop the basil and chuck in with the rest. Add salt, pepper, and the olive oil and blend until a thick consistency and put to one side.
Courgetti: Spirilise the courgette and place to one side in a bowl with a pinch of salt on (this draws out the moisture) Next, finely chop the mushrooms and garlic and slowly sautee in a pan with a glug of olive oil and salt and pepper, cook until soft and your kitchen smells of heaven! Place the courgetti in the bowl in a microwave for about 1 minute or until just soft enough (doing it in the microwave stops it forming a sticky substance which can commonly happen) Remove and pour over the avocado pest and stir until its fully covered in that lovely green stuff!
Throw the fresh rocket on the plate with a tiny splash of balsamic vinegar and get ready to layer on this delicious vegan goodness! Go in with the courgetti first then make a neat bowl shape in the middle for the garlic mushrooms. Finito!
#3 Roasted Veggie Salad with a Mustard Vinaigrette & Hummus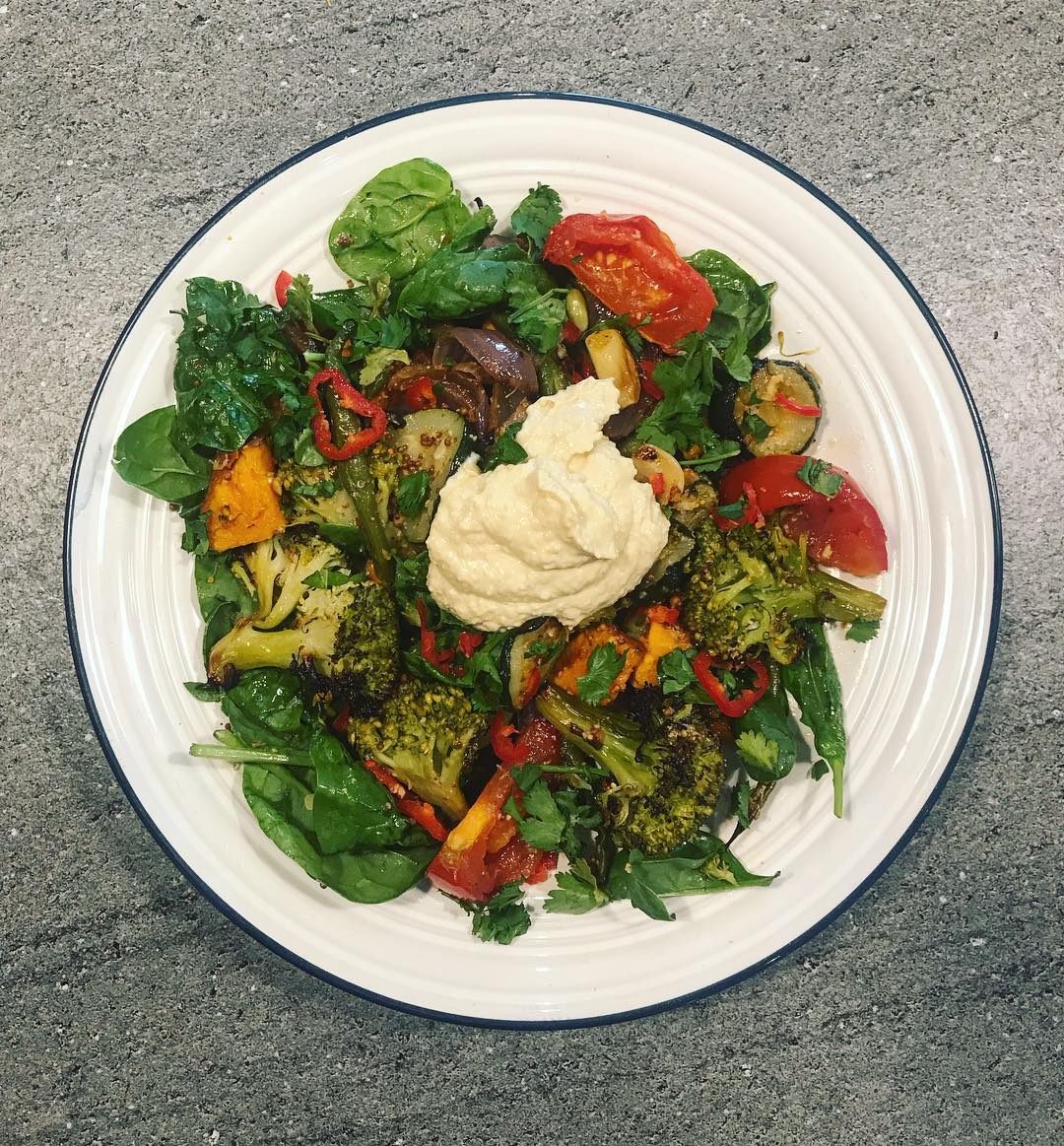 What you'll need:
1 x sweet potato
2 x large salad tomatoes
2 x garlic cloves
1 x red chili
Half a red onion
100g broccoli
15g spinach
50g of sliced courgette
Olive oil
Whole grain mustard
Balsamic vinegar
Hummus
What to do:
Place the vegetables (except spinach) on a roasting tray with a healthy glug of olive oil and salt and pepper. Roast for 30 mins turning in between. In a bowl mix 2 tbsp of olive oil, 1 tbsp of balsamic vinegar and 1 teaspoon of the mustard. Remove the roasted veggies from the oven and in a bowl mix together with the dressing and fresh spinach. Top with hummus and you're good to go doll!
…Plant power just got real!
Recipes and images from @northerngirleats